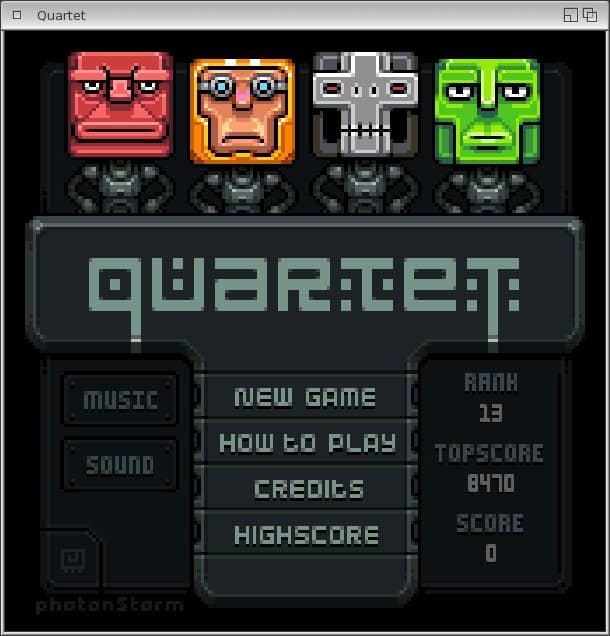 It's been a while now since there was one of those iOS/Android apps ported to the Amiga now and i guess this is a welcome addition as always. Amiga users/gamers get games and sometimes they're worth writing about and sometimes not, it is all about the developer and of course if it's worth to mention (my opinions).
Quartet is one of those "match 4" types of games, match 4 face pieces to complete it, any color and facepiece will do, but since it's a time-based game with bonus points and so on the point is to match them properly (color and graphics/face).
The one i matched on top here is worth 300 points and the other ones look like will be 40 each. Time-based gameplay is what the casual iOS /Android people call "Blitz" mode and this is one of them, act quick and you will earn more points and if you do it fast and properly then you get even more. As soon as you have matched (or not matched) 4 pieces then you get the points and the tiles will then wiped so you got a room for another face in there.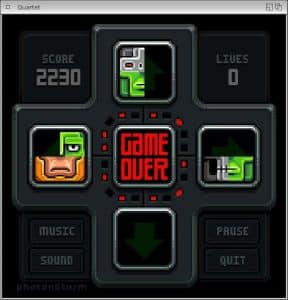 Game Over!, every time i fail to put together a face within the time limit i will lose a life and of course this will go faster and faster as you progress/get a higher score.
The game is very simple, graphics are very simple, the sound is chiptune related and also very simple but the gameplay got me hooked for a few rounds and i guess i could waste some time with this game if i had any to spare.
The main thing about this game is that it supports the Online Leaderboards and trophy/achievement system from Amiboing, you know. that system i have been hoping would be a unified system on the Amiga. This time around the game is not developed by Entwickler-x so it is a good sign that others are adopting the system. Crossing my fingers here for more titles from new and other Indie developers.
Highscore screen (online of course) and Credits screen, funny how the dev Ph0t0n St0rm decided to use their own faces as the in-game graphics, umm.. ok.
Give the game go, guys, it's worth a shot.
(Either on an OS4.1 enabled machine or on an iOS device).
Follow Us... Inspire Us To Get Better... Keep The Flame Alive
About Post Author