Platinum Demo – Final Fantasy XV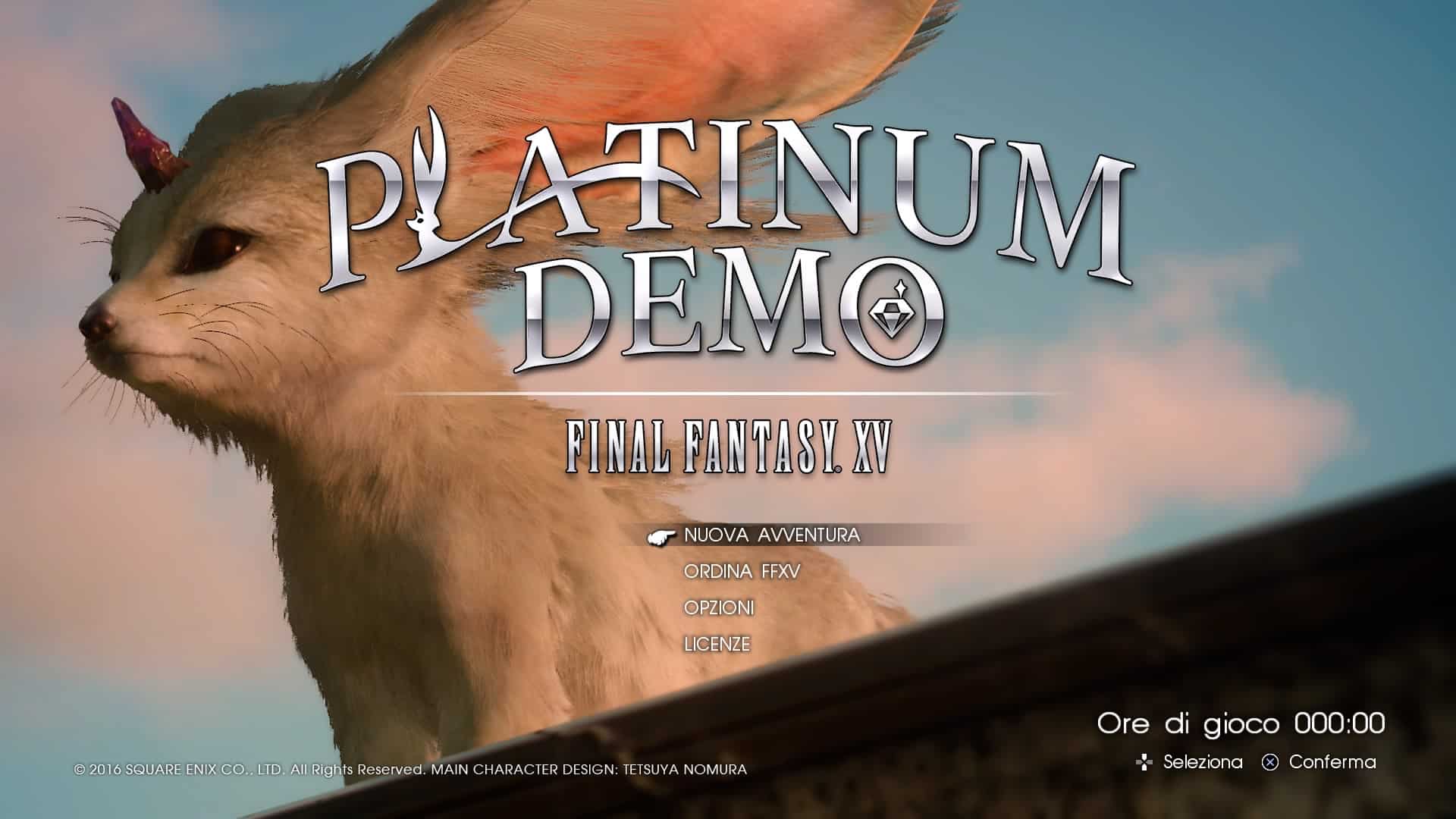 If I had to chose a subtitle for this article, it would be Better Late Than Never. As a matter of fact, the game is not out yet, but now we do have a release date (September 30th) and everything tastes … very official, so to speak.
So, 10 years after the original presentation (yes, it was 2006 !!), we are almost there. A few nights ago the Shrine Theater of Los Angeles, California, officially hosted the Final Fantasy Uncovered press conference, a massive event in which new details where given and new features presented. In case you missed the live streaming event, here is the entire footage, taken from FF15 official YouTube channel.
Note: Please be adviced that the show begins around minute 5 and 55 sec.
During the event Square Enix showed new live footage, a new demo, the collector's edition (which, by the way, I already ordered) and many other things, including a free web series, a new CG movie and a smartphone game (did we really need it?)…
But let's proceed with the order. In the unlikely case you never heard about this game before, let me only say that you will impersonate Noctis, a young prince living in a world of huge and dreadful creatures (typical of the series), but also a very familiar technology, ranging from firearms to cars and smartphones. Of course, there is also a magic crystal which allows people to live also out of magic and not only technology.
Despite the classic Final Fantasy game, we are now dealing with the first attempt of Square with the action RPGs. This game was actually meant to be called Final Fantasy Versus XIII, and it was supposed to be out of the regular series mood and style. It was during the everlasting developing period that Square decided to rename it 15 and to put it inside the original series.
You make like the game or you can hate it, but despite many other products, Square Enix put a huge amount of money and effort to make FF15 an all-around experience. The game is preceded by a free web series, call Brotherhood, which shed some light on what happened right before the game. It is a 5 episode anime series which will be available on YouTube. Here is the first episode:
In case you are craving for more insights, Square also secretly worked on a state-of-the-art CG movie, that will be available in Digital Delivery and included in the collector's edition. Again, here is the astonishing trailer:
But, actually, this post was meant to be on the freshly baked demo, so let's delve into it. We are not actually dealing with a demo of the real game, rather with an impressive display of the power of what the new engine can do. The demo sees you impersonating a young version of Noctis, lost in his dreams. Everything you see while exploring the environment directly comes from Noctis asleep mind. Despite the fact that this approach may not please every fan, there is no doubt that everything is rendered in a superb way. The environment is deep and very detailed and the screenshots do not give justice to the real thing.
So here is the first live footage:
After that Noctis moves inside a (very European) town, which you can freely explore. Noctis' nightmares come out in the form of an enemy, which is a nice way to teach you how to interact with things and how to fight.
Finally, before the demo ends, Noctis realizes that he is dreaming and turns into a grownup version of himself to defeat a huge monster which was keeping him asleep.
This is the end of the demo. Probably players out there wanted to get a different overview, but it is impressive anyway and clearly shows how much Square Enix has bet on this game.
As a final word, as I said before there is also room for a portable game, meant to come out on your personal devices. Justice Monsters Five is the main characters' favourite pinball, so here it is for your convenience.
Despite this project do have the stuff to be a masterpiece, I decided to give it an 8 for the
time being. I'll reserve my final word after a thorough playthrough of the final product. I have waited too long to be disappointed before even start.
About Post Author