Unreleased Amiga Shoot 'Em Up Shenandoah Out Now On PS4
Shenandoah: Daughter Of The Stars was set for release in late 1993/early 1994. It has been lost in development hell for decades but, now it is finally here, better than ever!
Every now and then a game gets canceled without anyone even noticing it, Shenandoah: Daughter Of The Stars was not one of those as everyone was talking about it from the very first time the developer showed the game off in public (or rather at one of the largest demo parties in 1993) till the end of the commercial life of the Amiga had run out and then some, I recall we spoke about this game as late as at the first German demo party I attended to (1996) thanks to one of the guys there sharing a preview with me (preview included at the bottom of the article).
SHENANDOAH HAD A PUBLISHER AND THE PRODUCTION VALUES WERE SKY-HIGH FOR ITS TIME.
Shenandoah got signed with publisher Black Legend Software and a release date was near, the previews, and the talks in media and on newsgroups were all about how amazing the Amiga 500 game looked and that it had a 4 player co-op mode, a technical marvel made by some proper Swedish geniuses from the Amiga demoscene.
After that, nothing, it all went quiet.
21 YEARS LATER… 1993: SPACE MACHINE WAS BORN.
In 2014 one of the developers dug out his Amiga and found all the assets and the project intact on some floppy disks (HDD?) and decided to give the game project a second chance. The team had worked on it for more than 20 months after all, and the game still had a lot to offer in today's "euro shooter" and indie market.
The game got a new engine but all original assets were used and were put on Steam Greenlight.
Time went by, and no one was really speaking about this new Shoot 'Em Up on Steam, the indie market is just too oversaturated. Most people (if not all) never expected to see this game ever again.
30 YEARS AFTER THE FIRST PUBLIC PREVIEW, IT GOT YET ANOTHER RELEASE – 1993: SHENANDOAH.
1993:Shenandoah came out of nowhere really, I mean, it was "just there" in the new games category on my PlayStation 4 one day, and at first, I didn't even realize that it was the old Amiga game, luckily I decided to check the screenshots and it didn't take long before I recognized the graphics from the old Amiga preview.
1993: Shenandoah did get a stealthy release on PlayStation 4 in February 2023, but yes it was indeed released on Switch a few years back but that must have been even stealthier as I haven't heard a thing about it until today when I started doing some research for this article.
14 LEVELS. 25 WEAPONS, UPGRADES, 11 HUGE BOSSES, 4 PLAYER CO-OP, 100 ENEMIES.
Everything that was initially planned for the Amiga version is here, 14 huge stages with varied graphic styles, a shop with an insane amount of upgrades available, 11 boss battles, and 4 player couch co-op, it is all there and the first thing that most Amiga gamers will notice is that it still feels like an Amiga game too, it is not pixelated to destroy a look and make it look retro, this is pixelated because it is real pixelled original work and it looks great.
1993: SHENANDOAH GOT SOME NEW FEATURES TOO OF COURSE.
It is hard to find any details about how far the original game actually got before it went into development hell but I am pretty sure the stats screens and level complete stuff were never planned back in the day, the achievements/trophies / Stats/progression stuff all fits more in as new features.
The game has also gone through some heavy playability testing to make the game fun for everyone, adjustments to the difficulty were never done in the Amiga version so that is new too according to the developer, it has to be said that the game is a bit too much on the easy side (especially for the experienced shooter fans) when you start upgrading your ship but then again, this is not a bullet-hell shooter from Japan which gives it a bit of a free pass although, hardcore bullet-hell fans will most likely not be interested in this game, to begin with anyway.
A CHEAP PRICE FOR A TRIP IN THE TIME MACHINE…
For the gamers out there that used to have an Amiga or always wanted one then this game is for sure one that will trigger a lot of feelings, it is almost like a time machine and to be perfectly honest, it is not often old Amiga games look this good on a huge 50″+ LED TV, the game cost less than 10 Euro on the PlayStation store and while the game is short it is still worth it as they clearly put their effort on quality over quantity.
The game hasn't got a Platinum Trophy sadly but the trophy list itself should at least give you a bit more replay value than just one quick 2 hours playthrough.

WHAT HAPPENED WITH THE AMIGA VERSION?
Well, the story behind the Amiga project cancellation was complicated and it was not the usual "The Amiga Market Is Dead" type of response that most of us used to hear a lot from 1994 and towards the end of the 90s…
One of the developers had been struggling with his sexuality for a while and just had to take a break from everything, not long after another member of the team moved to the USA, and by the sound of things this more or less killed the whole project.
The only trace we got of the game was the previews in various magazines like CU Amiga, Dator Magazin, and finally CD32 Gamer which actually had something playable attached to their COVER CD, sadly this preview is limited and not really much of a showcase today (but it is at least playable), Click here for the direct download.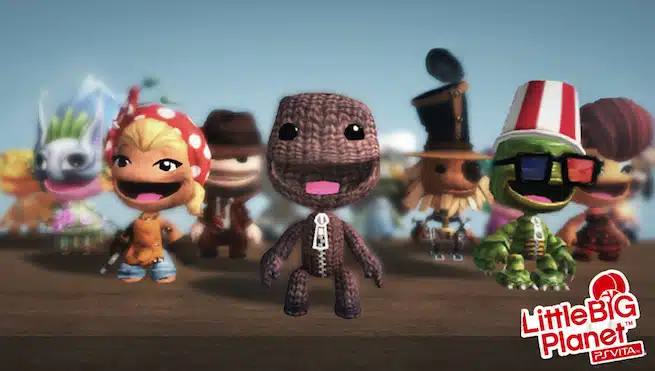 EXCEED PRODUCTIONS, WHERE ARE THEY NOW?
Well, after Shenandoah never materialized the remaining(?) team continued working on other games in the industry, and without actually knowing the whole story or the team it seems they have been consistently doing games ever since and can be traced to have worked for both Reflections and Tarsier Studios on games like the Driver franchise and Little Big Planet for the PSVita among others.
CONCLUSION AND MINI REVIEW…
Well, I completed the PS4 version last night and I enjoyed it for what it was, the music and sound fx are pretty good, and feels pretty much Amigaaaaaa! without going too far away from the roots, the graphics work really well as mentioned earlier, it shows how amazing 32 colors can be if done in an efficient way, and the variation between the levels and the amount of polish everywhere made it even more enjoyable.
The weapon system and upgrades work pretty well, multiple ships to choose from, a shield system that you can rotate around your ship while you fly as well as you can make your own combination of weapons to fit your game style, my ship though got really overpowered towards the end, and that made the game far too easy, that said it was still fun and I wanted to see the rest of the game instead of wanting to go to bed 😛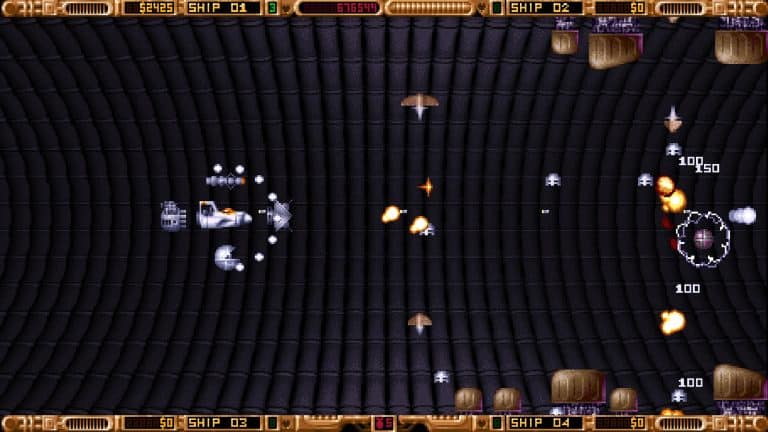 The main seller of the game was the 4-player co-op option (heck they even made a hardware adapter that was to be included in the box) and that would have rocked my world back in the day, these days though such features don't matter all that much anymore as I never have 3 friends visiting me at the same time (I will play it in 2 player co-op over PlayStation's PLAYshare feature with Roar Tonight though, right Roar?).
Final Verdict: You can't go too wrong here, it's cheap and it has a lot of history attached to it, If you are into Amiga then it's a given – GO GET IT NOW.
PS: I have attached the launch trailer below, just to tease you guys even more.
Ok, that's a wrap, thanks for reading and I hope you guys enjoyed this write-up / AmigaGuru.
Follow Us... Inspire Us To Get Better... Keep The Flame Alive
About Post Author