A Look At: Devils Temple – Son Of The Kung-Fu Master
I was a bit involved in this game last year until it reached a certain level of completeness and then I went quiet for months, post-covid stuff made me really, really quiet which I mentioned in a dedicated post a while back.  Anyway, this game is one of them that I helped out on but never finished (sorry Geezer) the task I was asked to help out with.
KUNG FU MASTER MIXED WITH VIGILANTE?
The Devil's Temple -Son Of The Kung Fu Master- is the spiritual sequel to Kung-Fu Master or rather a spin-off game that feels like a mix between IREM's classic Vigilante and Kung Fu Master thanks to its simplistic gameplay. How it looks and feels, doesn't mean that it struggles in any way to be its own game and most importantly its own thing.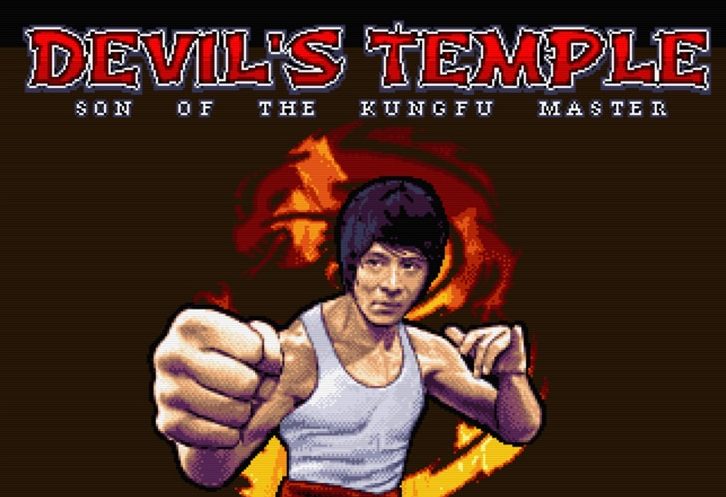 The first impression I got when I got involved in this project was the amount of detail and how it evolved into a different game pretty quickly (it initially started as a Kung Fu Master port/remake), I was supposed to be there from the beginning but I simply had too many projects. I more or less came to an agreement with Graeme Cowie that it might be best if I just pestered him after the "feature-stop" and when the game hit beta.
THIS GAME LOOKS AMAZING FOR AN OCS GAME, IT IS SO GOOD THAT PEOPLE SOMETIMES THINK IT IS AGA.
The attention to detail and most notably the graphic style is excellent.
Keep in mind that this game is an Amiga 500 game (OCS Chipset).
The game is mainly meant for a 2 button joystick / Joypad. Still, I have actually beaten the game with a normal Zipstick which only got one fire button, yes I could not use knives or even my fists but kicking the shit out of everyone was more than enough for me (jump kick, low kick, and high kick), at least for the first few playthroughs, with that said – it's better with 2 buttons for sure but playing anything with an joypad on the Amiga just feel wrong.
FOUL LANGUAGE AND VIOLENCE IS PART OF THE EXPERIENCE…
It doesn't take long before the words "bitch", "fuck off", and "big fat man" pops up, the same goes for blind violence but for some reason, it feels not offensive in a way that drags the game down.
The amazing-looking intro and the style ingame fix the language used pretty quickly and it feels at home.
The bosses, the pick-ups, the graphics, the retro posters on the walls, and the music + sound fx simply make this the best beat 'em up on Amiga.
THE BEST BEAT 'EM UP ON AMIGA…
In Devil's Temple, you get to visit the traditional locations for a game in this genre which most of us have grown used to over the years.
No less than 10 levels with locations like The Streets, The Subway, The City, The Dojo, The Arcade, The Park, The Original Kung-Fu Master,
There are also some bonus mini-games that show up after every 3rd level, Where your task is to kick some balls, most likely inspired by the bonus levels in IK+.
KICK, PUNCH IT'S ALL IN YOUR MIND…
It is really fun to watch all those graphical touches spread throughout the game, Heck, I'd go as far as to say that is one of the main reasons why you should give this game a chance and a full playthrough. This exact thing was why I started to play games really, what's next, what does the next level look like, and so on, in other words not like today's AAA games which mostly just look the same throughout the whole bloody game.
PICK UP'S, WE DON'T NEED NO STINKING PICK UP'S…
There's some hidden stuff in the game too, some are even homages to Graeme's earlier games, won't spoil too much but try and hit that Rygar machine in the arcade for an insane amount of bonuses. The only sad thing in this game is that there's a timer in it, and maybe worst of all is that it doesn't pause/stop when you enter the end-of-level boss, which naturally can take a helluva long time to beat.
The only thing I dislike about old-school games is the god damned annoying timers and that you have to restart the level even if you could easily have respawned mid-level. AAAAAARGH!
A DESIGN CHOICE – BLACK BOXES…
At the end of every level you get an evaluation of your performance, This is a thing you normally never see in Amiga games so that's pretty cool, in this screenshot you can also see one of the few things that drag down the score a bit, yup the black boxes around the text, I know why it looks like this (technical reasons due to OCS), I wish this would have been fixed if AGA was detected on boot up (like some games did back in the day).
It is not a major thing by all means, but the outstanding presentation throughout the game makes it a real showstopper, and the black boxes are the only thing that drags it down a bit.
WELCOME HOME TOMMY…

A welcome return is a return to the actual levels from the original game and it just works too, one would suspect that it would have felt too generic but nope, still a good design.
The end of level staircases is there, the boss makes you feel at home too.
As with every level in the game, there's hidden stuff to be found and this level in particular feels like way more enemies than earlier levels, if that is actually the case I do not know, might be stress-related and fear of dying…
MY FRIEND ROAR AGAIN PRESENTED ME WITH A PICTURE OR TWO FOR THE ARTICLE…
These hysterical funny pictures come from RoarTJ yet again, I love his work and am very grateful for having him assisting me with graphics and grabs for all games I need help with. Lo
A GREAT GAME BOX IS AVAILABLE TOO AS ALWAYS WITH GEEZER GAMES…
One of the best things about the game is that it comes in an amazing physical edition too, this box has both a floppy and a CD32 version included and everything is done with precision, all the details are there, and while it is expensive (especially for people abroad) it sure is a proper showcase on your shelf and well worth your hard-earned cash.
THE VERDICT?…
So, I guess some of my readers just scrolled past all and came here for the final verdict, well, Devil's Temple is fun and looks amazing but it feels dated and maybe too generic in terms of the gameplay, the controls, and the feel is just too stiff, the enemies grab you way too quickly and the hitboxes feels a bit wonky, yes it is very much alike the original Kung Fu Master but if there was one bad thing to say about that back in its heyday, well that was it. It may sound like I am very negative here, but I am not really, it is just that if things had been adjusted a bit more then this could have easily been a 9 or 10. I have not mentioned the sound and music really as I saved it for
here,
I really like it and it does feel perfect for the game, the thing a lot of people forget is that this game is actually an OCS game which basically means that everything Geezer has put into here is nothing less than amazing.
Oh and finally, the physical edition is a proper showcase item for your game collection.
Want to buy this game ( or any of Geezers other titles? – click here)
Follow Us... Inspire Us To Get Better... Keep The Flame Alive
About Post Author