A Look At Bruce Lee – Return Of Fury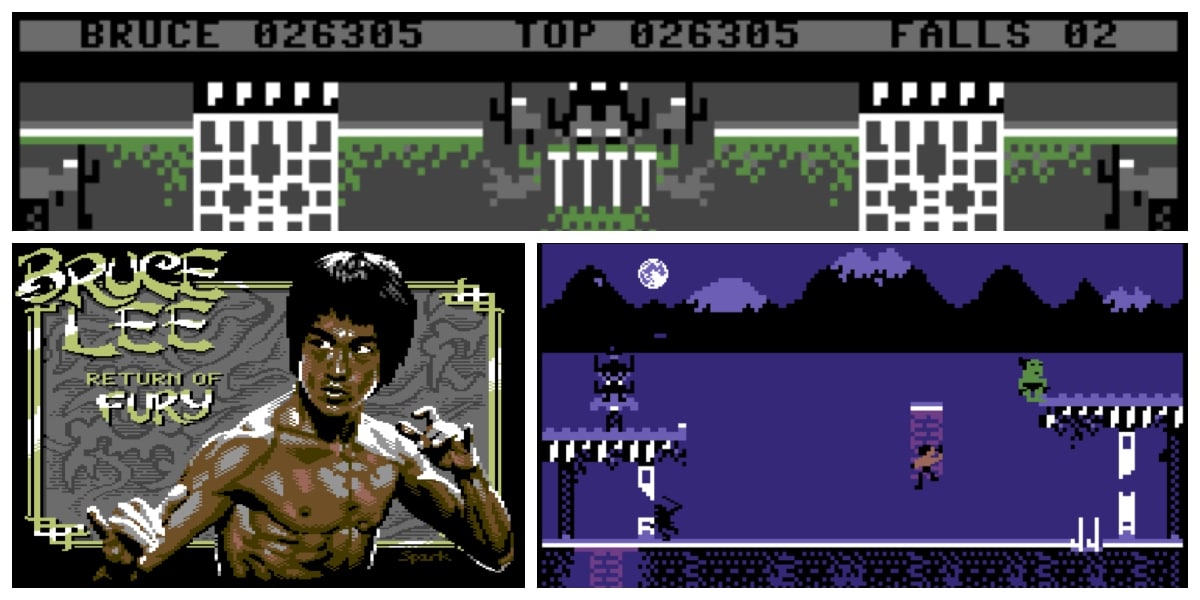 35 years later, The Emperor had rebuilt the Forbidden World. Enemies regrouped and came back even stronger. There was no backing out of the challenge ahead. Be like water, my friend, and you will be victorious. The Legend has returned – The Adventure continues.
This is how Ron J. Fortier (Code), Kelly Day (Graphics) and John A. Fitzpatrick (Sound) presented their brand new Commodore 64 game and how Francesco Fiorentini (now a consistent special guest from RetroMagazine) introduced his article for the latest issue of the magazine. Bruce Lee – Return of Fury is the continuation of the original Bruce Lee game released for Commodore 64 in the 80s: it sports the same gameplay but it is set in a brand new world to be explored and full of enemies to defeat. 35 years after Bruce Lee's release by DataSoft in 1984, are you ready to accept the challenge and impersonate again the archetype of THE ultimate martial artist? Obviously, the answer can only be one!
Everything from the game's presentation image onward screams style, with the introducing graphics that is perfect to put yourself in the shoes of our hero: the dark colors of the Commodore 64 palette really seem to give strength to Bruce's tense muscles. I guarantee you that after having seen it you will want to start fighting yourself, exactly like after having seen a martial arts movie. The aim of the game is to collect all the lamps depicted in each screen. To collect them, Bruce can jump from a standing position, run and jump, climb on the ropes and even fall from high grounds. Oddly, though, is the platform part is well implemented, the fighting one is rather limited, only including the fist (emphasized by a black glove) and the flying kick, Bruce Lee's peculiar trademark.
If necessary, Bruce can lower himself to avoid the blows of Yamo, a skilled fighter often using flying kicks, but above all to avoid the slashes of the sword of the Ninja that are obviously lethal! If you are a Kung Fu Master fan and you think the game is a mere hitting the opponents or stuff, like in the arcade made by Irem in 1984, you will be disappointed. Or pleasantly surprised.
As said before, the aim of the game is to collect the lamps embedded in each screen and to do it you'll have to solve simple riddles. Some lamps unlock the door to the next level and to collect them you will have to avoid pitfalls, blades, explosive mines and so on and so forth. Fights are really reduced to the bone, it is often easier to dodge and avoid enemies rather than wasting time fighting them. The puzzles are never complicated and gaining the exit is a matter of trial and error, where use the correct timing is often the key to success. After the first look you will immediately understand what to do, but being able to do it is really another matter. Technically the game is made up of a series of static screen rooms: graphics features are essential, in the style of the original Bruce Lee, but always at excellent levels. Although the whole game is very pixelated, we here face a true stylistic masterpiece: screens are an all different one from another in both style and usage of colors so after the first two levels you'll crave to see what else is expecting you. I guarantee you will never be disappointed!
As far as the sound compartment is concerned there is no soundtrack, left aside the game loading screen and the credits one. Special effects are a different story with a very effective flying kick sound but a little less convincing mines explosion noise. BG music are often an hassle if they are not well done, so perhaps this choice was the right one. What immediately strikes the user is game playability: you will hardly be able to finish it with 2 or 3 games and you will want to continue playing it to see what's on the next screen. Unlike similar games, that sometimes get boring or frustrating in the long run, this Bruce Lee has that extra something that will prompt you to play it until completion or until you showed to all of your friends that these 8-bit machines in 2019 can still have something to say if properly coded. Furthermore, Bruce Lee – Return of Fury is one of those games that combine reasoning with action so, all considered, it is a great game and it is freely downloadable HERE!


Follow Us... Inspire Us To Get Better... Keep The Flame Alive
About Post Author