Dracula Reborn – Castlevania: Lords Of Shadow 2 CE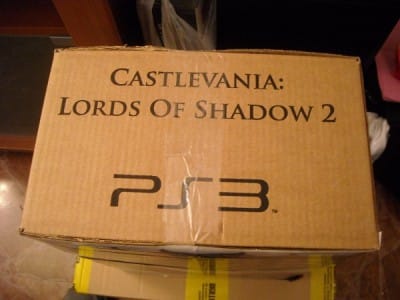 Castlevania. One of the most distinctive Konami sagas. One of the most inspired pieces of art which date back to the dawn of Nintendo consoles.
Luckily for us, in time it all moved on PlayStation as well. And when it all seemed lost and stale, the Spanish team Mercury Steam rebooted the series so well creating a new masterpiece.
I don't know at this time if Castlevania: Lords of Shadow 2 will be another groundbreaking experience, yet here it is the Dracula's Tomb Special Edition.
It arrived today from Gamestop online shop. A huge package …

containing a cardboard-made engraved tomb. Even though made in cardboard, the tomb-shaped box looks and feels very sturdy at the touch.

Once opened the box reveals an embossed artbook and a blood red steel case, obviously containing the game disc.

As usual, a few DLC codes are reserved for the collector, but the surprises are not over yet.

Here we are, with 3 plastic action figures.

And now, a final look at the complete offer.

A complete review of the game will come in the next weeks.
Edit March, 2nd: Added the unboxing video
Follow Us... Inspire Us To Get Better... Keep The Flame Alive
About Post Author