I'm In Pain! – Smashed Painkiller Collector's Edition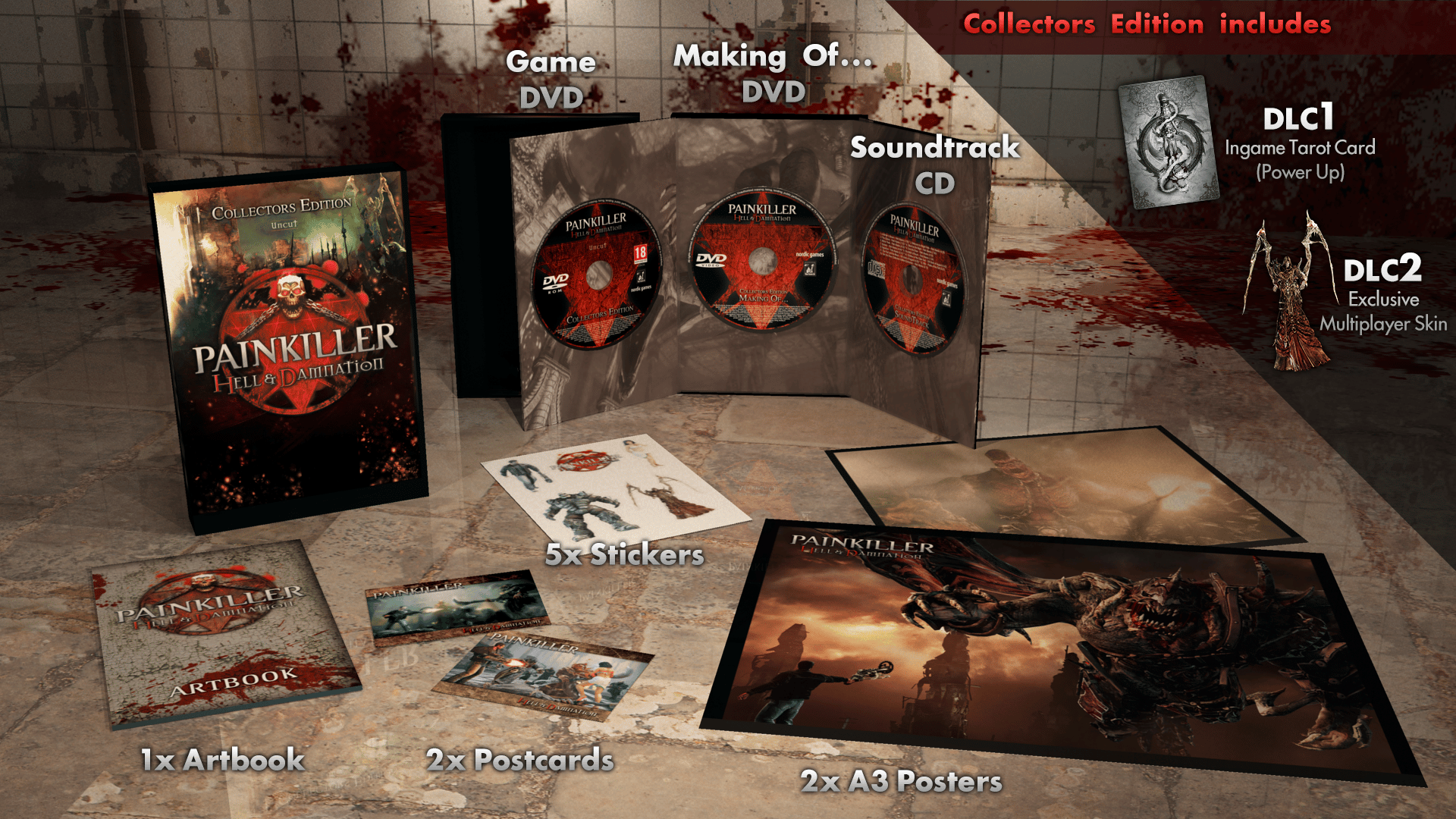 Yesterday I received 2 packages in the post, 1 was Painkiller:Hell & Damnation Collectors Edition and the other was Metro:Last Light, happy days i thought but shock hit me when i opened the envelope/cardboard box for the game Painkiller came in… the packaging was too small so the collectors edition box (and the C1 envelope actually) was squashed flat, Amazon normally packs and ships items in great condition and good sized packaging but this time around…not so, anyway more about this soon.
Looks good? , well i have been a games collector for several decades now so i know how to try and rescue damaged boxes etc, anyway more about that soon.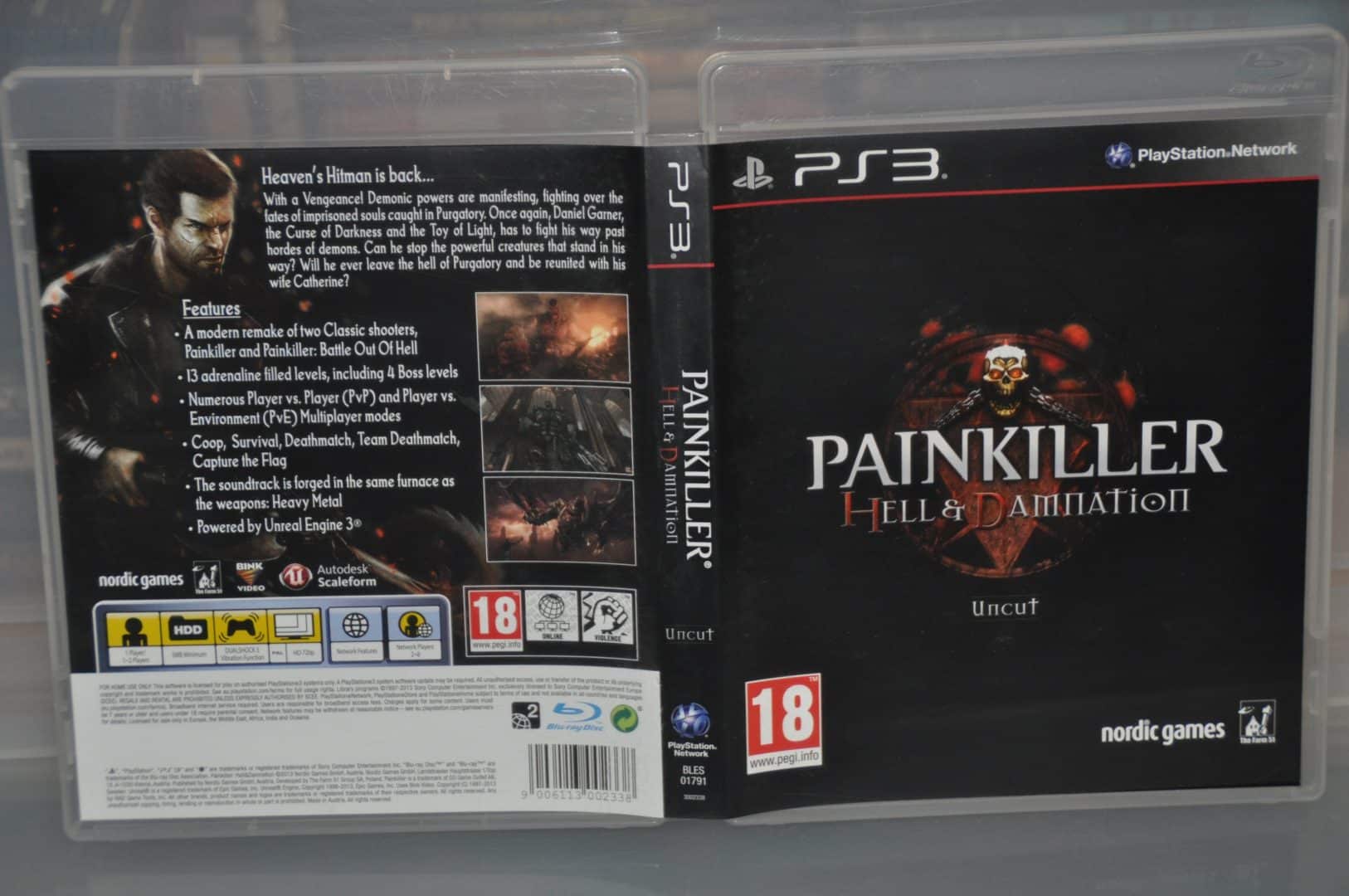 A really cool box on this game, it's just one of those paper medium-sized boxes but they managed to make it very cool even without bump mapped art and so on, this is a box i definitely would've checked out in the local shop if i were passing by.
Standard look on the back, and funnily it says nothing about the Collectors Edition content (did they forget?)… One really cool thing is that the game supports both split-screen and online co-op play, not a common thing these days (especially split screen).
So here goes.. new game, new box and a collector's item…and it arrives squashed, what to do… well not much you can do really as it is damaged but one can use some special tricks to make it look better, see the screenshot? , the box was entirely flat and you could see the inside stuff forming the box on the outside, corners were flat and so on, anyway, i used damp /steam and a little bit of water and inside the box i used transparent tape and inlay cardboard (i took cardboard from a grocery box) to hold it in place while repairing the box.. (tape and inlay cardboard is important to hold the "form of the box" ) or trying to anyway.
I use this "method" on regular basis and it does work but it's really annoying when the game is new and it will never be perfect, i managed to get the box to look better than in the shot above but one can still see it on the front and bottom and so on.
Not so bad? , well i dunno but being a collector..this matters.
Btw, the stuff inside wasn't bent or whatever but the game case was cracked and some of the inlays and posters had some typical "damage" when things get squashed look.
So naturally i filled out the complaint form to Amazon, which i have only done once before and here is how they responded…
Now, that's what i call service!, it's really good to shop at Amazon as the customer service is absolutely splendid and when stuff like this happens, well as you can see in the mail.. amazing!. In other words, this "squashed" copy will be up for grabs for 1 of you guys soon (Give me a reason why you! should get it and only you!.
Just what i wanted!, a postcard from hell!, actually the package comes with 2 postcards and both from hell but there is one problem… it's just standard glossy "manual" paper and not stiff cardboard postcard material so these things… do not feel like a real postcard even tho it does looks like one. How devilish of them!.
Looks good? i think so and i would have sent it to one of the visitors here on this very site if it had been possible to send it as a postcard but instead it's just like a pamphlet/leaflet… bah!…
Artbook time, 75 pages of colorful drawings of hell and blood and everything nasty that comes from that part of the "world", looks awesome but the artbook is just a normal "manual" book, feels cheap and paper is very thin but luckily the pictures are very glossy and bright/colorful.
Painkiller the soundtrack, really cool heavy metal typed music and this is one of the first times i have ever seen a soundtrack being bundled in a collectors edition, see the cd? , see the book? well, there was no room for a Jewel case in the collector's edition box so they decided to deliver it like this and then leave you the option to put it in one if you wish to.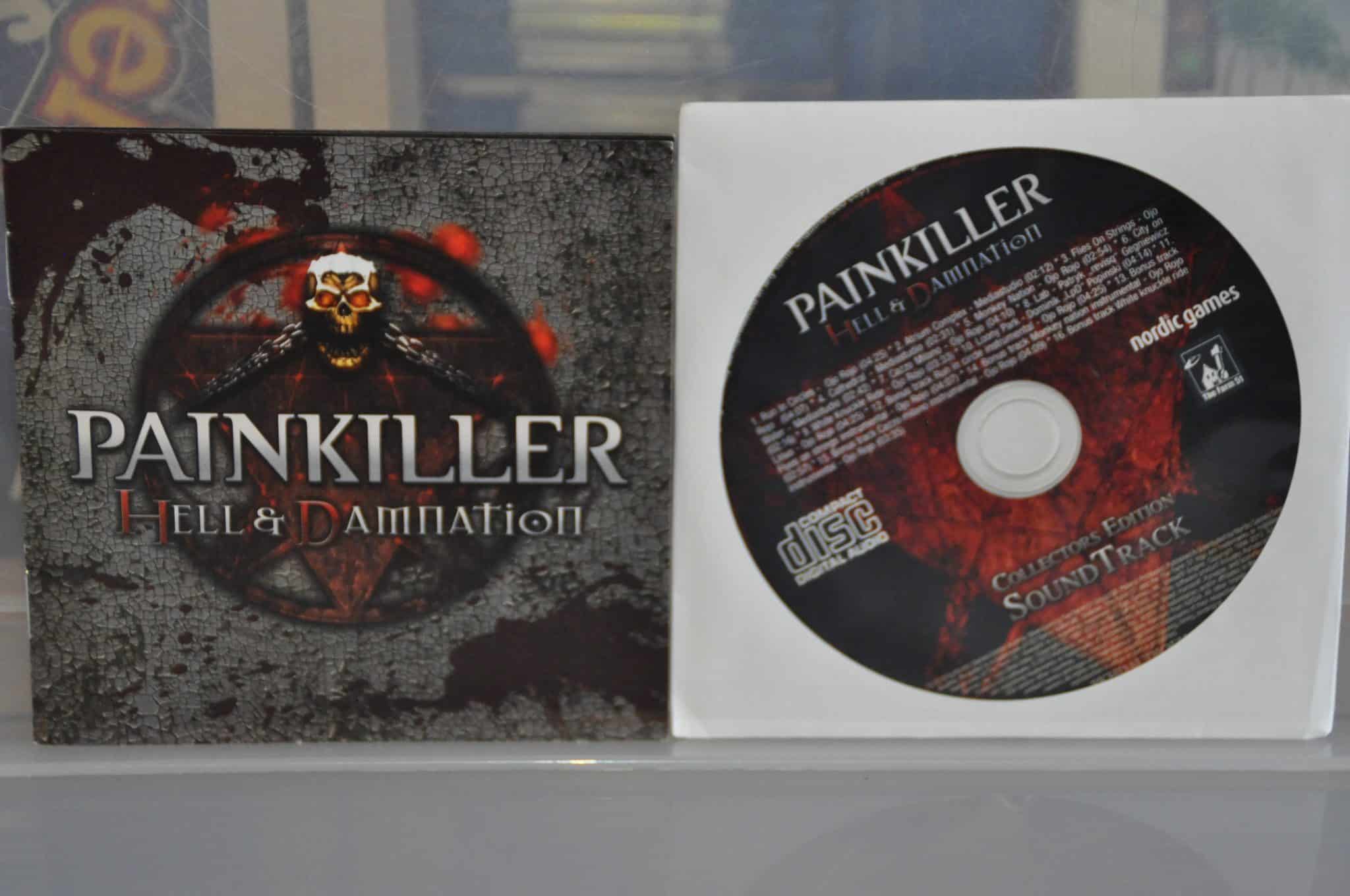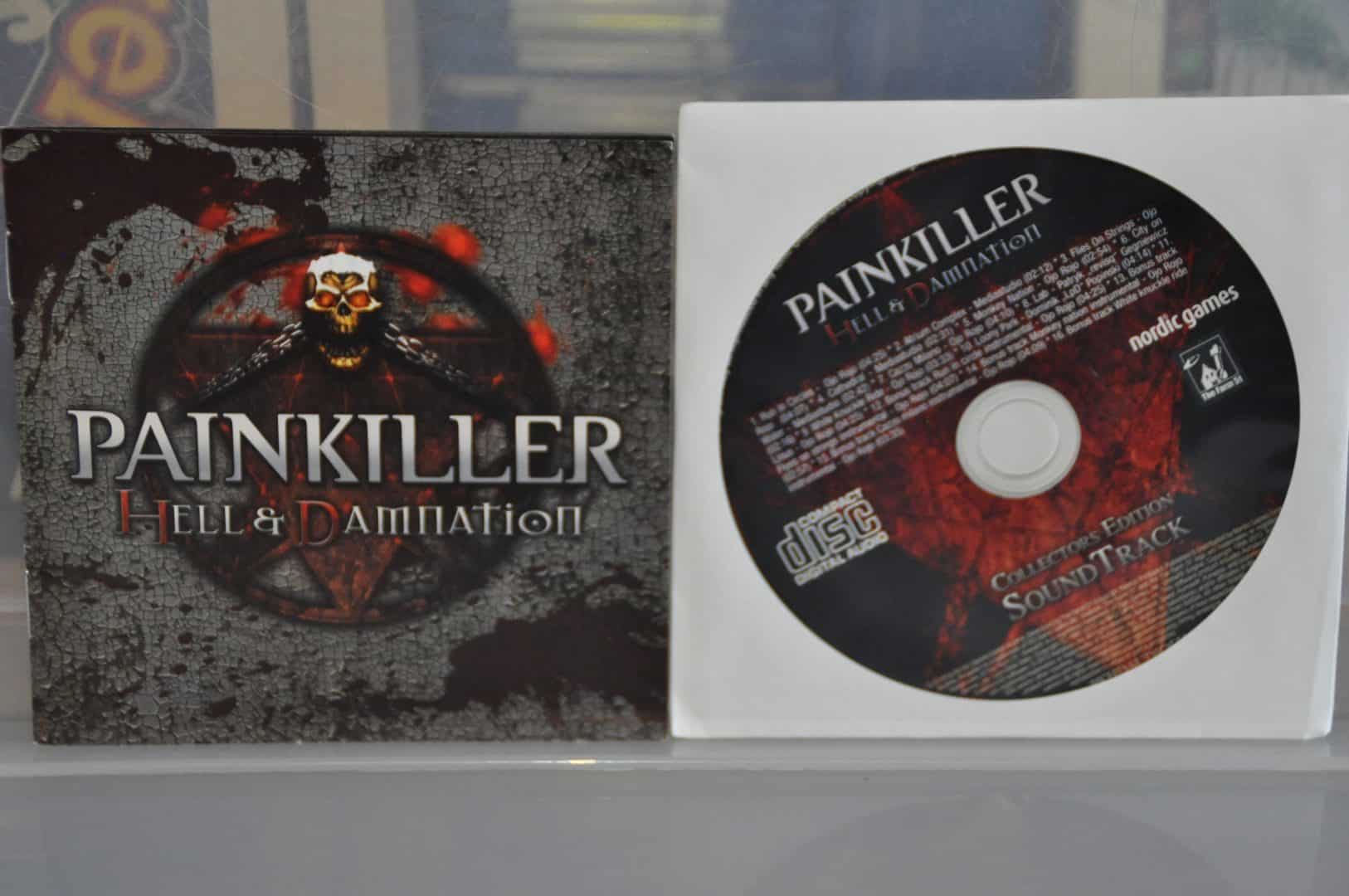 Normally soundtracks would just come with just the CD and no inlay on the side, well done Nordic Games!.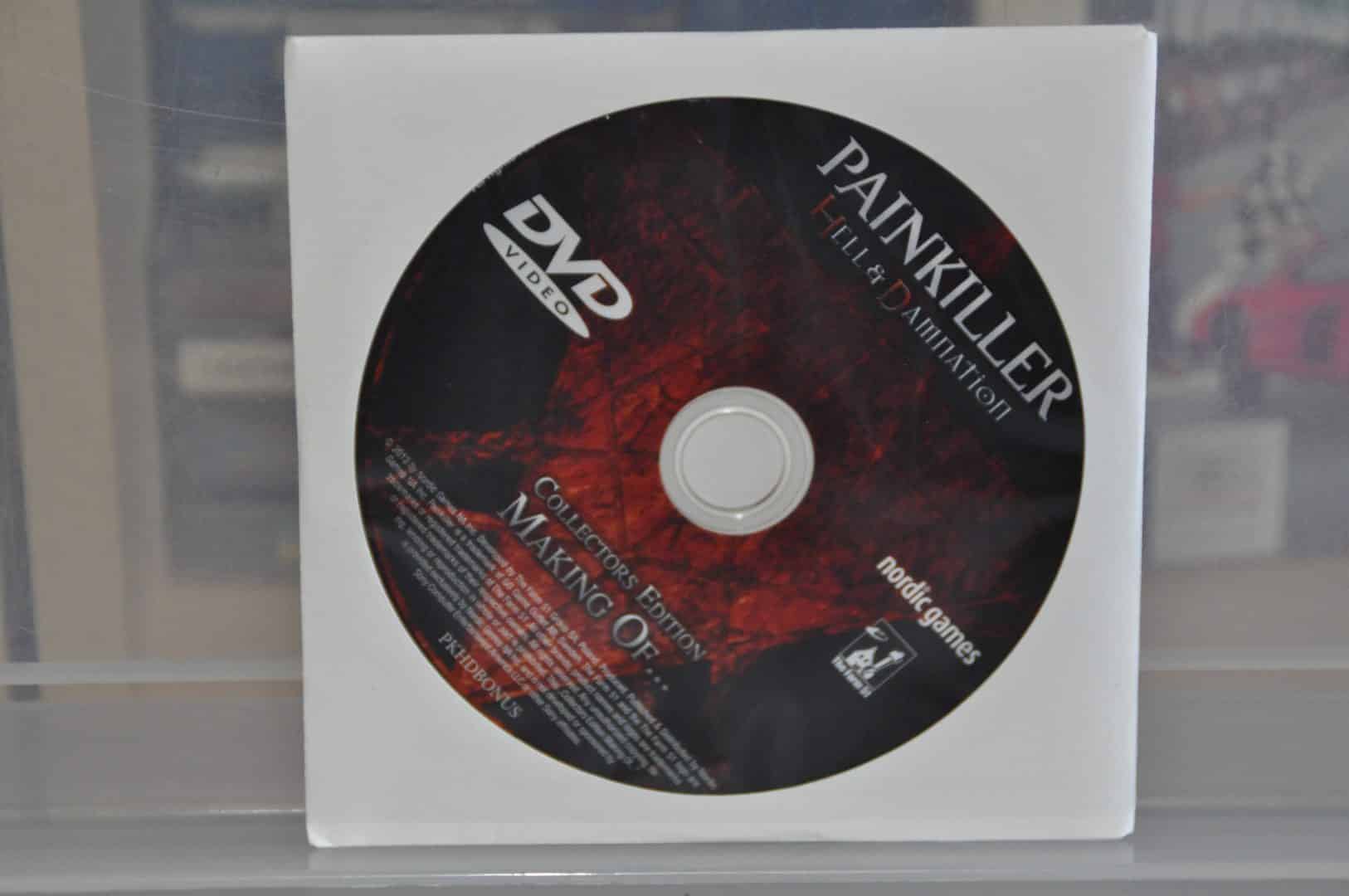 The Making Of Painkiller, A DVD movie, quite interesting and cool as always to see how people work in the game studios and since i have some experience from the field it's always even funnier for me to see these things as i was used to dark rooms with lots of noise and old pizza smell.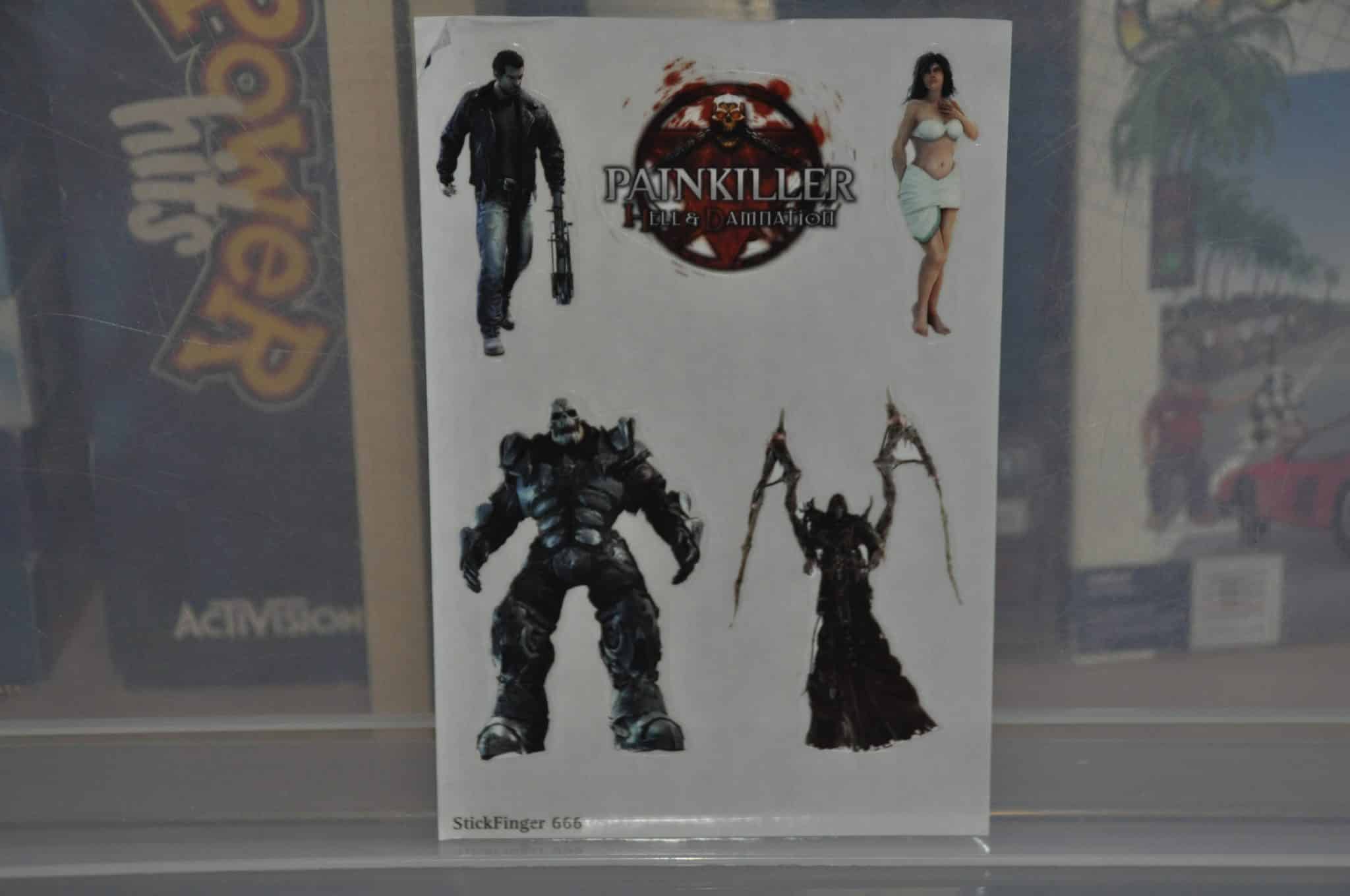 What is a Collectors Edition without stickers? , these stickers are actually broken due to the package being handled badly in the post but still, looks nice and i have tried to rescue it but as you can see there's still some torn's etc.
Great looking stickers and this is how stickers should look like and not like the Defiance Ultimate Edition ones…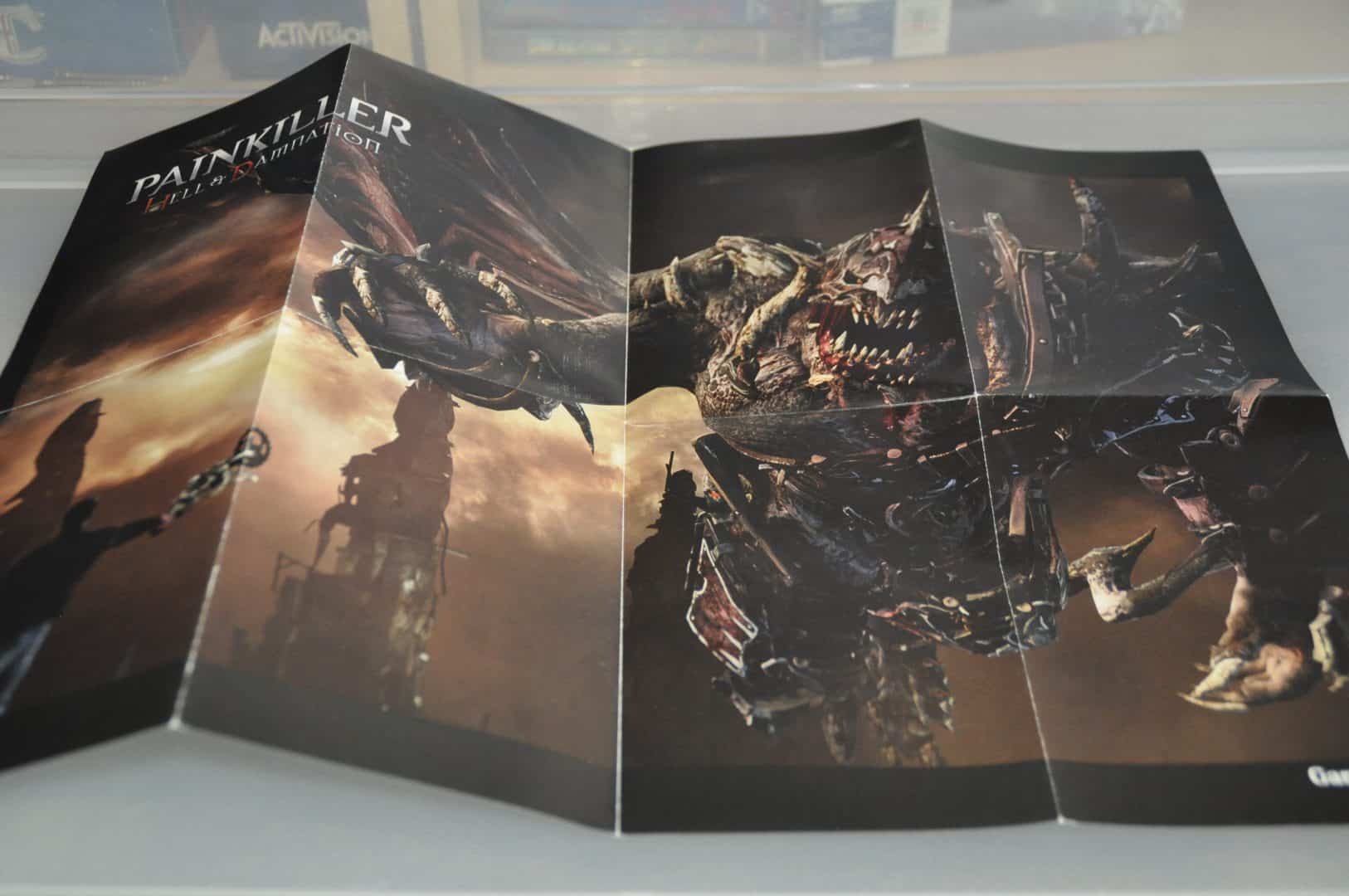 Painkiller comes with 2 posters actually, both small (A2) but of quite ok quality although paper thickness could've been stiffer.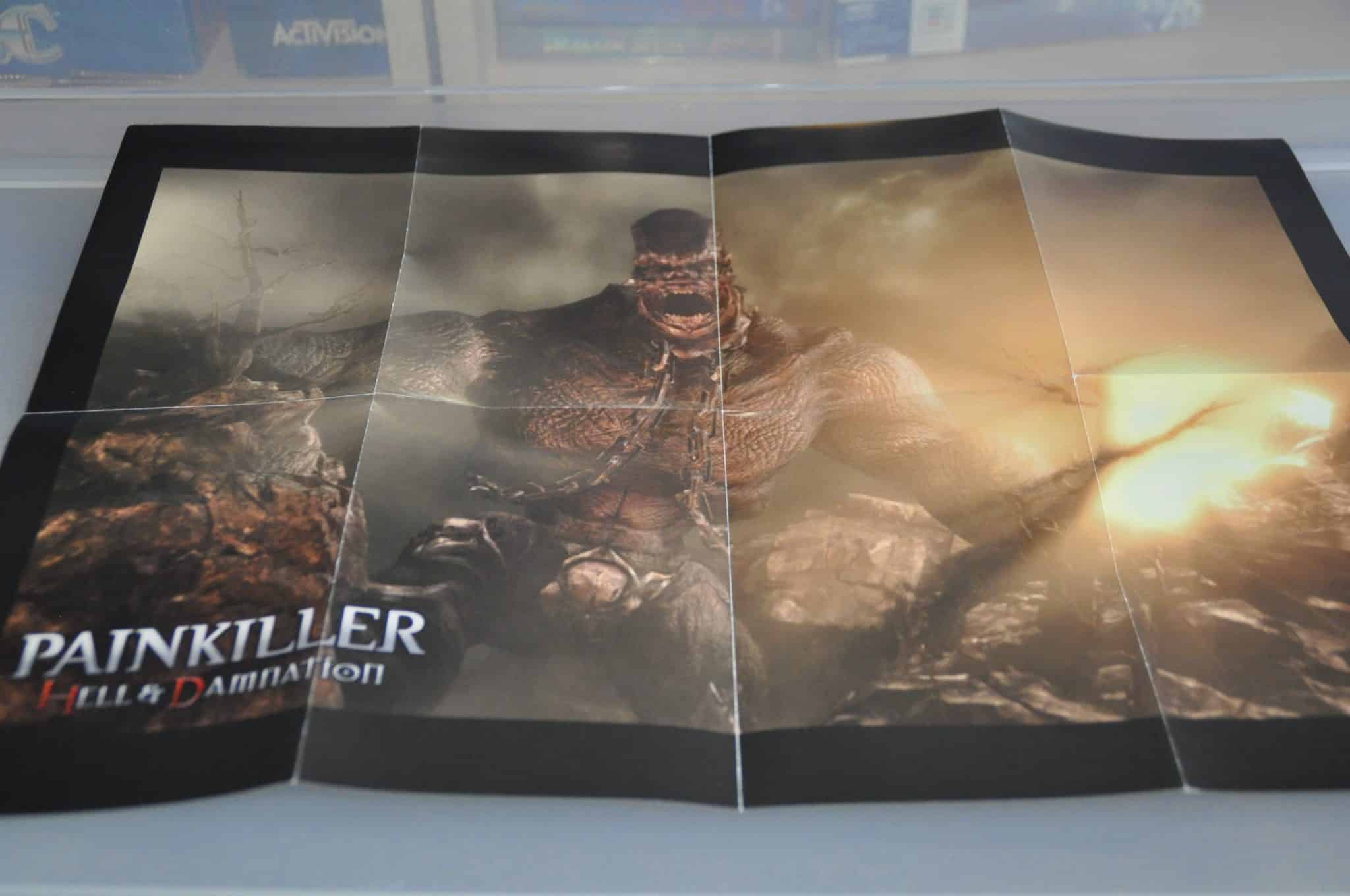 Here is the second poster and unlike so many other games this game comes with 2 separate ones and not just a flip-over poster, very nice!
I'll round this article up with a final picture of everything inside the box, quite a lot of stuff but quality varies and there ain't a figurine (grrr..) which i am getting too much into now even if i shouldn't as everyone knows that figurines ain't that common really.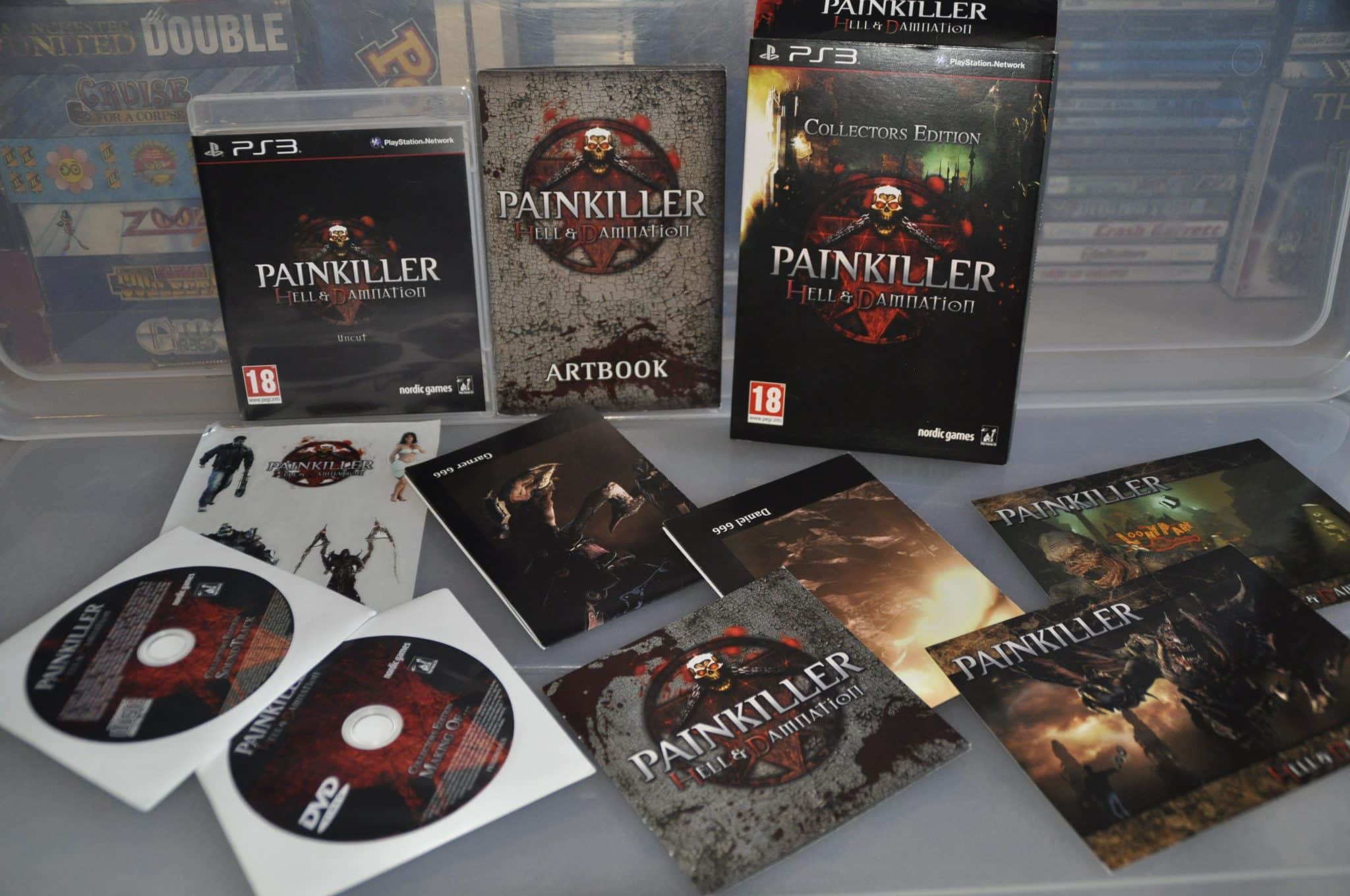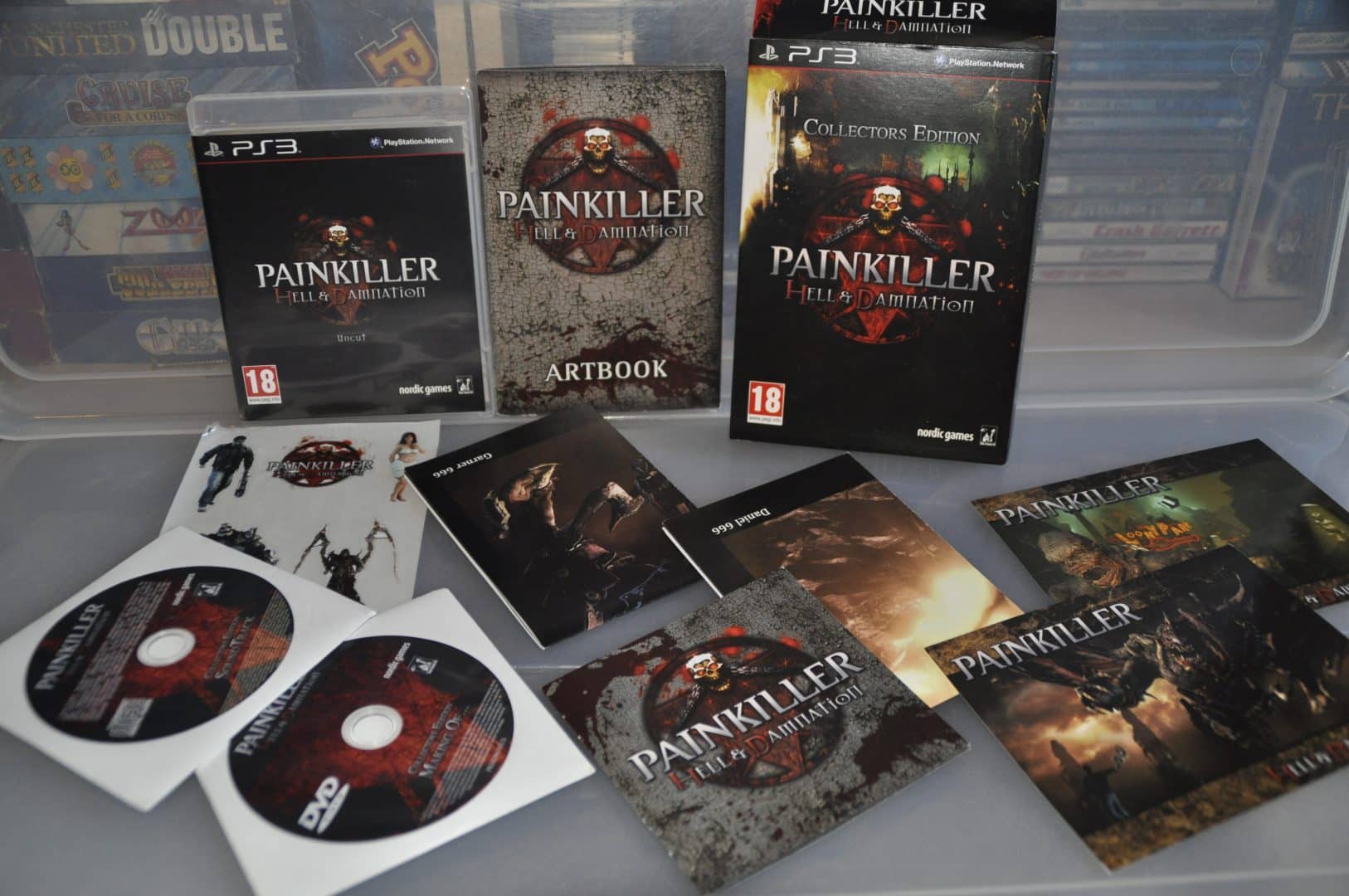 So, the game? , oh yes it is a game… umm it's a remake of two older games (Painkiller: Hell Wars & Painkiller: Battle Ouf Of Hell) formed into one game and the game is made by no other than the awesome polish studio "People Can Fly" who did games like Bulletstorm and Gears Of War.
It's a Doom /Quake type of game and feels very "oldish" yet very cool and i bet it's very similar to the originals. I haven't played the game all that much yet (Damn you Defiance!!!) but this is a game i will definitely pick up and play very soon as it's "something different" over all the other games this generation and while the game might be crap or whatever…i don't care.
Follow Us... Inspire Us To Get Better... Keep The Flame Alive
About Post Author