In Review: Loot Crate Subscription
I love the feeling when i get something in my snail mailbox and i love it even more if it is a surprise something in there, this time around i got something called "Loot Crate" which is a monthly subscription thingy where you get tons of game and comic related stuff tucked into a box.
The box was a test and one for review on this very blog and of course, all expenses were covered by one of our readers.
This is how the crate looks, from the looks of things this is the standard box and this is the size you get every month, and the value of everything inside is set to a minimum of $45 (USD). The price of a Loot Crate single box is set to $29.95 (USD), if you sign up for a longer subscription deal then it is cheaper.
The stuff inside is often exclusive to this service, so if you are into collectables from let's say Star Wars then this is certainly a service you might want to look into.
Time to pop the hood of this months box, Loot Crate November 2015.
The box is crammed with stuff, the mask thingy being the largest item. My first reaction was "what the hell" and after that, this looks like a service i won't bother with, let's just say, that mask/thing was a real "put off" at first glance.
.. 10 seconds later i was turned into Shredder from TMNT, the mask is useless and just a gimmick for sure and i will never use it and i have a feeling neither will my son at 6. These type of masks comes with Happy Meals and the likes from time to time and most of them go straight in the trash.
The picture was funny though, Rambo faces style and that god dawn awful hairdo, i am a proud gamer!.
Next item was this box, a thing called Cute And Deadly from Blizzard. Ok so yes i may not be all that of a PC game follower but what the hell is this then? very stylish coloured box and that silver folie wrapping sort of felt over the top.
Whoot!, AWESOME FIGURINE!, yep that's what was inside that folie thing and after i saw this figurine i realized it was pictured on the box haha. It's like Christmas you know, looking at the wrapping is a huge NO NO… Cool figurine feels solid enough and quite heavy too, this would fit perfectly next to the ones from the Tales Collectors Edition https://blog.amigaguru.com/?p=8423 but not right now. Off it goes into its box again.
This had to happen!, Fallout exclusive material inside the loot crate! woohoo. It explicitly says "exclusive to Loot Crate" and more so it is probably produced in a small number too. A real collectable this one then? who knows?.
This is the one, the actual figurine looks like others out there but this one is standing in a different posture which rates this as exclusive and hard to find (someday…). For some reason, i believe these things will be mass produced at some point anyway. I will keep this one for sure and if it gets valuable over time then that will only count as a bonus.
Oh, more cute and deadly stuff!. Looked like stickers at first but these things are magnets, a wee bit of an overkill too. I mean, look at the amount!. The size, most mothers, girlfriends or maybe even your cat will get annoyed by that amount of magnets on the refrigerator. DO YOU REALLY WANT THEM TO BE THAT?.
I popped the hood yet again and then this thing flew out, a Mockingjay pin thingy from the movie-/books THE HUNGER GAMES. I guess neither the IP nor the pin/badge needs an introduction, one question though, who on earth wear these things?.
At this point i went like, how much more is there really in this Loot crate thingy?. I decided to not check and just try and enjoy my looting.
Suprise time again, Street Fighter comic, exclusive to this service!. Hyped and as i was i tore open the wrapping and started reading and then i realized, shit! this could have been the ultimate Christmas gift to one of my friends. Today's quest will be to try and rewrap/seal the magazine and pretend like nothing.
Brilliant, just brilliant!. I have checked it a few times now and i can say that this is a mighty fine collectable and a must for every SF fan out there!.
I guess you guys out there should check if it is possible to buy "on the side" / separately if there is no November Loot Crates left.
The comic ain't many pages but still worth my attention and most likely yours too.
A small badge/pin which is dated November 2015 and tagline Combat.
Every month the boxes has a special theme and by the looks of things these things can vary a lot from month to month, i am not sure if there is one of these badges each month but if that is the case then these things might be quite collectable even for me who couldn't care less about these type of things.
I guess i should have done some research about this before writing this post but the thing is that i am away from home and i have a limited internet connection and that i am actually writing this article in offline mode.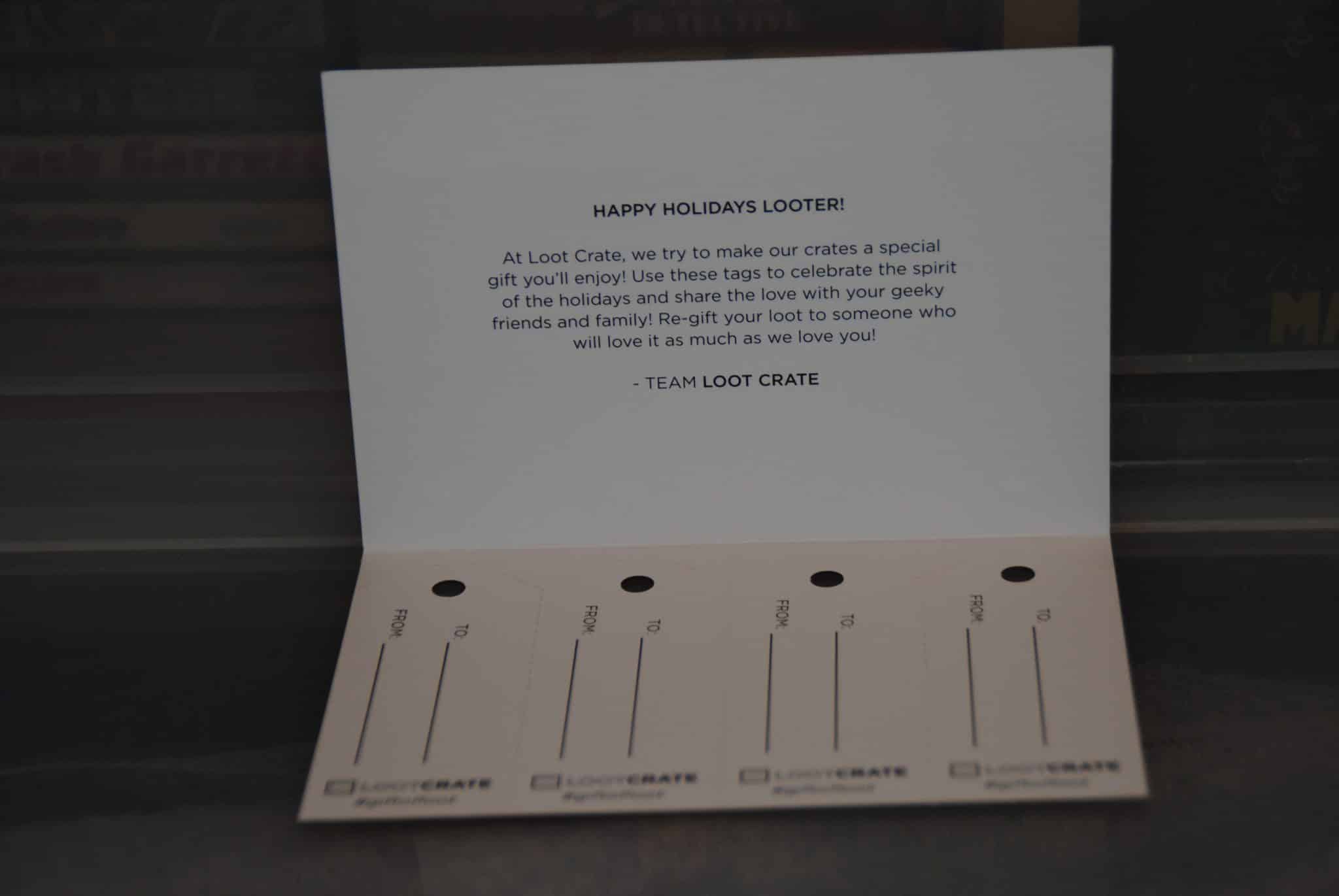 Included in the package was also these small name tags, which for instance you can use while wrapping Christmas gifts etc and maybe even if you decided to give away loot crate stuff. The tags ain't "all that" and to be honest, quite boring and i would definitely not use them.
The final item, a small leaflet/flyer which shows the stuff inside the package, very nicely done and produced with proper design and easy to read. Gotta love the picture above (front and back of the flyer).
Some of the pages pictured above, as you can see it is well made and they have spent time and money on this as it is solid with proper materials too.
This is where you will probably say, uh what is this thing?. I was not expecting this really but when i checked the crate/box closely i could spot a colourful background so i decided to give it a closer look. The box itself is pretty much standard but with a unique picture for every month/crate, the way to unfold it is described inside the box on one of the sides, and yes it is easy to unfold and fold back together again.
That's it, this was priced 29.95 USD and while it was gifted i still think this is of great value, high production value and well worth most people's money and especially if you're into this kind of things.

Loot Crate for me is a two-edged sword, i love these things but most of the time i never bother much or use these things but as soon as i give it away or whatever is when i miss them.
Follow Us... Inspire Us To Get Better... Keep The Flame Alive
About Post Author