It Came From The Desert Remake. Episode 2
After the game announcement and presentation, here is the second episode of the remake, directly taken (with author permission) from the official web site. This second episode focuses on exploring new environments at first and then deals with another minigame, this time related to the deadliest enemies of the game: the giant ants.
According to the developer, Lizard Breath's Gas Station was one of the most basic scenes of the original game. So he decided to spice it up a little, following all kinds of references of North American gas stations of the 50s. Once again, in my opinion, the author is very consistent in his choice of innovating while preserving the original spirit, as you can see from these screenshots. The choice of colors and lightings is perfect, and the scene avoids to include unnecessary details that would only clutter ones view instead of being eye-candy. Characters are still not present here since characters and dynamic objects usually have tons of component and systems attached to them. If these systems change in a future (and at initial stage of the development things do change a lot) they all have to be changed. It is therefore better to have a more defined gameplay before getting into these waters. Wise choice, Josué.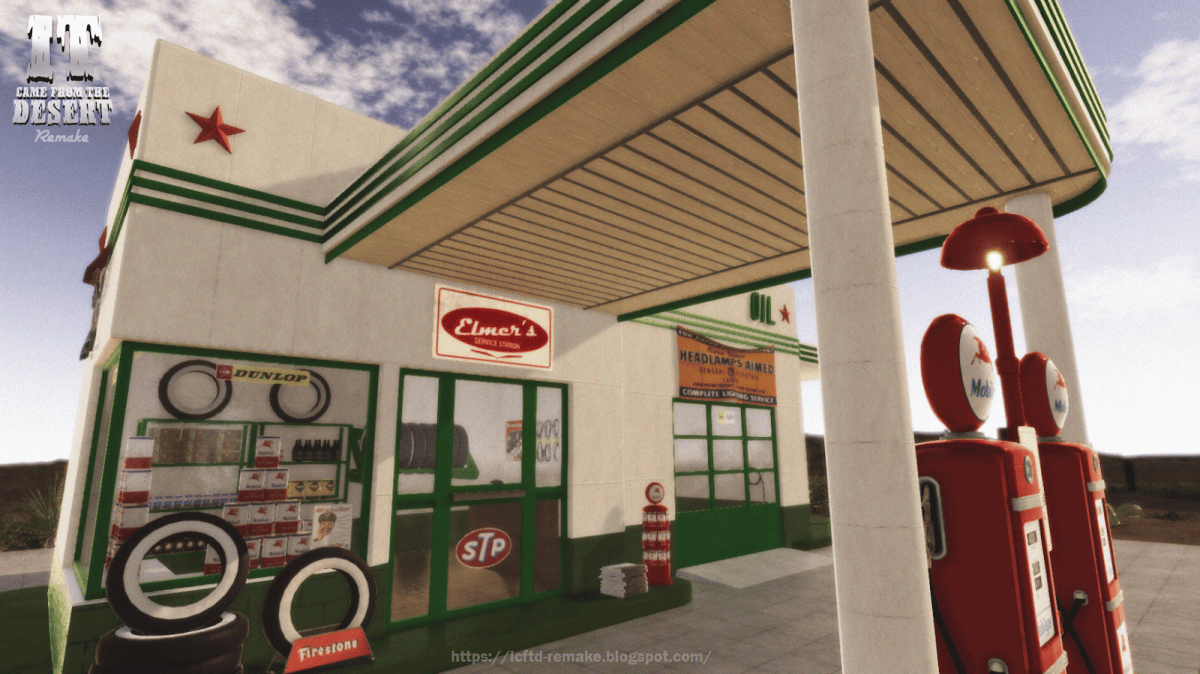 As said, the second video is about the First Person Shooter minigame, where you will have the chance to kick some ants' butt. Actually, it might not be as easy as it seem a first, but is is sure interesting … Josué had several ideas on how to implement this, so he decided to try out different approaches. Like in the real world, he considered we could have two different types of ants (workers and soldiers) and depending on the type of ant you find in the area you'll get a minigame mechanic or the other (wave minigame or antenna shooting minigame). Before analizing the video, here are a few more shots comparing the original product with the new one. Right on spot, I would say.

Finally, here is the latest video which shows us those two different minigames. Different strategies are in place, so a good thing would be shooting those damn antennas out. As usual, what I like best is the opportunity to see the dev at work. The video contains with a glimpse of the rendering software in action which is a thing that, as a coder, I always find very inspiring. Please judge by yourselves.
This is the end of Episode 2. Please keep visiting us to find out more. Please be advised that this is a PC software and that an Amiga port is not planned at this stage of development. It never hurts to hope, though … ^-^
Follow Us... Inspire Us To Get Better... Keep The Flame Alive
About Post Author