No Value For Some, For Others A Goldmine – Old Games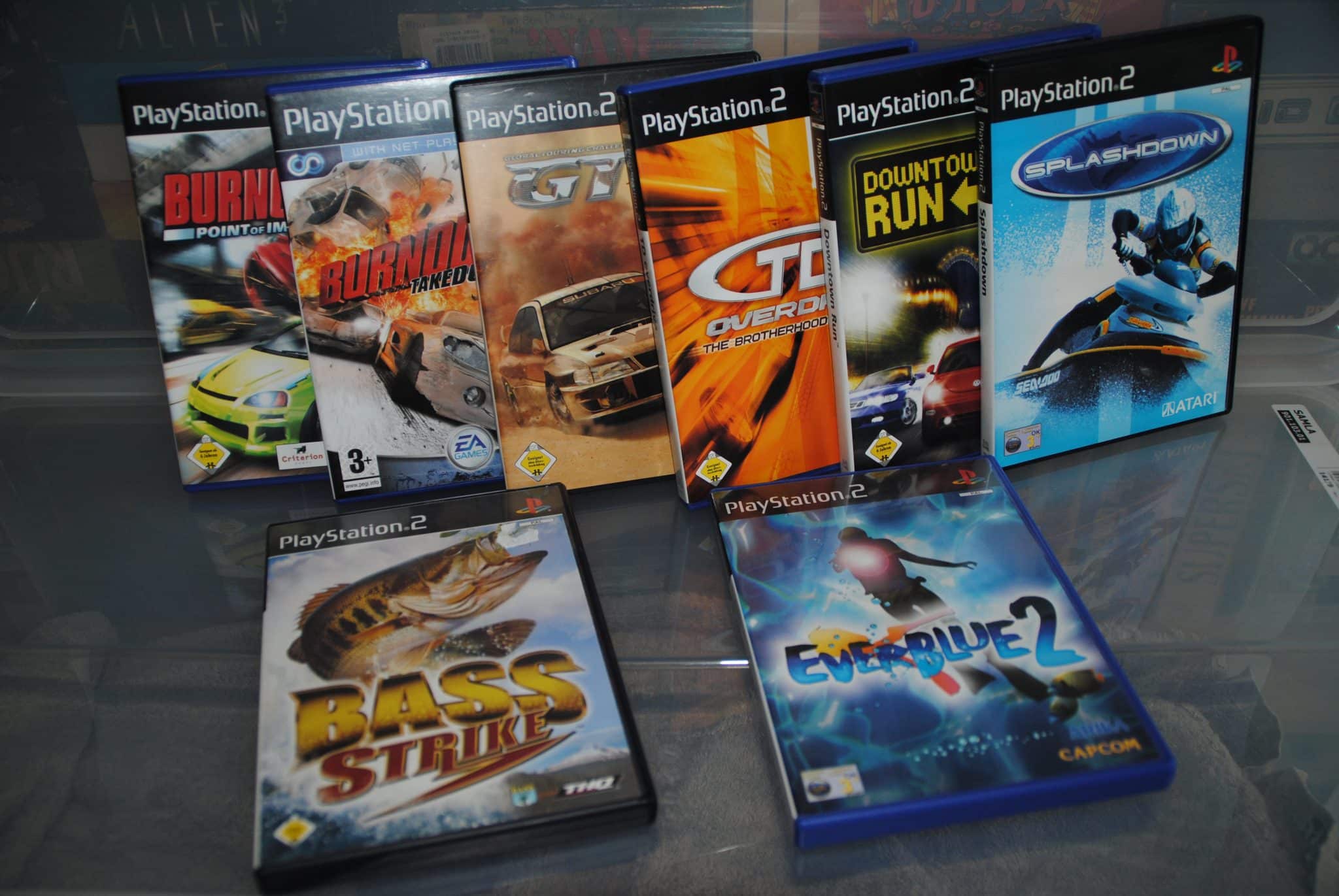 I have never bothered much with secondhand stuff but there's been a lot of scavenging going on lately on everything from Facebook, forums and such so i gave it a shot and went to various places around town to see if i was in luck.
I ended up finding 8 PlayStation 2 games and while not much of value to many i was still pretty hyped to see the condition of the games (new) and that i didn't have to pay a dime for them. (They had a sticker which said 10 Nok on them which is about a US Dollar/Euro but when i got to the counter the woman said i could just take em).
Yes, i got Burnout 2 – Point Of Impact for free, mint, never used and probably never put in a shelf in a store either.
Burnout 2: POI was the reason i bought a PS2, none of the launch games did anything for me when it came to buying the console. I would never have bought a PS2 as early as i did if it had not been for a local game shop that had the game on display/playable demo and yes it was the crash mode demo so it was an instant buy.
One of the best games on PS2 and i am very happy that i finally managed to get the game again as i sold my PS2 with a few games (Burnout 2 and 3 was a few of them) to buy a slim model instead.
Burnout 3:Takedown, there is only 1 Burnout game that is better than Burnout 2 and that is, of course, this one, it had everything the second one had + a lot more and everything ran better too, a true milestone for the series and i guess this is the reason that we never saw Burnout 4. There were loads of Burnout games after this one but most of them were just spin-off's or recycled stuff. Burnout Revenge added some really bad features which destroyed the game.
Burnout Paradise on the PS3 is bloody brilliant although it is a totally different take on the series.
TD: Overdrive – The Brotherhood Of Speed… what the hell?, that must be one of the worst names ever, why ATARI decided to go for it is beyond me as it must have destroyed the sales. TD actually stands for TEST DRIVE, you know, that brilliant series that started in the mid-80s and had a wonderful reboot on the PSone 20 years after. TD: Overdrive is actually a pretty sweet game and had never played this one before last week.
Downtown Run, yes another racer and yet again one that i had not heard of before, compared to MSR on the DC from the same year this feels outdated and low budget. The game run ok and it handles nicely so it is fun to play but i bet it would have been better for me if i had tried it when it was new.
Splashdown, ATARI had severe issues with naming their games it seems. This is yet another game i had not heard of before and well i guess i have seen it in a shelf over the years i wish i had tried it as this one is actually pretty good and probably one of the better "watersport" games on the console.
Bass Strike, just had to get this one as i love fishing games and i do have a fishing rod too, may not be the best fishing game on the PS2 but it is still fun and I and my son have had lots of fun with it already.
Everblue 2, is this one rare or something?. never heard of it before so i searched the internet for info, very little info found so i got a bit excited. Not a game for me this one, i did not get the point to be honed. I switched it off within minutes sadly.
Let's hope it is worth some money.
GTC Africa, i discovered this game some 8 years ago or so when i filled my PS2 hard drive (500GB) with pirated games, i really enjoyed this game so i am stoked to finally have the game on a legal copy. RAGE was a brilliant team and while not all of their games were amazing they still had something in them that made me want to play them.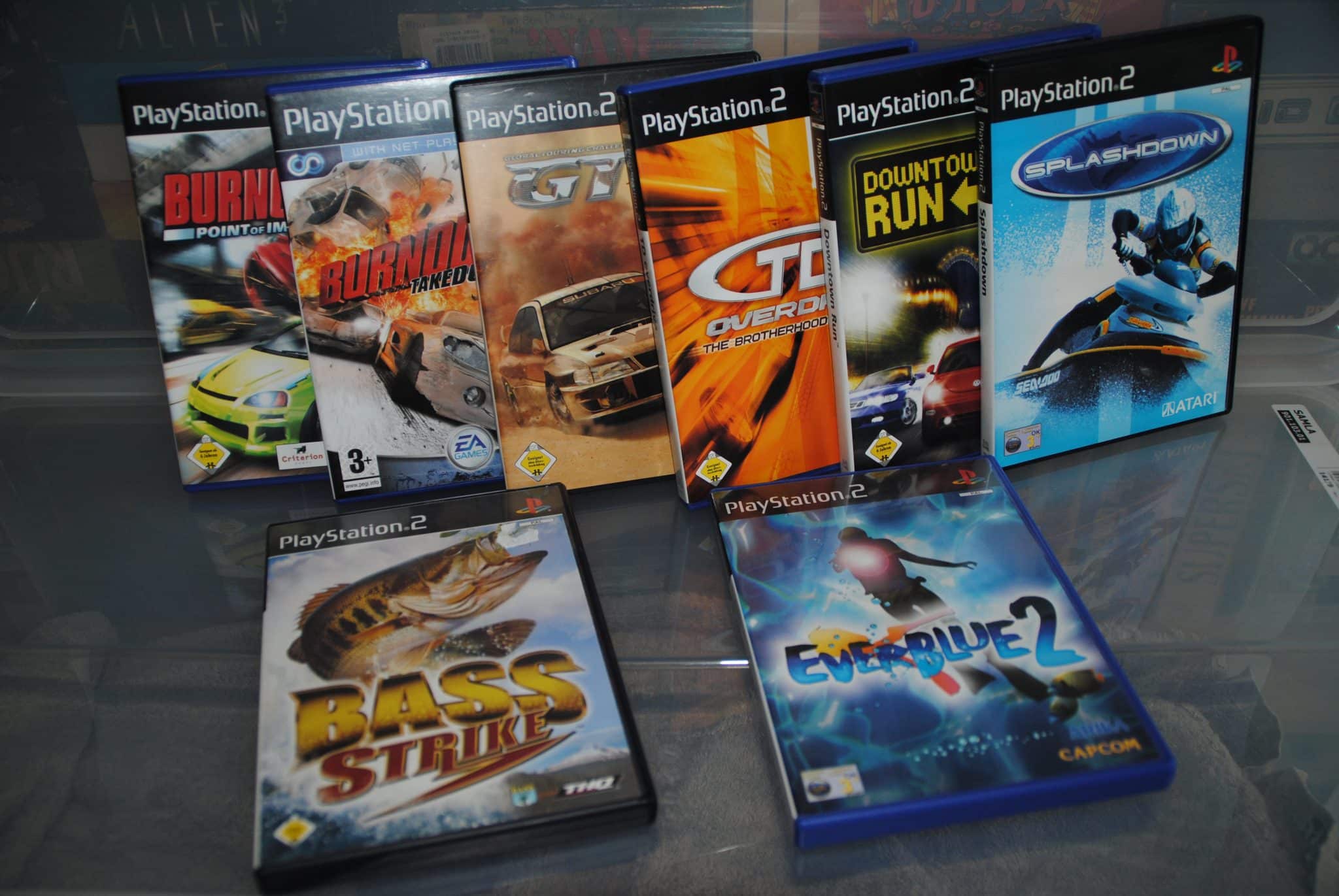 Here you see the games, all brand new, never used. Complete, no wear or tear and all of them for free. I have not looked around for the values yet but i will not sell them anytime soon anyway.
I managed to find 2 pretty rare collector editions for the PS3 a few weeks before the finding all the PS2 games above, i did have to pay for them though they only set me back a few euros totally.
Devil May Cry 4 Collectors Edition and 007 Quantum Of Solace Collectors Edition, both mint and complete and even better the discs look brand new.
Devil May Cry 4 is a sweet game and i am very happy to finally get a proper edition of the game, the steelbox looks great.
Disc and manual look like they've never been used.
DMC 4 Artbook, looks sweet, small but enjoyable, odd how i never saw this box in the local shops around here.
007 Quantum Of Solace, the box is almost ok, a small bump in the box (made by me…) and a stupid Gamestop seal sticker. Luckily these two problems are fixable with some small tricks i have learnt over the years.
Oddly enough the Collector Edition has no extras in it, i skimmed the net for info and by the looks of things, it seems my box is indeed complete. Being a huge Bond fan this box is quite the find for me.
So this was me being lucky, hopefully, i will find more at some point, but i have a feeling that these things won't happen often for me.
Follow Us... Inspire Us To Get Better... Keep The Flame Alive
About Post Author