PS4 unboxing Pictures – Launch Day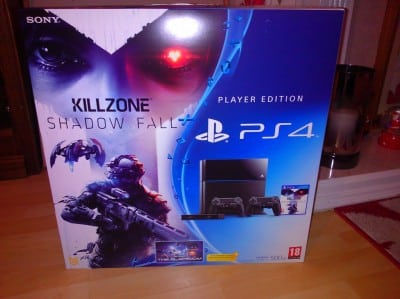 Well, as promised a little unboxing of my PS4 which i picked up at midnight last night/Morning.
I would just like to say that it was bought from GAME and i paid 489, it is the
PS4 Players Pack
It also came with Battlefield 4 as part of the bundle.
Can I just say the salespeople in Game were telling lies all night and any poor person that came in without a pre-order was being forced to buy the player edition plus 3 games and some headphone for 599 or they got nothing? They were also telling people they needed to get PS+ otherwise they couldn't play online, forgetting to mention that there was a 14 day trial in the box, to be honest, it was discounted to £30 but still, I suppose its business after all. anyways enough of my rant we shall continue
The Main Box was a lot nicer than the standard box and had way more graphics on it
the back was nice too.

It was also quite light which was very worrying lol.
Inside the main Carton was 2 sub cartons

The small brown cartoon contained the extras for the bundle so it had the extra dual shock 4, the PlayStation camera and Killzone game.


I tell you the DualShock 4 is so nice in the hands it's unreal.
Then came the big white carton.

What i love about this is Sony has not wasted mega bucks on fancy foam packaging or custom molded stuff, but everything is still nice and secure within the box,
I took it all out then laid it in front of the box.

Everything included is there.
here's a nice closer pick of console

There aren't marks on the console just the light reflections from the plastic i put it on.
So I connected it up and installed the 1.51 firmware, had it on a memory stick
Downloaded the update from the EU site during the afternoon and put it on a USB stick in a PS$/UPDATE folder. Put it in the console and then held the power button down for 7 seconds till the second beep to boot into safe mode and install the update from USB.
and finally, after setting up my PSN i logged into the store and downloaded some PS+love as well as the flower.


Sorry for some of the picture quality but this is just supposed to be an unboxing.
I don't want to review the PS4 but i would still like to mention a few things.
Things I like:-
DualShock 4 – Awesome love it, nice weight and grip with nice new triggers
User Interface – Very quick to navigate and the store is quick too.
Trophies – trophy syncing much faster nice new layout
Console – Small and light, looks nice but is a fingerprint magnet lol
Voice Controls work nice, "PlayStation" shutdown mmmm lol
Don't Like:-
The browser has no java support 🙁 a step back from ps3
NO Youtube app 🙁 I miss this the most kinda feel they dropped this to make us take videos unlimited and music unlimited
Not being able to arrange or organize the UI or change the theme, something else that gonna come.
Nothing else really annoys me as I know mp3 support will come as will java.
Hope you enjoyed this little post.
Are you getting your PS4 soon?
Follow Us... Inspire Us To Get Better... Keep The Flame Alive
About Post Author