A Look At Naruto Shippuden: Ultimate Ninja Storm 4 Collectors Edition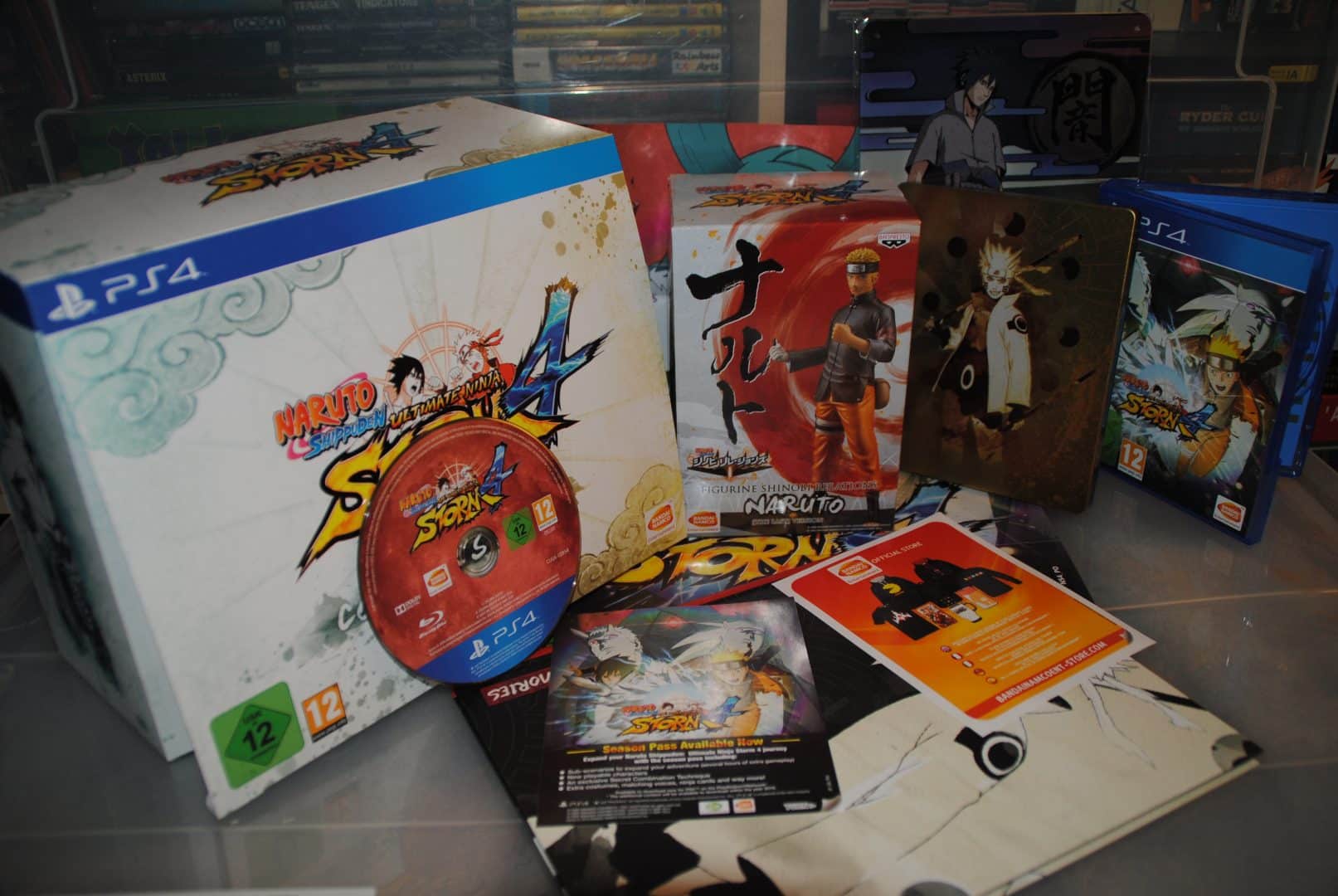 I never pre-ordered this Naruto box as i forgot all about it when the pre-orders started, and when i realized that i was too late i just put my name on a notify list in case someone decided to not collect their pre-order.
Out of the blue "my preferred collector item shop" sent me a mail about it being in stock again (several months after release). The price was steep but i still went for it.
The day the box arrived at the post office was a bit busy so i decided to wait a day before picking it up, that was a wise decision as one of the guys at a local shop had found a box in their warehouse which had not been collected and wondered if i was interested in it. Price tag? , 50% off, i bought that one in a heartbeat and returned the one in the post back to "my preferred collector item shop".
So what's inside of it?
The actual box is far from the size i expected it to be when i looked at the pictures on the box regarding everything that was supposed to be inside.
Slim yet high and long box made me unsure if it was worth my money at all.
Yey, the first thing in the box is an A4 artbook. It is far from thick and probably around 30 pages or something. i expected a small A5 book so this was a very nice surprise.
Can it get better ? time to check the book closer.
The book contains art from all 4 games in the series for PS3 and PS4, and the art direction is superb. Quality is top notch, colours, motives and the binding are better than most "cheap" books produced today.
Already this early in the unboxing it is clear that they spent a lot of money and time into creating this collectors edition worthy of the franchise.
What is this then? a metal plate sign, pretty cool one too. The quality is really good and the metal used seems like a perfect fit. I have never owned a sign like this before and most likely won't get a new one the future either, but this sign is like the ones you see at walls in pubs, restaurants etc.
Yep, a steel book is also in here. I love these things more and more for each day so every time there is an artbook and a steel book the higher the score gets. Standard size steel book again, not like Watchdogs and ESO.
Huh? a figurine too?. Yup, they even managed to squeeze a figurine into the box as well.
The box is cool and by the looks of things, this is exclusive to this CE.
There are 4+ other figurines for collector maniacs that can be bought separately in various places.
The size of the figurine is smaller than many of the ones i already got from other games and it is somewhat "simple" compared to others, details being the largest one.
The quality of the figurine is good but lacking that finish/elegance that so many other collections have pulled off lately.
Some close-ups of the figurine, and as you can see there ain't all that much to take pictures of really. It will look good on a shelf due to its colours but that is the only thing if you ask me.
The box is another item that is exclusive to this edition, it looks the same as the retail one but there are some goodies inside, the best item is the poster inside, an A1 poster. I
have yet to try the code and i am not sure what the code contains.
This is the poster, same image as the cover art, quality is good but to get a proper look one should put it into the picture frame.

So this is everything in the box, really good looking box and well worth full price, even more so what for what i paid for it.
The package feels complete and like a proper fan service crafted box, everything included in here should be standard in all premium priced packages and more so if it is a Collectors Edition.
Regarding the game itself, not tried it yet and i have to admit that the last game in the series i played was like 7 years ago and that was the first Naruto game on PS3. I have the other games in this series too but i have yet to open them, damned that backlog!.
PS: The background in my pictures are a bit too clear in these pictures, sorry i did not realize this before after i had put everything back into the box.
Follow Us... Inspire Us To Get Better... Keep The Flame Alive
About Post Author