A Look At Yakuza 6 "After Hours" Special Edition
Ryu Ga Gotoku …. also known in the western part of the world as Yakuza… A franchise that, since 2006, is capable of giving us unforgettable moments, setting new standards in the gaming industry.
I've been following this saga for so many years already and, having lost the first chapters on the PS2, I am now trying to fill in the gap while playing with the Kiwami edition. As always happens though, the very minute I decided to take some time off this saga (I already completed Yakuza Kiwami and I am eagerly waiting for Kiwami 2) to concentrate on something else, here is the last chapter of the franchise: The Song of Life!
Well, you may say, play what you want and keep this one for later: by the time you get it, it may cost much less than on day one. Right? Wrong, of course! And here is why…
Yakuza 6: The song of life came in a Special Edition that, being this one the last and final chapter of the saga (or so they say), I simply could not miss!
As you can see, the box art is very fine, inspired by the most iconic Japanese tattoos. The box in itself, though, is just plain (and very light) cardboard, not meant to survive the flow of time passing by.
The box holds the game (no Steel Box or Season Pass included) and a very nice artbook containing a full load of developers and fans art, something that Rise of the Tomb Raider 20 Years Edition did as well.
The reason why this collector's edition is called "After Hours" is because it revolves around one of the many activities you can do in Kamurocho: go to your favourite bar and … drink! Therefore, here is a set of two glasses, engraved with the dragon's logo.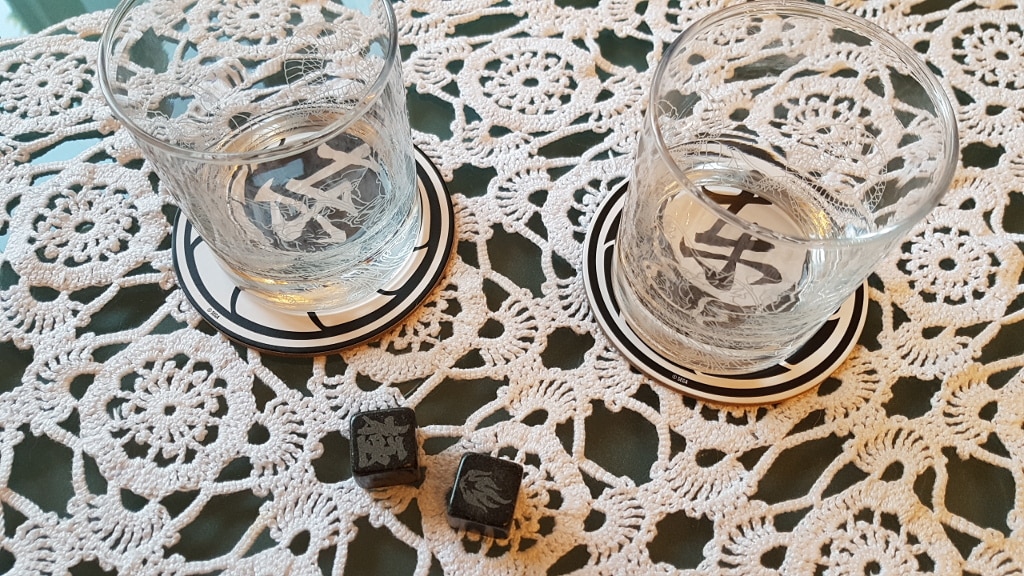 The glasses come with a set of coasters and a set of engraved dice, that can be refrigerated and used as ice cubes. Apparently, these dice seem to be made of marble, but I'm not sure of that.

I must admit that the expectations for this special edition were pretty high but, I must admit, they have been disappointed a bit. Nonetheless, I decided to give this box an 8, since the idea of the set of glasses really fits a part of the spirit of the saga. Above all, the score was driven by the artbook, finely crafted and very detailed, although not holding a high number of pages.
Edit: Yakuza saga is a rather complex one, so SEGA thought of providing the gamer (being him/her a hardcore fan of the saga or a newbie) a very solid background. Please discover more at the official website: Yakuza Experience.
Follow Us... Inspire Us To Get Better... Keep The Flame Alive
About Post Author