A Mystery from the Past – Root Letter
And so I have finally completed another visual novel …
This time, unlike the "999" series or "Steins; Gate" saga (see the "related posts" at the end of this page), I will tell you about a game from Kadokawa Mystery series, a novel dealing with unveiling a covert plot that dates back 15 years prior to the events depicted in the story.
In the game, as a male protagonist, you must discover what happened to the character of Aya, your pen friend from high school that vanished without a trace. It all begins when your avatar while moving from one place to another, finds in his room an unstamped letter. Recalling the old good times, you then decide to travel to Matsue, Shimane Prefecture, in search of your friend. Where is she now? What's happened to her in the last 15 years? How did that unstamped letter get to your place? These, and many others are the questions you need to answer to before reaching the end of your quest.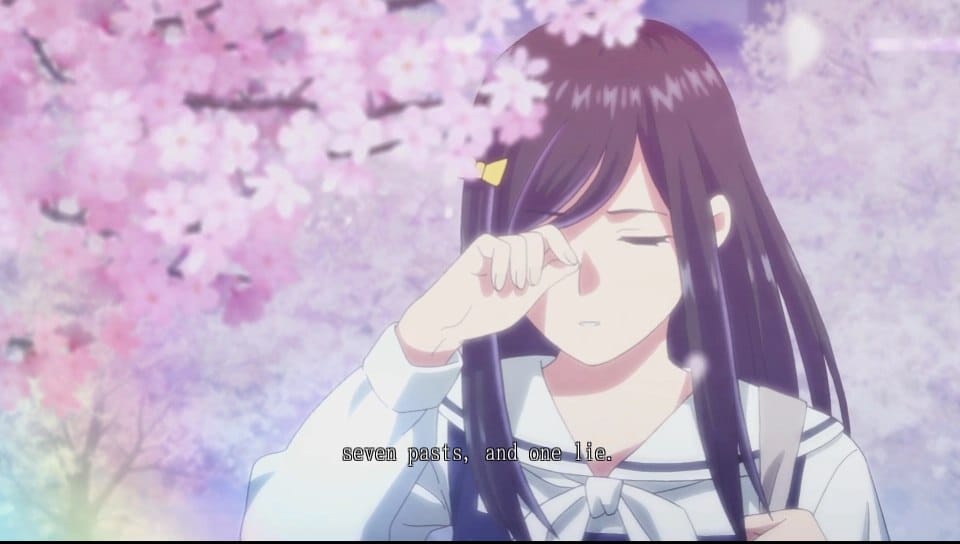 Finding Aya becomes an obsession since it almost seems she never existed. Your only hope is to find the classmates she told you about in her letters and try to discover the truth. For some hidden reasons no one in Matsue is willing to collaborate, and even finding the classmates identities will prove to be very difficult, to the point you'll almost feel like a stalker. Your only clues are the descriptions Aya left in her letters but you will have to find those classmates one by one.
The gameplay, I guess you guys already figured out, is so split into two distinct parts; the adventure one, where you interrogates characters who knew Aya to find more information about her, and the simulation sessions, where you actually impersonate her friend and relive their lives. The first seven chapters of the game (ten in total) will put you through the letters Aya sent you: the game requires you to write her back (actually, you simply choose a couple of sentences among a batch of possibilities) and the way you pick them out will determine the path you take and the end you'll get.
So, write your letter …
Explore Matsue in search of clues…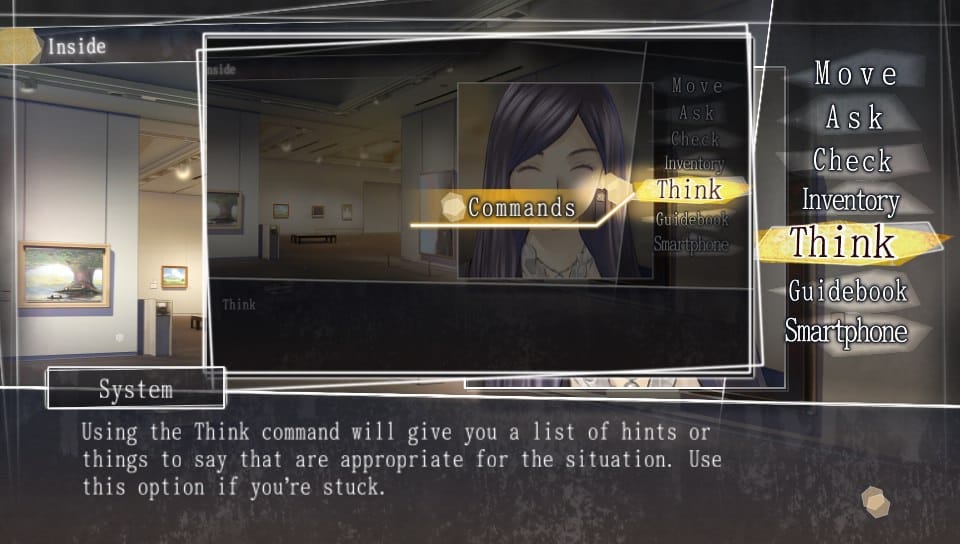 Confront the possible witnesses …
… and find the truth!
To do so you will have to uncover Aya's friend's stories (relationships and rivalries included), confront them and interrogate friends and witnesses to finally uncover the truth. Your long quest will take you across the beautiful real-world of Shimane, Japan, with all its marvellous and most iconic corners.
While playing the game I also searched over the internet to match game locations with the real ones, and I actually felt like I was back in Japan, or at least very close to it. The graphics compartment is indeed the best part of the game, as you can see in the following pictures.
For those of you interested in Japanese history Shimane is also the place where the international writer of Irish origins Patrick Lafcadio Hearn, spent part of his life before marrying the daughter of a local samurai family. Lafcadio, latter also known with a Japanese name of Koizumi Yakumo, is also famous for his works on Japanese legends and ghost stories. At present Shimane still holds a Memorial Museum dedicated to him.
As said, Root Letter features multiple endings (five in total) that will range from romance to sci-fi, to horror, making this visual novel a rather completed one, even though it never reaches the highness of products like Steins; Gate.

From a technical point of view, your platinum trophy will naturally come while you are striving to watch each and every ending but, unlike many other visual novels I recently played, making multiple saves will not help you: you indeed need to play through all the chapters (10 in total) and select different answers to the letters in order to reach a different ending. The good news is that, after the first playthrough, the first 7 chapters allow for a chapter skip right after start, so you'll get to the last chapters in a matter of minutes.
In the end, after playing for many and many hours and visiting each and every corner of Matsue, I believe this is a nice product that should not miss in your personal library if you are a true visual novel lover. From my side, I can safely say that Shimane will most likely be a part of my next visit, should I manage to travel to Japan once again in the future.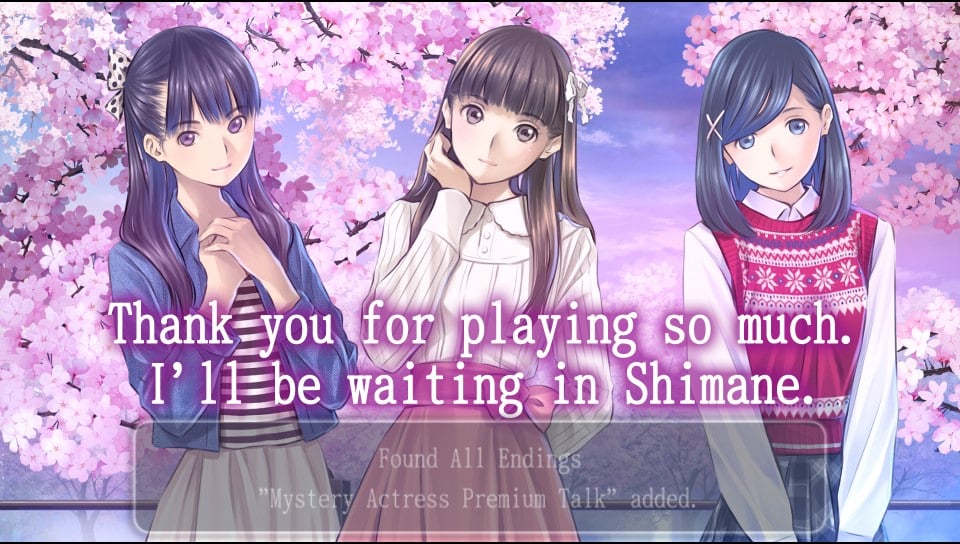 Follow Us... Inspire Us To Get Better... Keep The Flame Alive
About Post Author