Arcade Classic Rygar Out Now On Amiga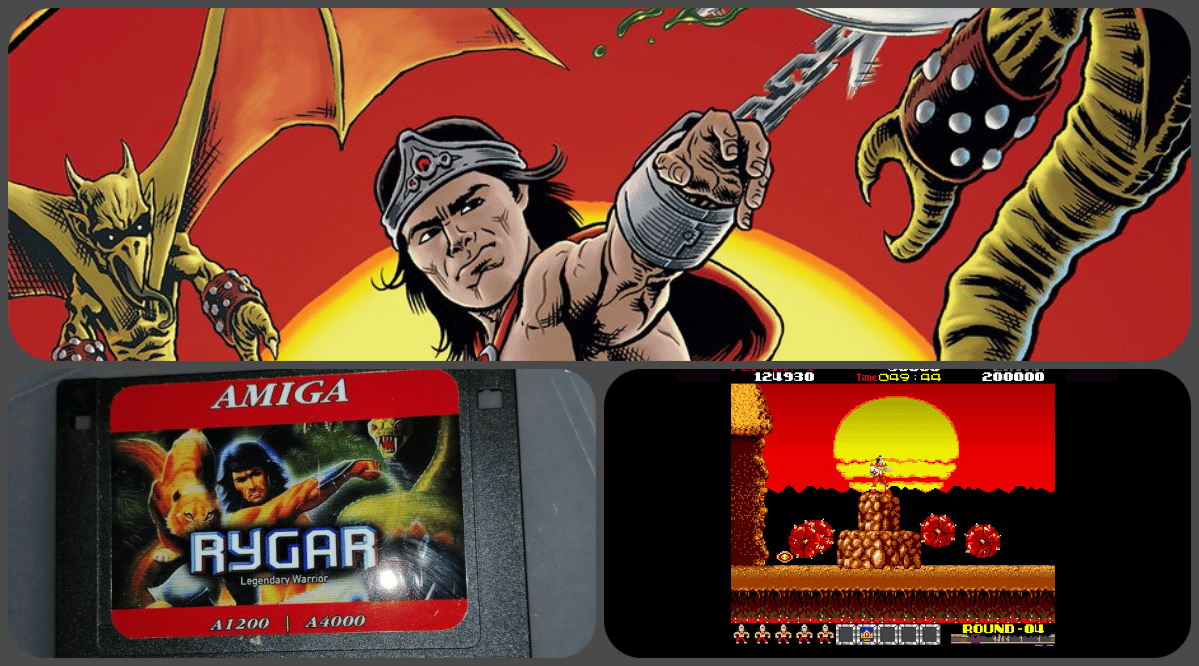 Rygar – Legendary Warrior came out 33 years ago and it didn't take long before it became a huge hit in the Arcades and naturally this meant that people wanted a home version too which led to loads of conversions for many of the popular formats back in the day but we never got an Amiga version even though it would have been very capable of a good port.
That was until Graeme Cowie announced that he was working on a conversion for the Amiga 1200, many had already got to know him through his Bomb Jack (Called: Bomb Jack Beer Edition) conversion from last year, a version that I personally like to think is the best version out there of Bomb Jack.
Fan projects are always a risky thing to get high hopes on as most get stopped by the IP owner or the developers to give up somewhere in the project and move on to new projects instead and so on, but Graeme never gave up and it has been hard for sure but within seconds after starting the game it shows that this was a project that he took seriously from the very beginning and have spent a lot of time on and maybe most of all is that he managed to pull it off and even managed to go beyond my expectations.
Everything you remember from the classic game is in the Amiga version and yes I even like to think that there are things in here that are actually better on the Amiga.
Smooth scrolling, Parallax, lovely AGA graphics, loads of sprites and stuff to pick up – in other words, it is just like the Arcade machine and all this on just one single floppy 880kb disk.
The game supports both single and double button joystick/pads which means that the game is fully playable as a proper Amiga classic but also with pads and sticks that are more like the Arcade setup (Jump with a button and weapon usage with the other).
I naturally used 1 button as I just can't stop using my ZipStick and it works tremendously good with Up as jump and fire as the weapon button which somewhat baffled me as there are so much going on at times that it would have been easier if I just used a pad for sure but I never felt I had to switch sticks.
The only downside I can think of with Rygar on the Amiga has to be the music and sound fx quality and the reason for the quality is most likely due to size restrictions (1 floppy disk guys), it is never bad or awful but I just know it could have been much better and when the rest of the game is next to sublime I sort of expected the sound to be that as well.
The game never runs in fullscreen sadly but it won't take long before you forget that and yes these screenshots are done in WinUAE by Roar (Thanks) but I played it on the CD32 with a 1084S and I was never bothered by the black borders at all.
Want to try it? – Downloads available here for the ".ADF image" and here's the Whdload one.
My co-editor here at the blog visited #Amiga34 a few weeks ago and secured a signed copy of the game for me, extremely thankful for this and it has already found its way into my "only floppy disk" section in my collection.
A full size boxed edition was also made but only 10 was made and 5 of them went to the team members that worked on the game and the rest went to close friends or sites that promoted the project heavily throughout the dev cycle of the game. (Yes, I am still a little bit jealous :p)
I have attached Saberman's video from YouTube, enjoy.

Graeme and his team (Seismic Minds) have done a fantastic job in converting Rygar from the Arcade to the Amiga hardware, it plays like a dream and it looks absolutely gorgeous and it is amazing that they managed to fit everything onto a single floppy disk. I had hoped for a better sound/music but as mentioned earlier – the sound ain't bad or whatever just much lower quality than I expected. This is a must-have in everyone's collection for sure.
Follow Us... Inspire Us To Get Better... Keep The Flame Alive
About Post Author