Hacking Is Our Weapon! – WatchDogs Dedsec Edition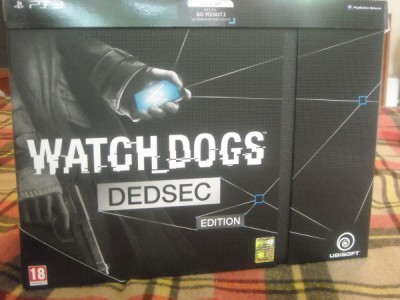 My name is Aiden Pearce. Like it or not, I am a hacker. I live in virtual worlds and no one can thread upon my domain.
Mine is the net, mine is the space and, thanks to your stupidity, mine is the city as well.
I can reach you wherever you are, listen to your conversations, steal your data, stop your car and much, much more.
I have finally arrived, and I'm here to stay.
I come with a sturdy carton box, containing pins and fake credit cards …..
… the game, Steelcase and original soundtrack…
… a detailed map of my "kingdom", Chicago …
… my action figure …
… and a wonderful artbook.
PS3 edition sports 60 minutes of extended gameplay and exclusive in-game skins and additional missions.
In addition, my kick-ass season pack features an additional single player campaign with a different character, 3 more missions, weapons, and skins. I also added the "conspiracy" game mode for your convenience.
Will you meet me out there, cross-interfering on your favorite systems?
Join me, and we will hack the planet.
Oh, I forgot. If you ever feel tired I can cheer you up with a complimentary can of soda …
Follow Us... Inspire Us To Get Better... Keep The Flame Alive
About Post Author