Liseberg Amusement Park, The Largest Arcade In Sweden?
Ever been in a place that made you so happy that you felt like it was heaven?, I have many times, but this time was the first one in a very long time.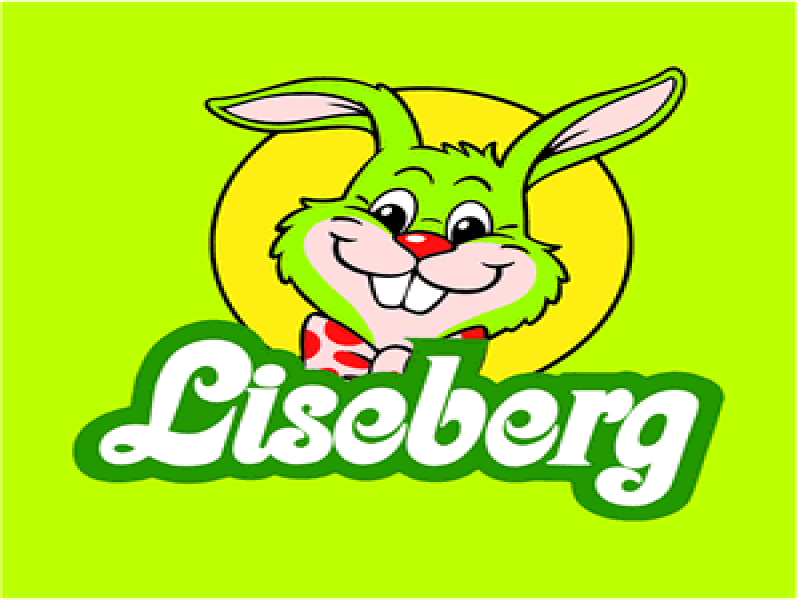 Liseberg is one of the best amusement parks in Scandinavia, in the park, there is just about everything one wants when it comes to fun and leisure for both kids and grownups.
Since forever there has been a huge arcade hall there with loads of both old and new machines, but this time around i kinda expected it to be gone because of the consoles and such have more or less rendered these type of machines kinda moot.
To my surprise they still had 100s of them, split over 3 floors(like always), the hair on my head felt like it was rising and the same went for just about every hair straw on my whole body, this arcade hall is as close as i can get to heaven! that is how i felt and also said to myself.
The First thing that met me at the entrance was a painting of one of my favourite games of all time, Sega's OutRun. Simple stuff but very pleasing to my eyes. Once inside the first thing that hit me was the sound of many, many arcade/coin-op and vending machines.
The sound might be noise to many, but to me, it is so pleasing to my ears that i stop noticing it after a few minutes.
The first machine that met me was one that i had never seen before, and that was PAC MAN SMASH. My son loves Shuffle Puck / Air Hockey games so it didn't take many seconds before he said, i want to play this one dad, please!.
I have no idea how many coins went into this machine, but i can safely say that it was kinda overkilled, but it's my son and we had such a good time playing it.
The gameplay was basically Shuffle Puck but with a bonus mode where it tossed out like 20+ pucks at the same time, havoc, crazy and god damned fun!.
Brand new games like Dark Escape which is a 4D game from 2015, shockingly good and a very nice cab. I did not test this game even though i really wanted to, the reason was that i could not go away from my 6-year-old son and since this was not a game he could play…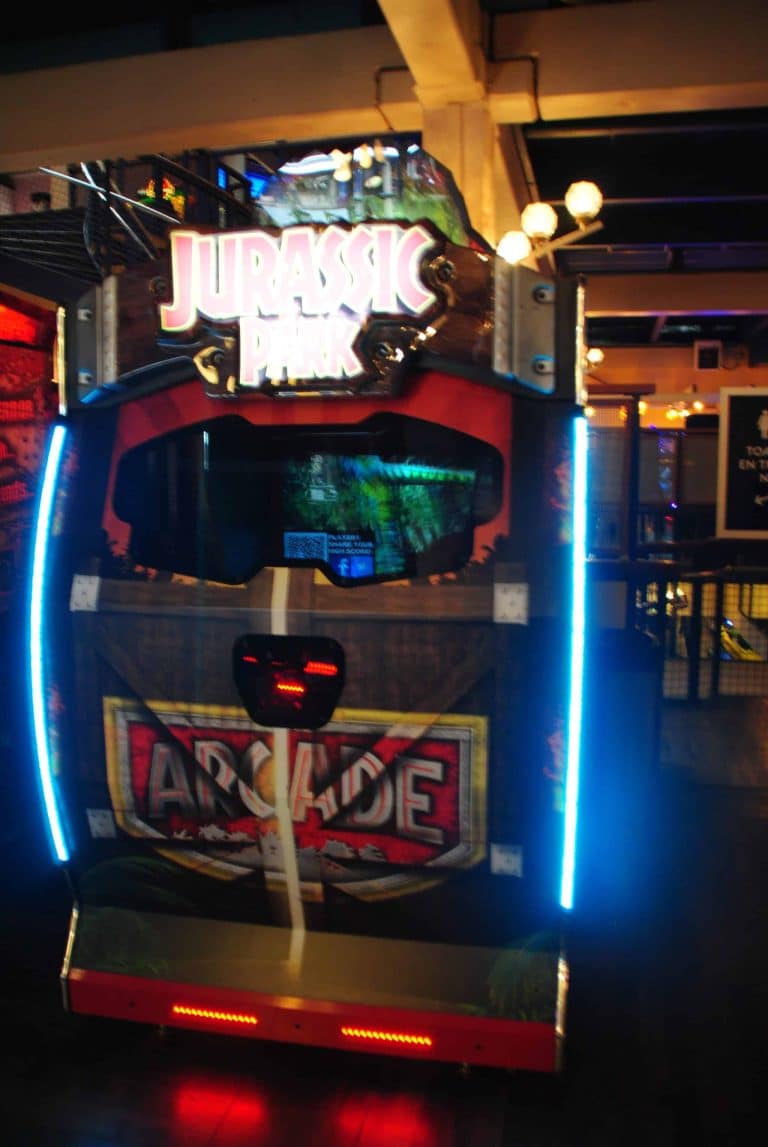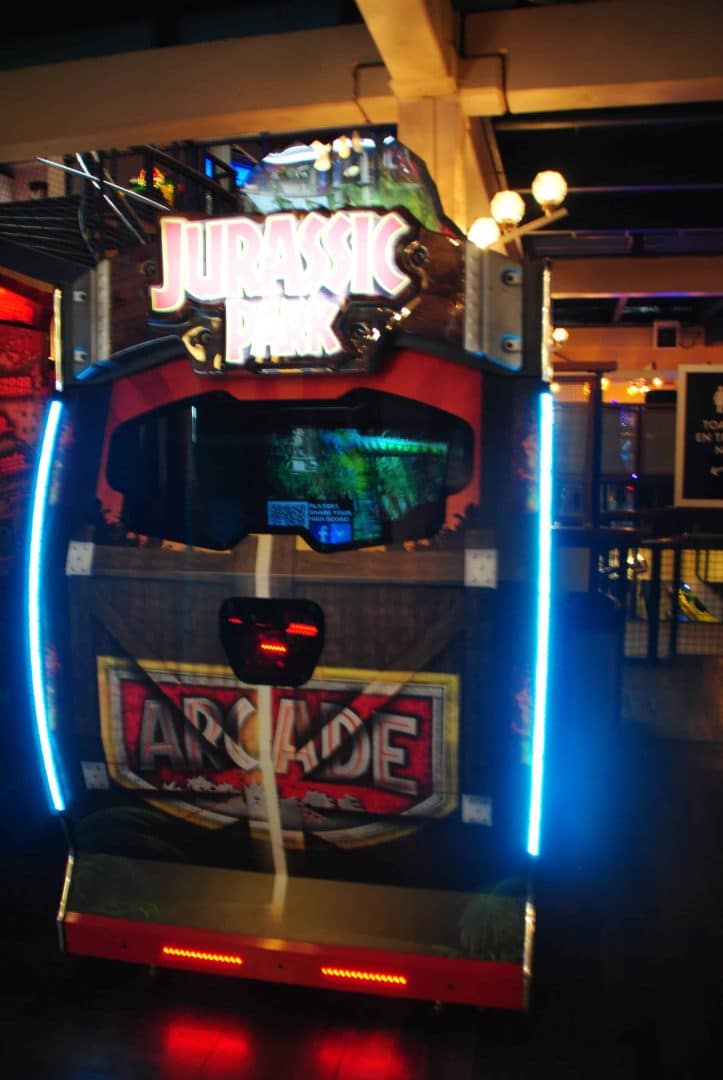 Jurassic Park Arcade, another new high tech machine, and as always with new games i have never seen or heard of this machine before now. I thought i had better pictures of this machine but for some reason, they're not in my media directory on the blog…
GRID was the first cabinet i had seen before so far, but i had never seen this version before (the full version cab with seats and multiple machines linked up to each other).
This version seemed to run better than the one i saw in Denmark this summer, this one here at Liseberg had no framerate issues etc. I guess the one in Denmark had bad ventilation issues or whatever.
GRID Cabs was spotted several places around the arcade hall (in each of the 3 floors), seems the game has been a money-making one over the years.
See that Terminator Salvation one? , loads of these too there but more about that soon.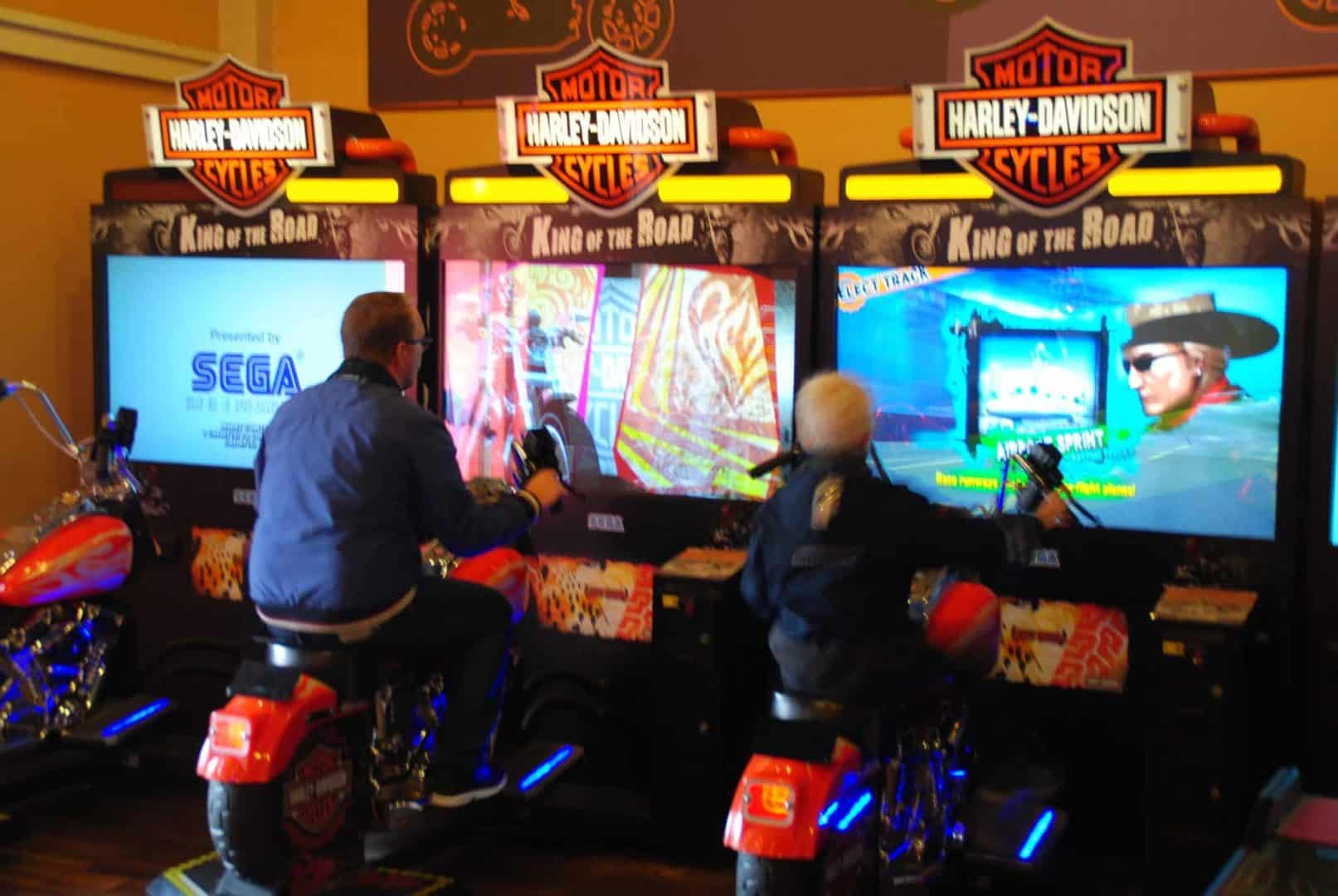 Another huge title, extremely popular and yet again there was loads of them at the arcade, anything from 1 to 4 player. I do not remember which of the 2 games was first but both Harley Davidson games were present and always busy while we were there.
Jesus, this game is everywhere, multiple cabs all over the place and even though it is the first SEGA RALLY people played it quite a bit, great game. One thing is for sure, SEGA has made an insane amount of money on this game over the last 20 years.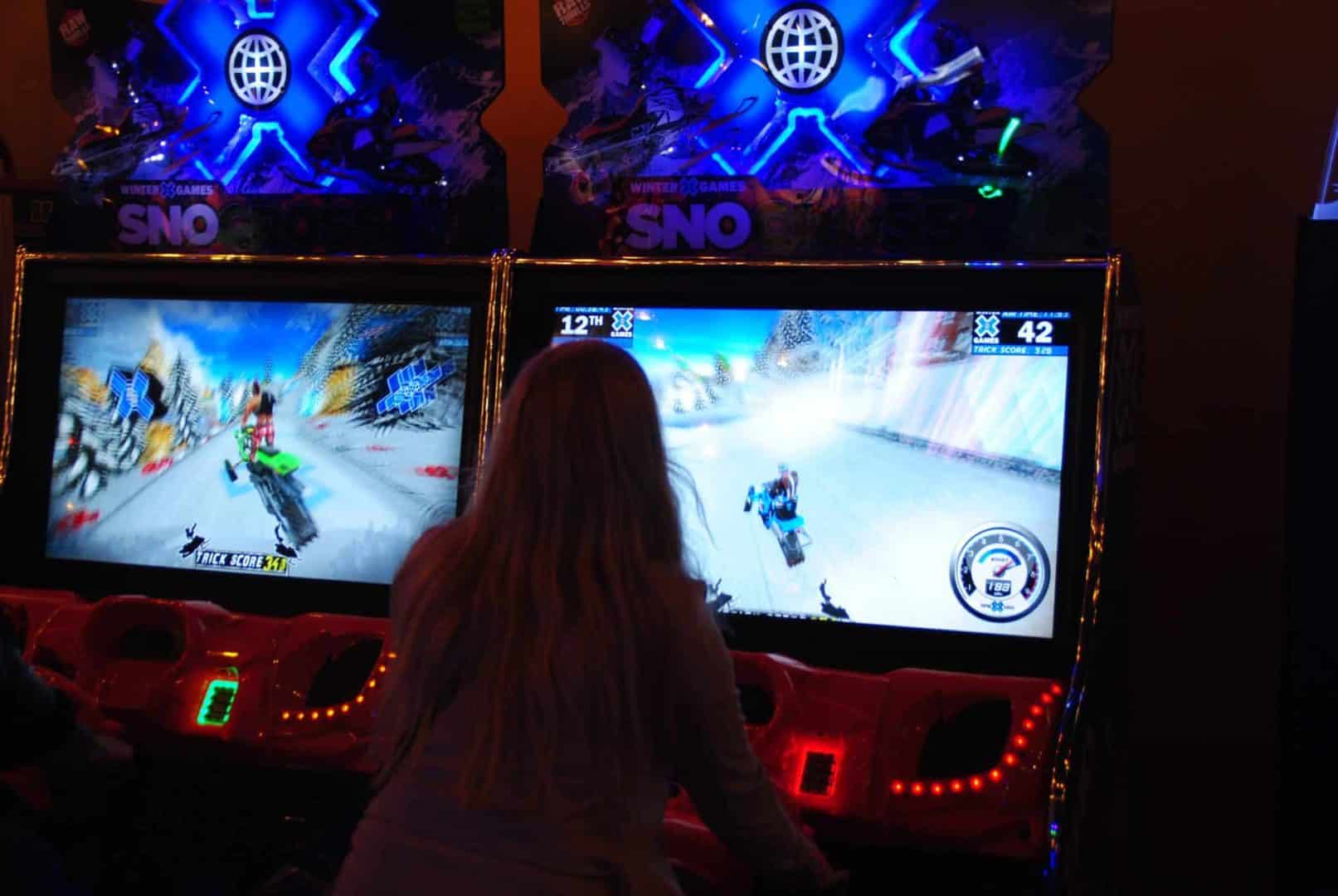 SnoCross, never seen it before now, great dual cab with the board and everything didn't get around to try it sadly but my son did and he loved it of course.
The reason there is a girl in the picture is that of waiting times and long ques, she is not family.
Pinball games, a lot of them present at the Arcade and while there was quite a bit of double it was still enough of them to impress me, it been over 20 years since the last time i saw these many pinball games at the same place. I guess there was about 30 of them and that is without the doubles.
Really wish i could visit this place alone to do proper pictures, so many of the pictures have bad lighting etc.
Pictured above is The Simpsons, AC / DC, ELVIS etc…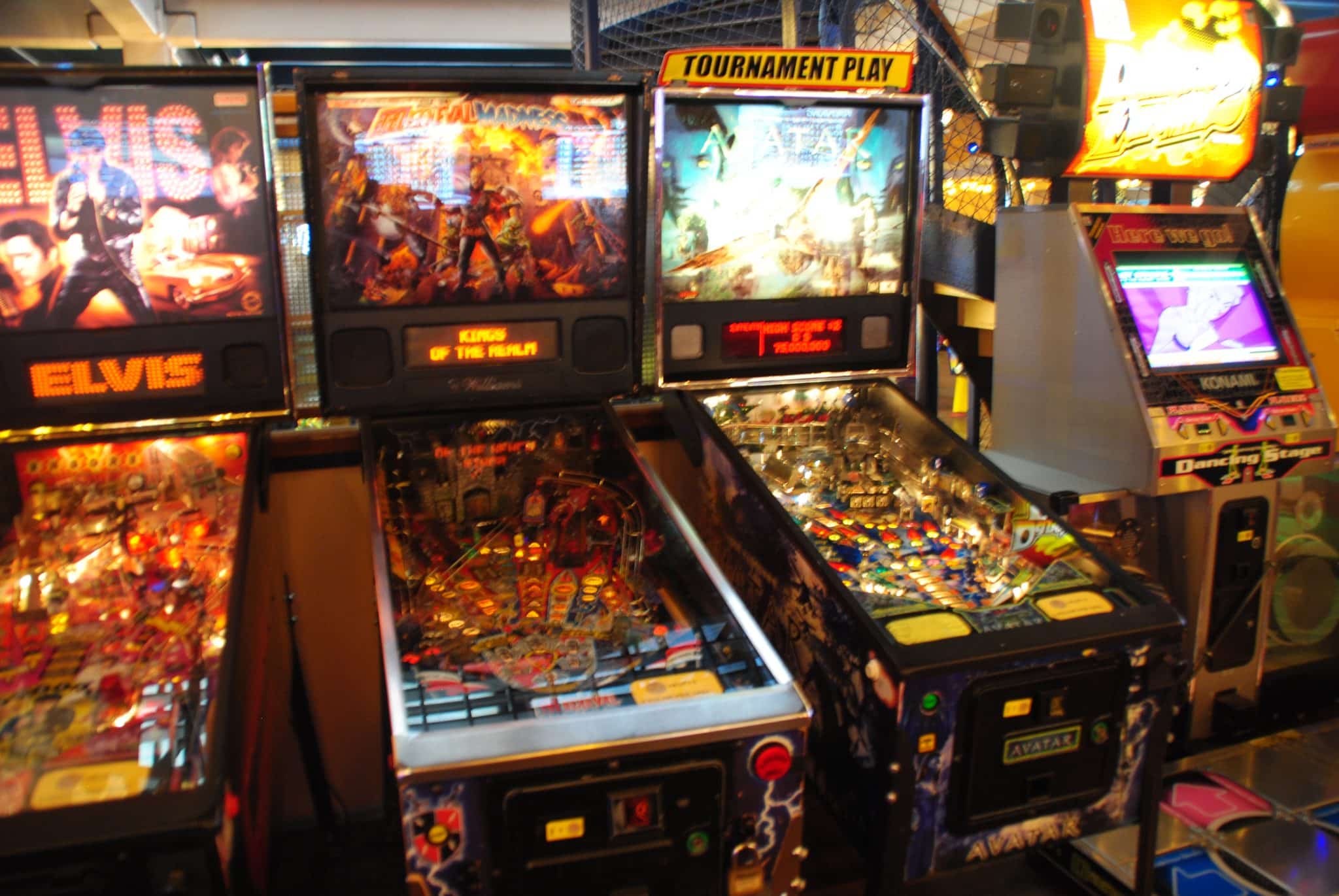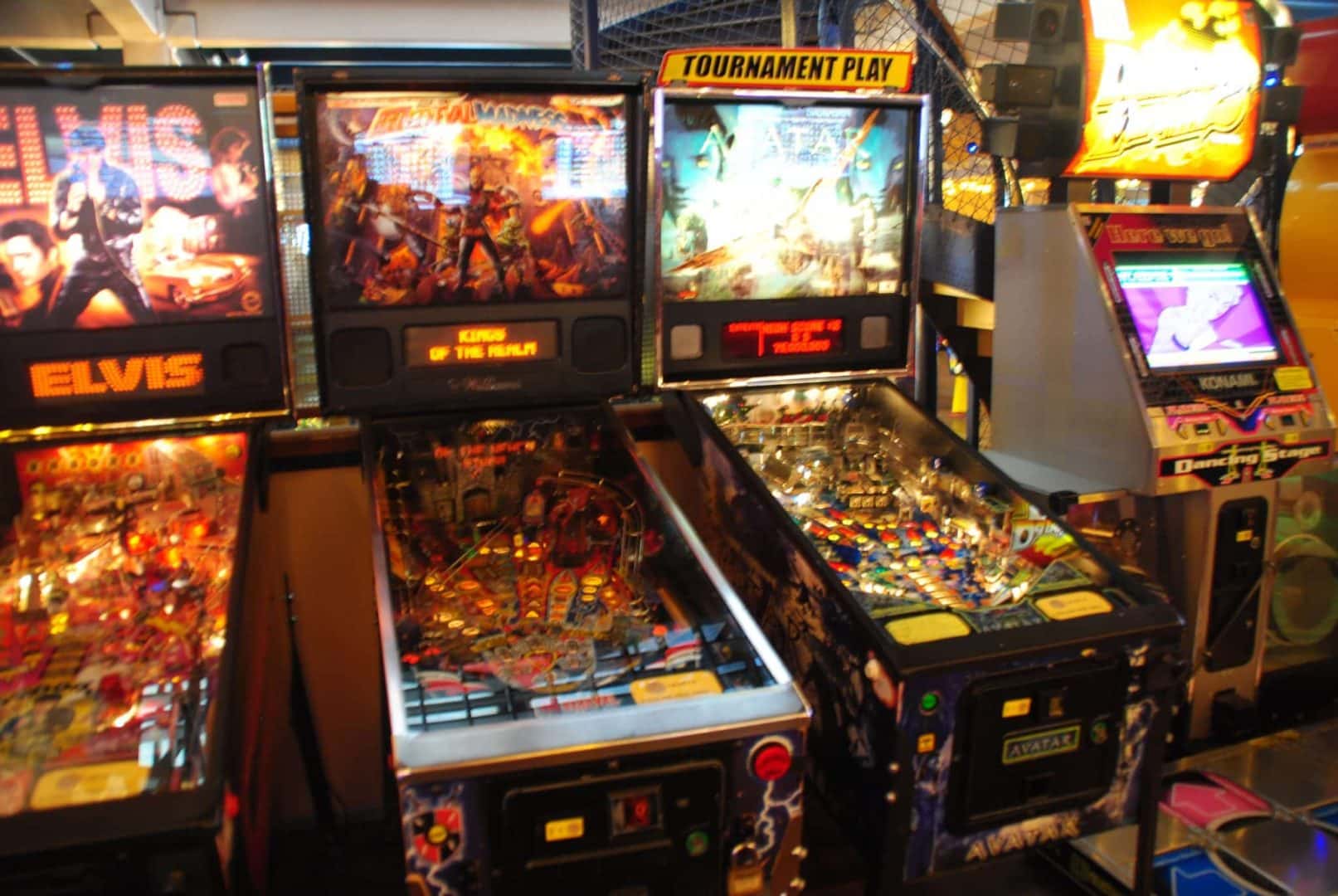 Continued from the picture above is ELVIS, Medieval Madness and Avatar. Splendid tables all of them and i must admit that i spent some coins here.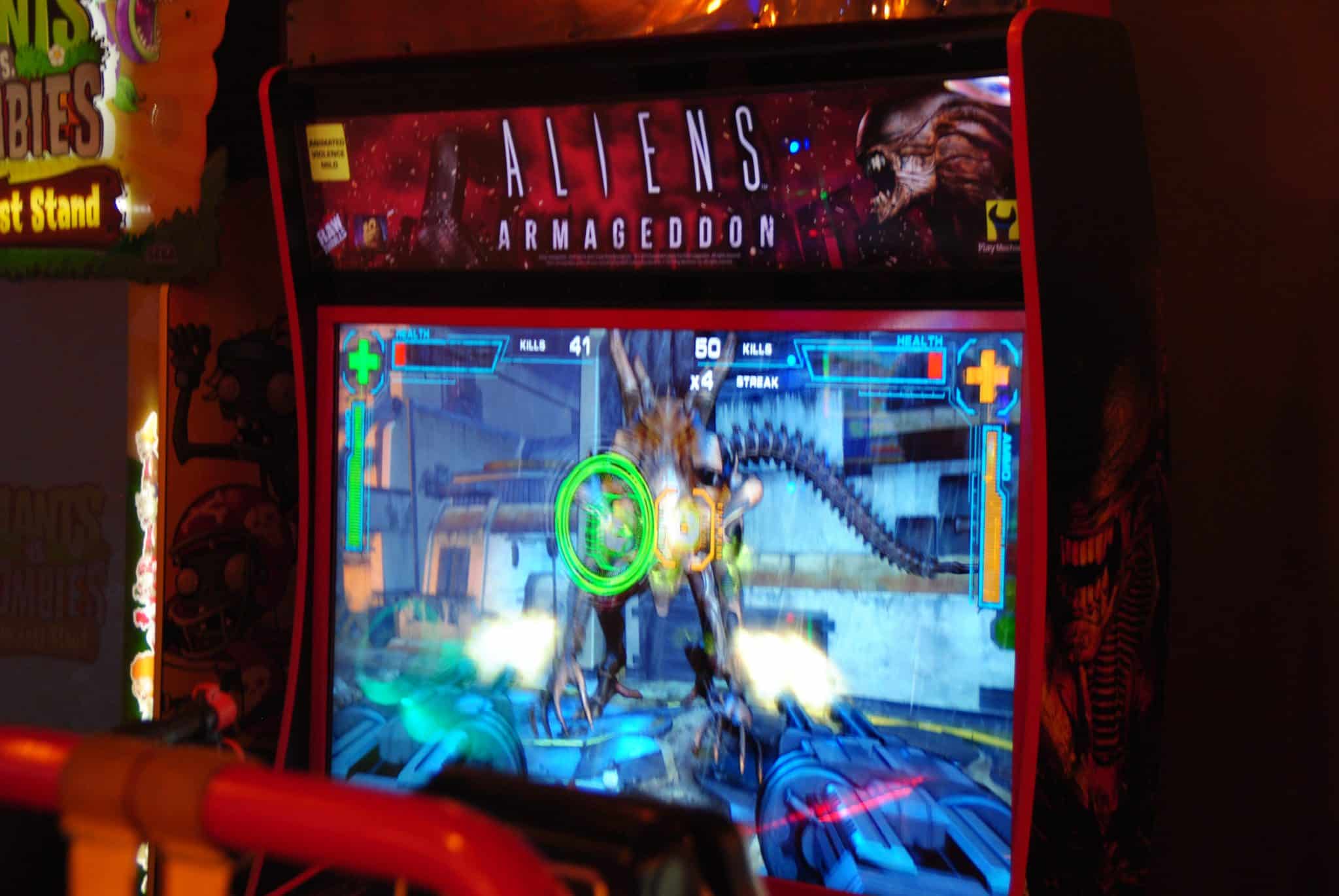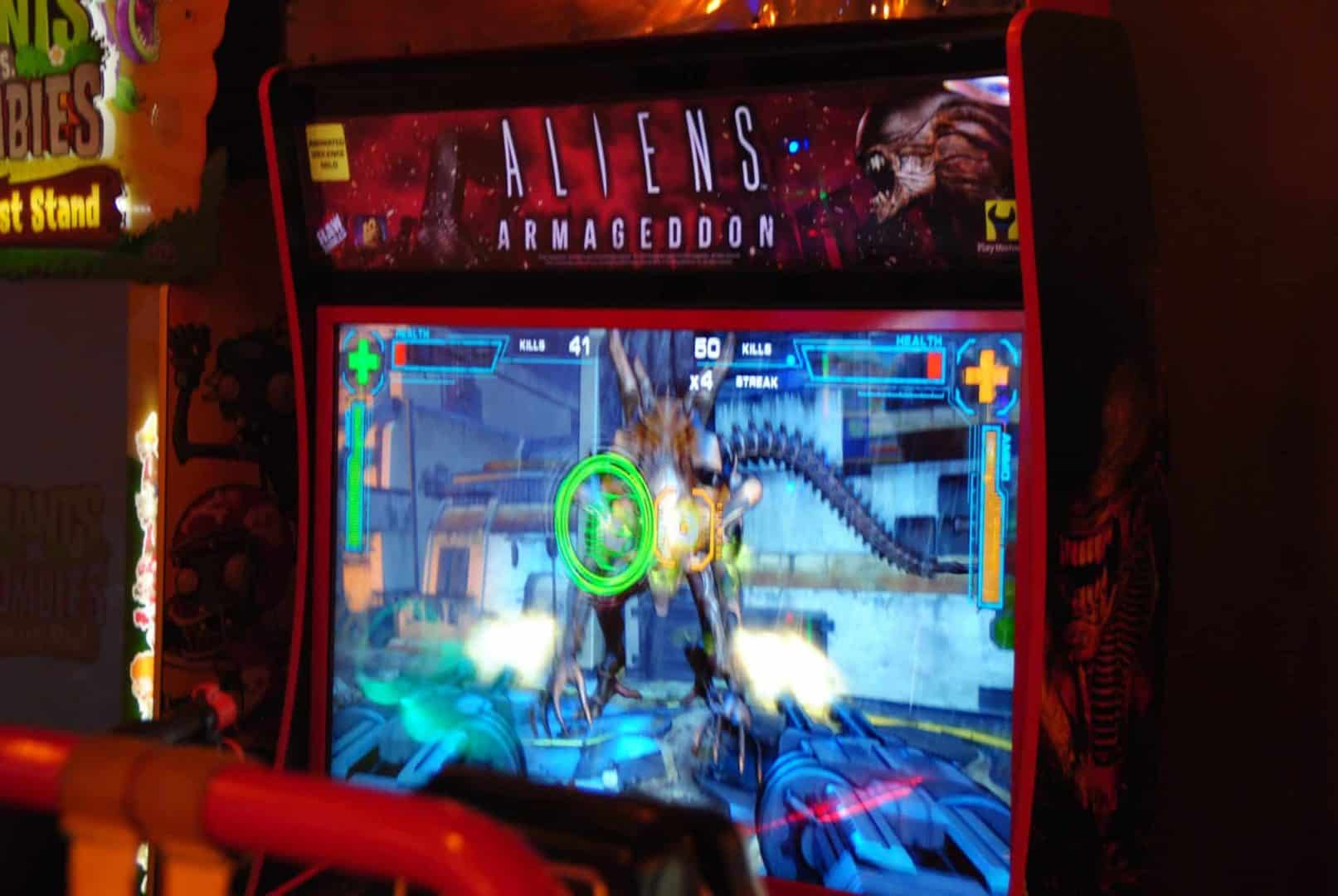 Another full edition (seem most of them are) arcade was Aliens Armageddon, beautiful arcade and a great game too by the looks of things.
Dancing games were also present, but a lot less than i expected as i only saw like 5-6 of them and very little activity on them, seems the dancing game era is over, at least compared to 10 years ago where there was next to impossible to get anywhere close to a machine due to gigantic ques.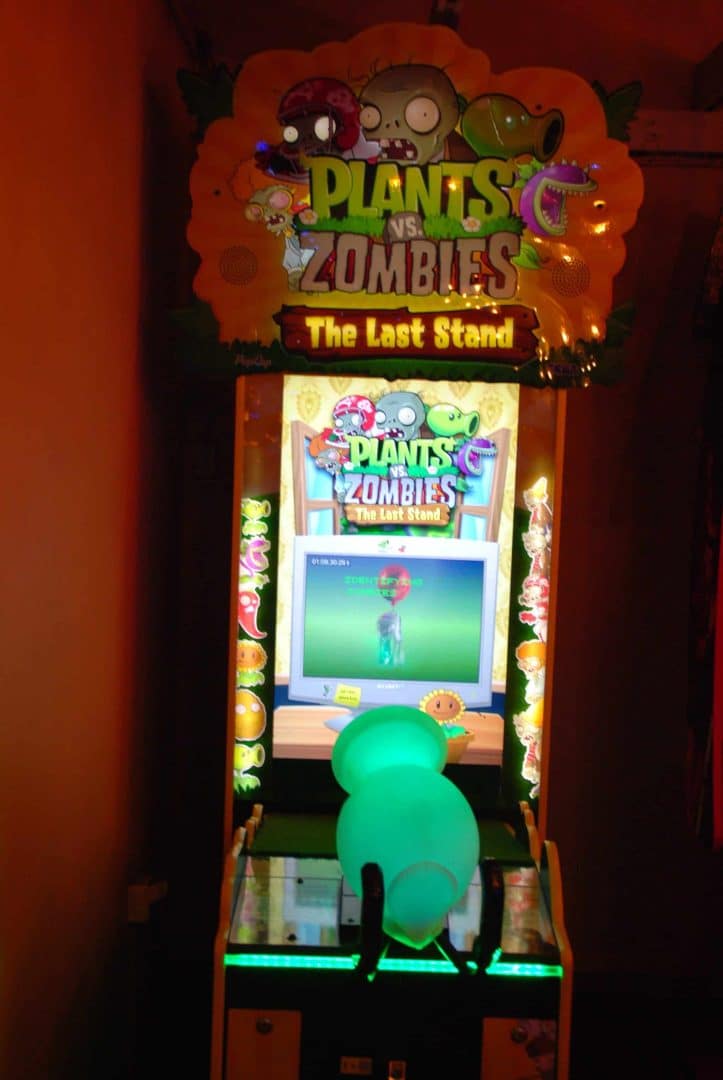 Never seen this one before, Plants Vs. Zombies arcade. funny looking cabinet and the game too, i like the series on the PS3/*4 and i had plans to try this one too, but i ran out of time so this was one of the many machines i wanted badly to try but didn't get around to.
This game was the first encounter my son had with both Nintendo and Mario as a game, he has had various toys and clothes with Mario on but never actually tried a game.
We jumped in and tried this Arcade version of Mario Kart, 4 player Link mode with 2 random guys we met at the Arcade, my 6-year-old son loved the game and he actually won too, twice actually. I sucked balls and ended 4th both times. Game played wonderfully and well worth my attention and precious time at the Arcade.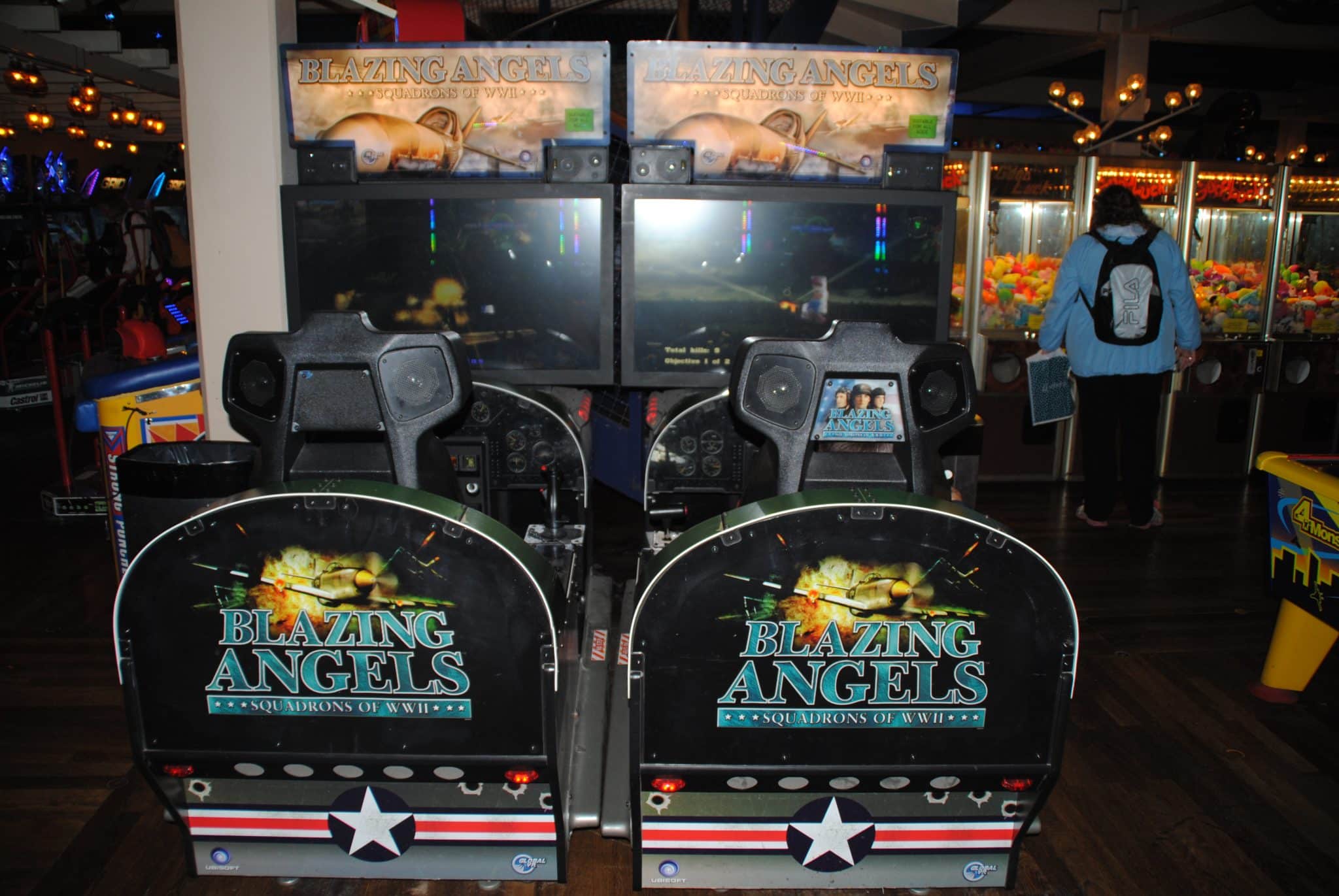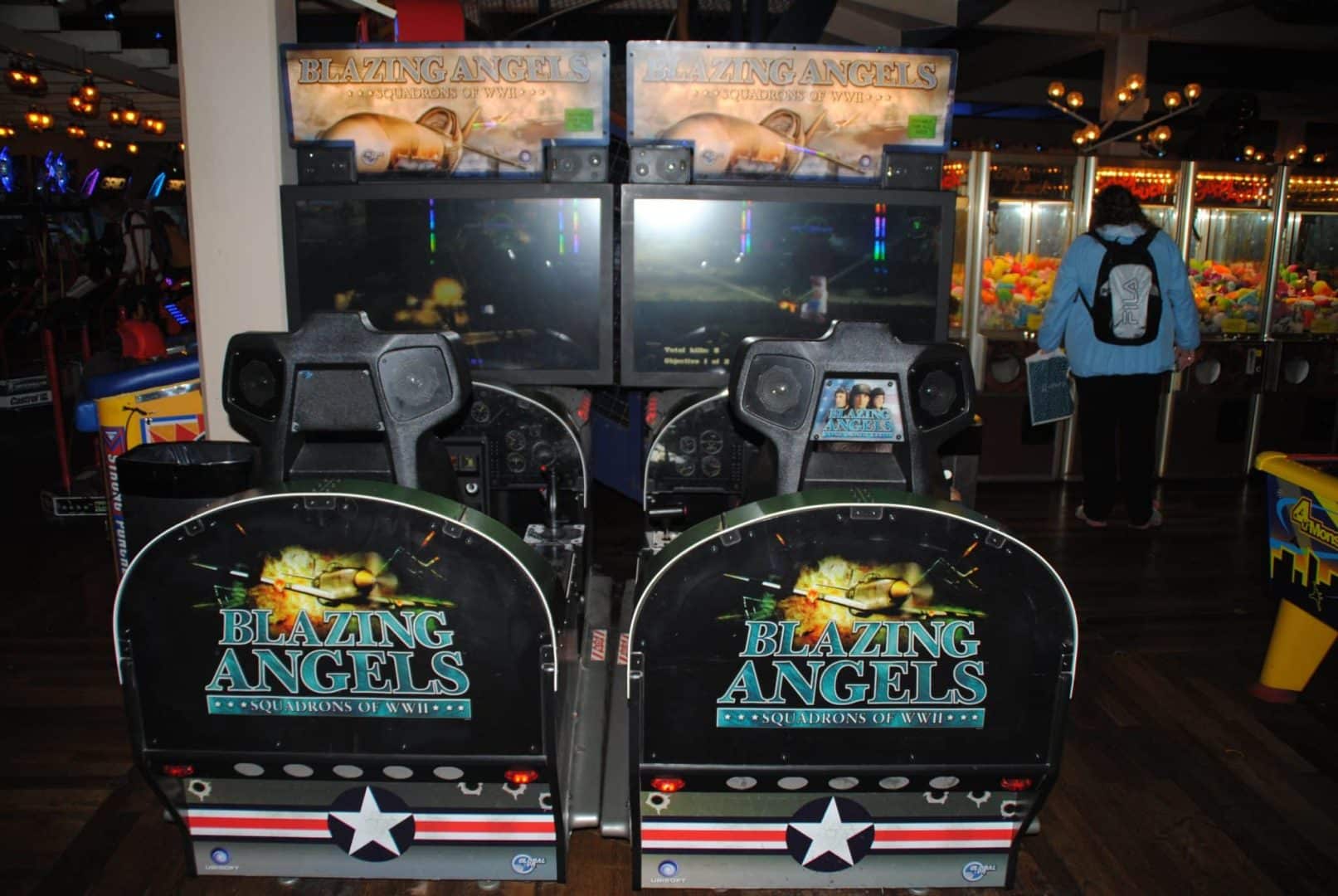 Yep, another huge arcade machine and this time around it was Blazing Angels, a game i played to death on my PS3 back in the day. Did not try the arcade and i didn't really want to either as there was one behind me that caught my attention!.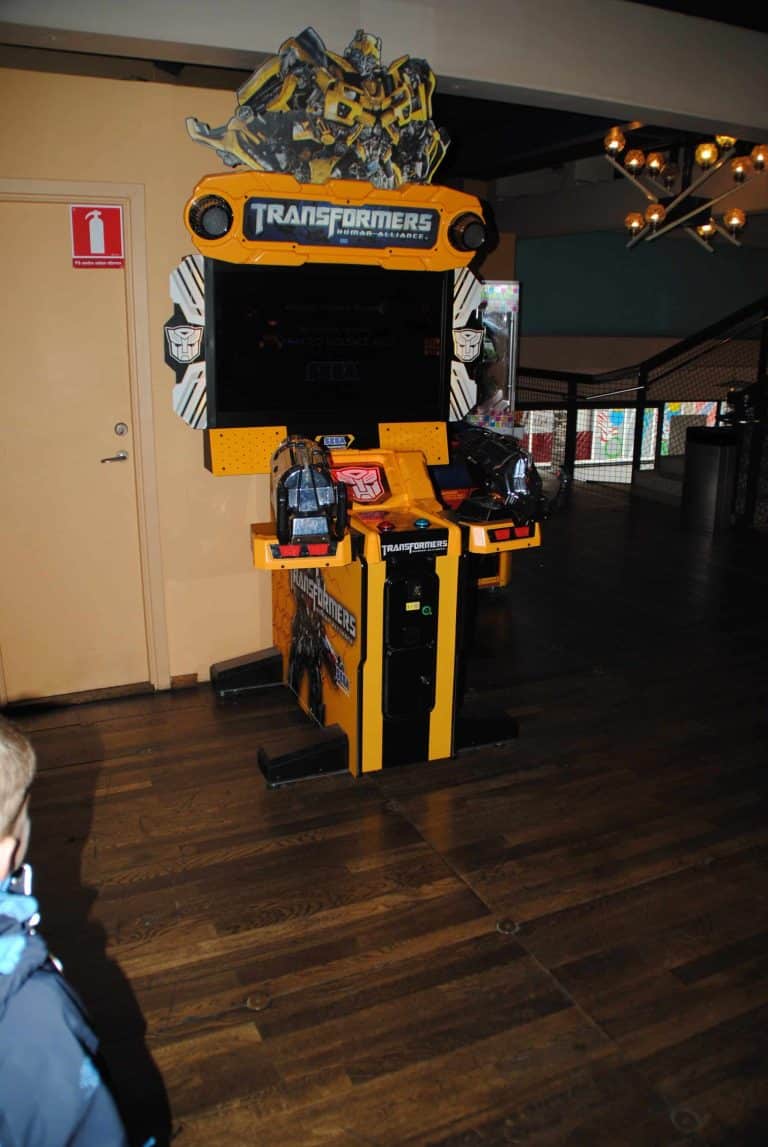 Yup this one, a new Transformers game. The machine looks incredible and the game wasn't bad either quite a popular one and while it looks dead at the picture above it was not.
Actually, there were no broken/*non working games at the arcade, quite an amazing feat with so many games there.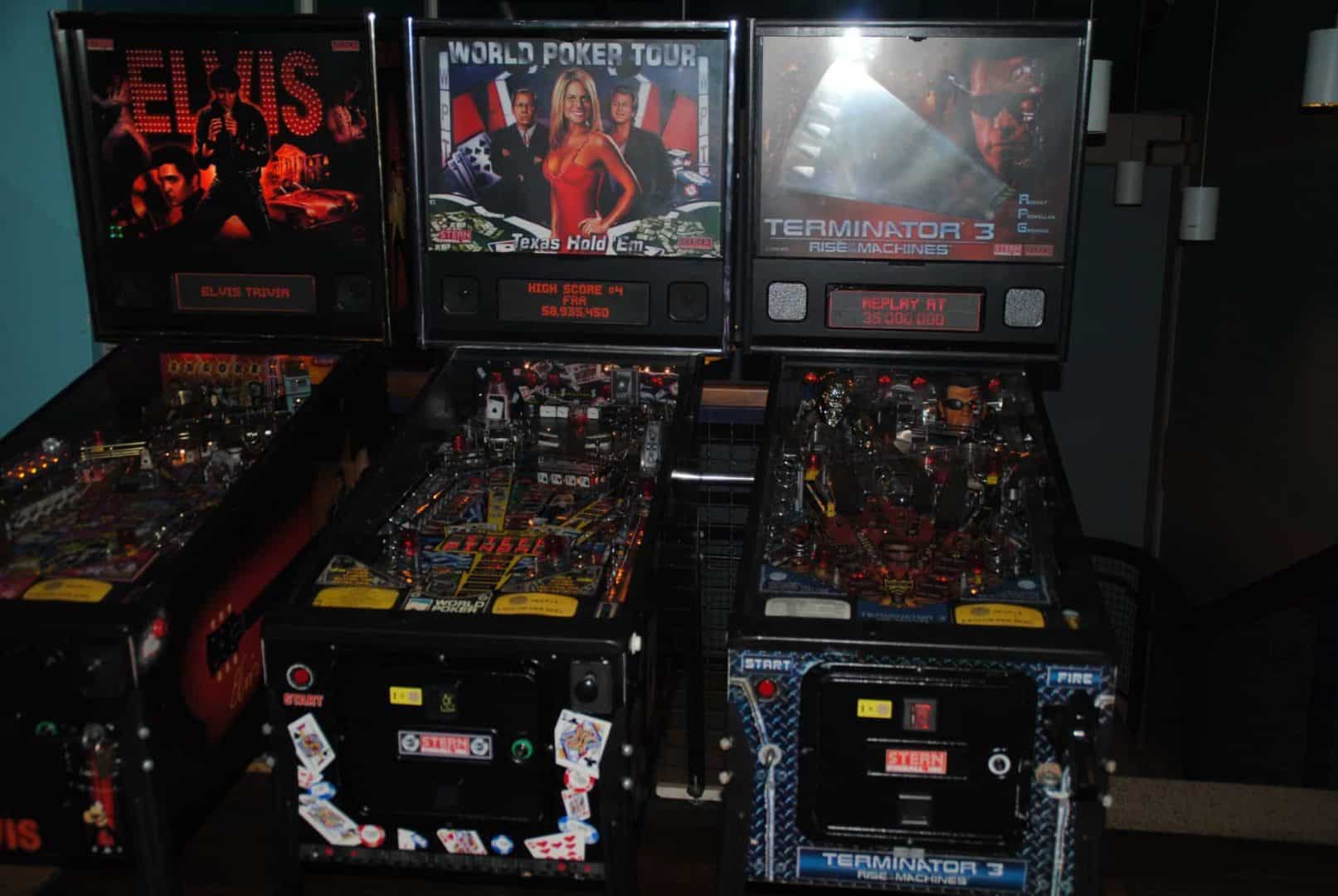 More pinball games in the second floor, ELVIS (double), World Poker Tour and Terminator 3, none of them busy when i was there but i tried T3 and i liked that a lot actually.
Yahoo!!, OutRun 2 SP has to be one of my most loved games ever and there is only 1 better version and that was Coast To Coast, I and my son played this one and he said, oh, this game we have on the PS3 but different name! He was right of course (he always are) as the game he was referring to was the PSN game OutRun Arcade which is a cut-down version of C2C/SP etc.
1 of the cabinets had a "broken" screen, flickering and colours were off, the 3 others were fine though.
Daytona USA 2 was, of course, present, come to think of it, SEGA had an enormous presence at the fair and most likely 75% of the machines came from them.
Love the game and it is a prime example of how an Arcade racer should be loud, noisy and plain and silly fun.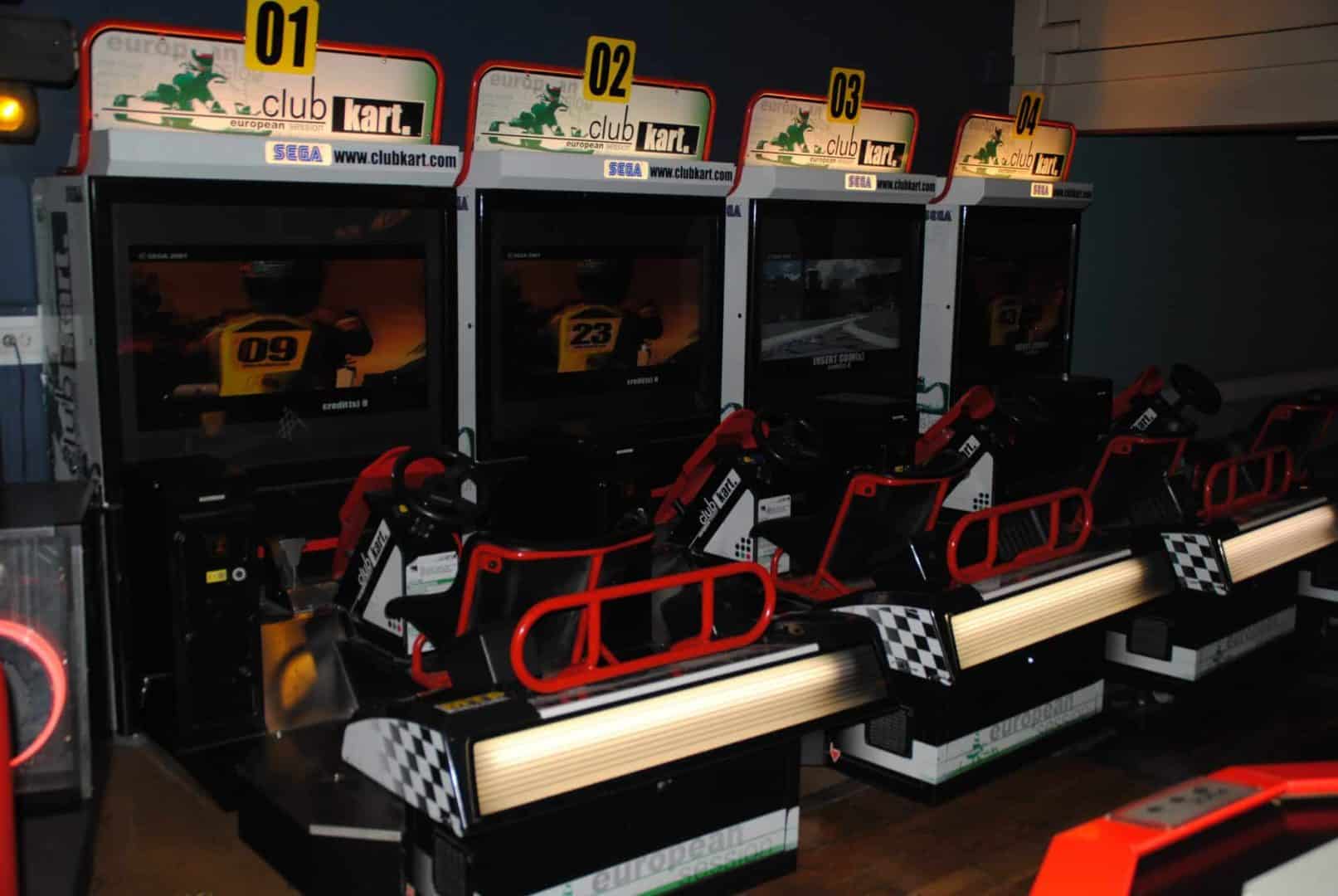 SEGA Club Kart, never seen this one before and this was the only possibility i had to do a picture without someone standing in front of me, lots of people played this one. The game looks pretty standard in my opinion and i didn't bother to try it, nice cab though.
More pinball games in the second floor, loads of em and yet again some doubles. Addams family was there too, maybe one of my top 5 pinball games of all time. Not all that crowded in the section of the place, but there was always someone playing a game so a picture was hard to do. That said, it was mostly the same guys playing the various tables.
More pinball's (continued from the picture above), Did not get around to try them all but my son tried Lord Of The Rings and he enjoyed that (as always) by the looks of things.
STAR WARS TRILOGY Arcade, finally got to see this one again and i even tried it for the first time in a long time (well not that long..), wonderful game and a good formula of how to make a good movie licensed game.
Super Bikes 2, both games in the series was present and of course with the proper cabs with linked games and full-sized bikes etc.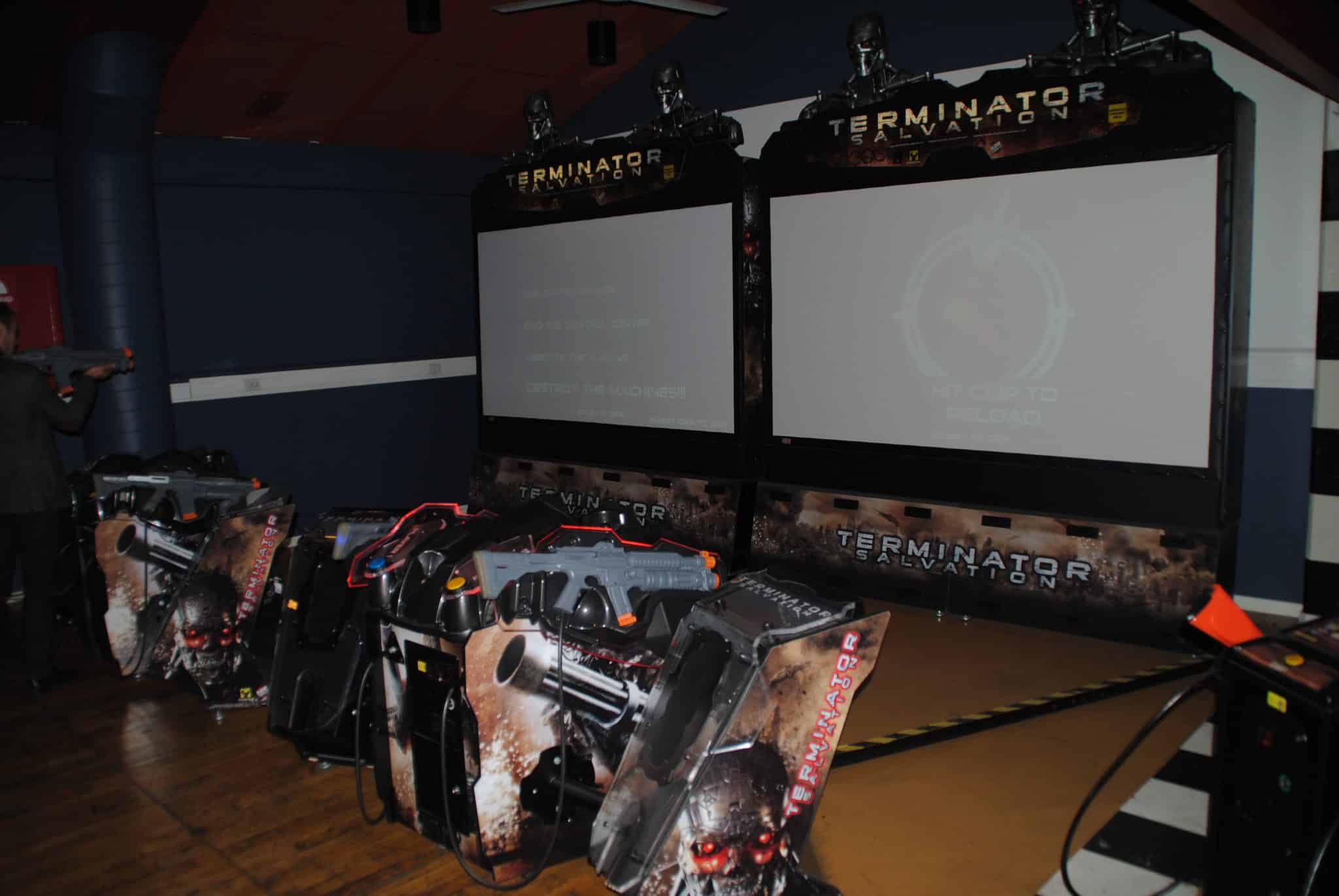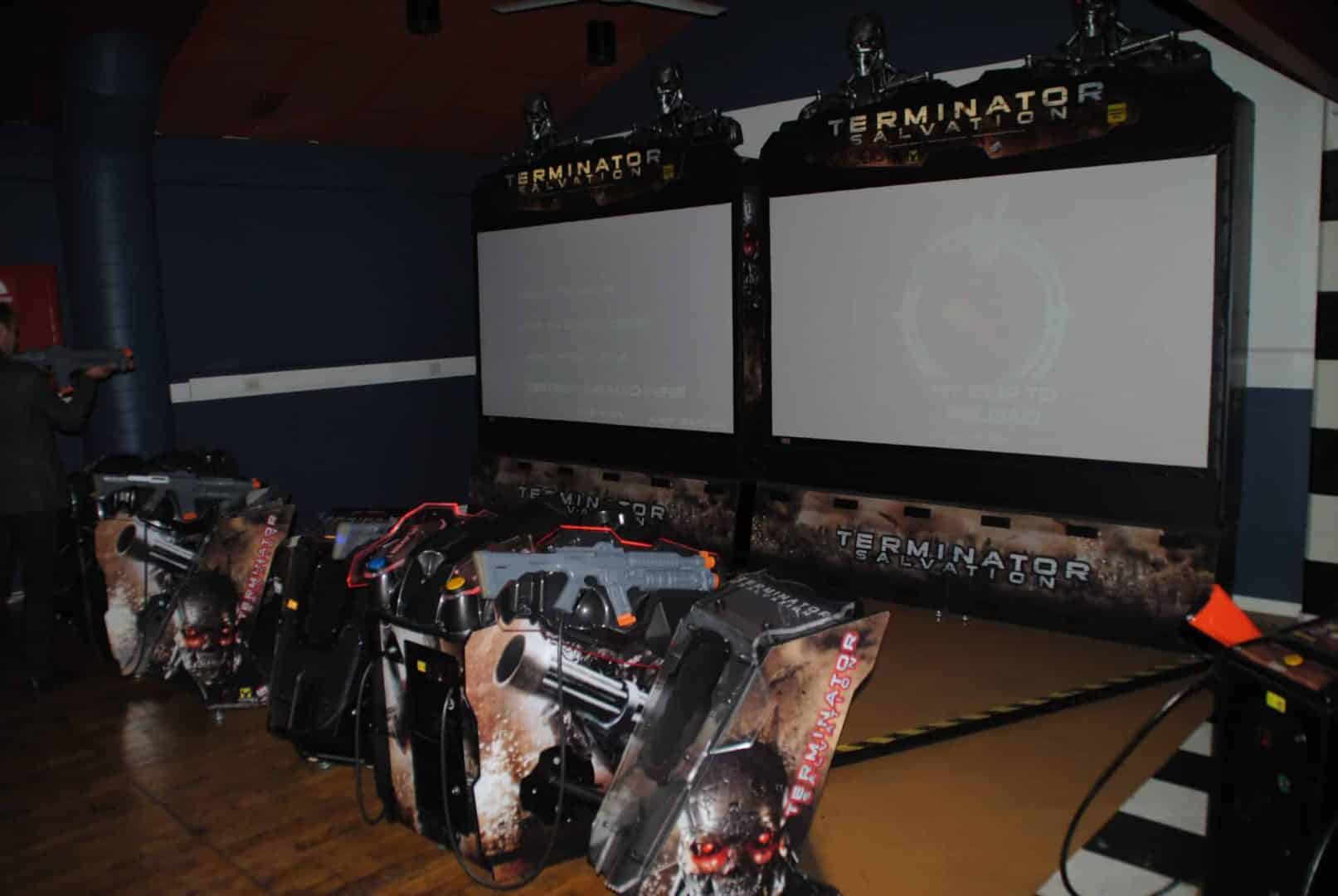 Terminator Salvation, loads of cabinets around the Arcade of this one, but there was only one of this model, look at that setup!. I never got around to try the game but i can safely say that this game cabinet looked spectacular.
Here is the other Harley Davidson game, great looking bikes and game, but for some reason, the machine was never "busy", people walked straight past it. Maybe it was because of the location of the cabinet? , maybe it was because they had tried the other Harley game on the first floor?
Route 66 is one of those games that every arcade should have, another loud and silly game, the size and design of the cab is just perfect. SEGA i love you!.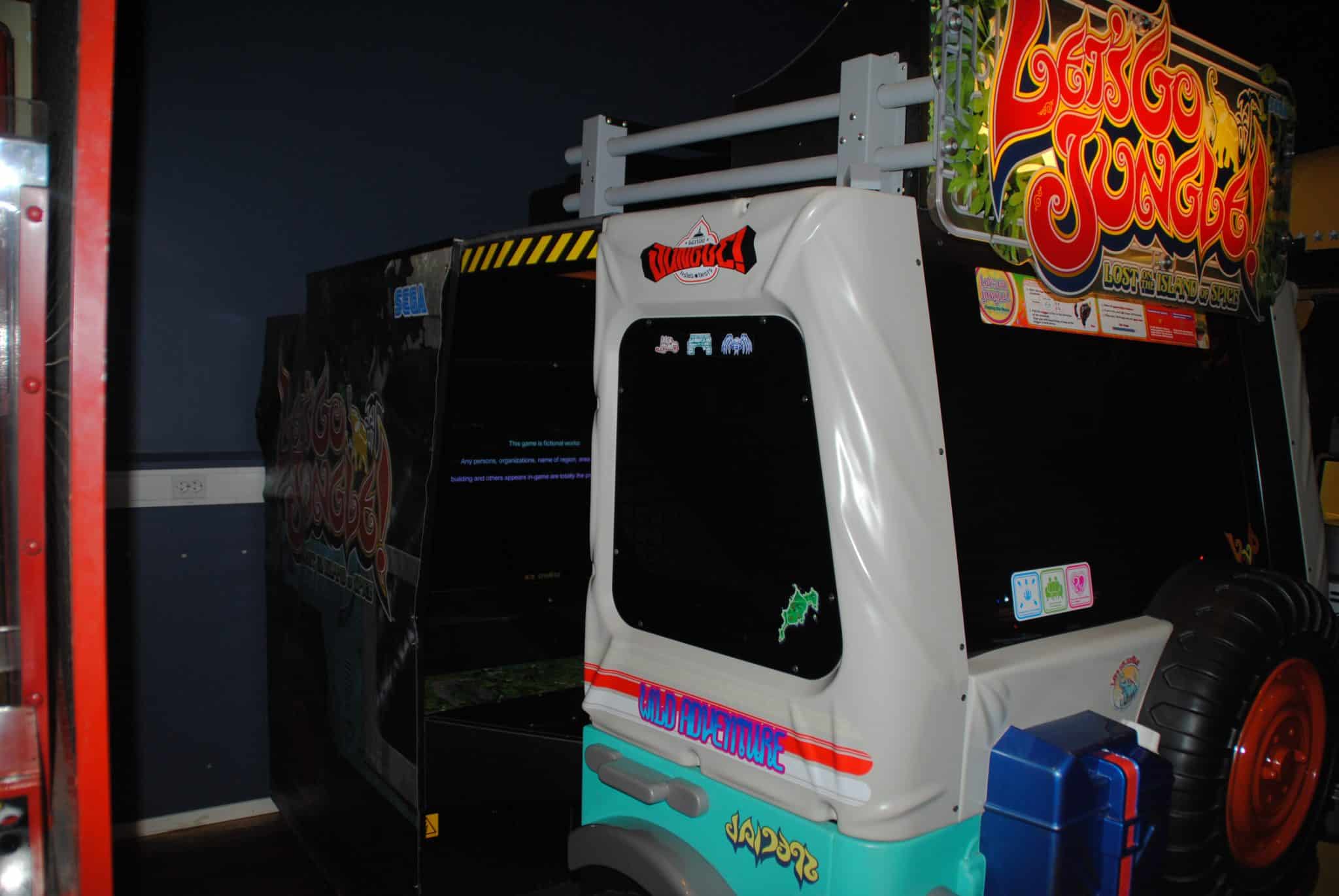 My first reaction when i saw the Let's Go Jungle was to laugh, it looks so wonky and Japanese that i thought to myself "CUTE, Japanese cute", my son played the game and i wanted to also but i ran out of time.
Wall mounts of glass in the third floor, these babies gave me the shivers. Lots of classics pictured and the quality was perfect.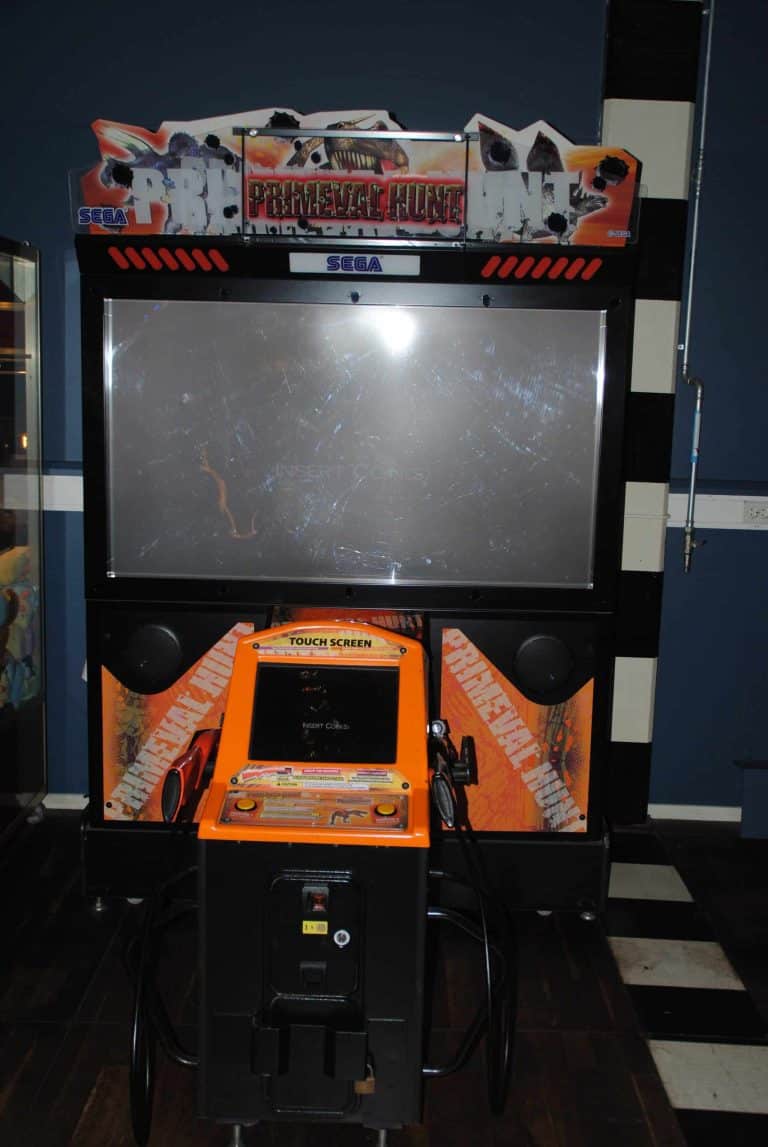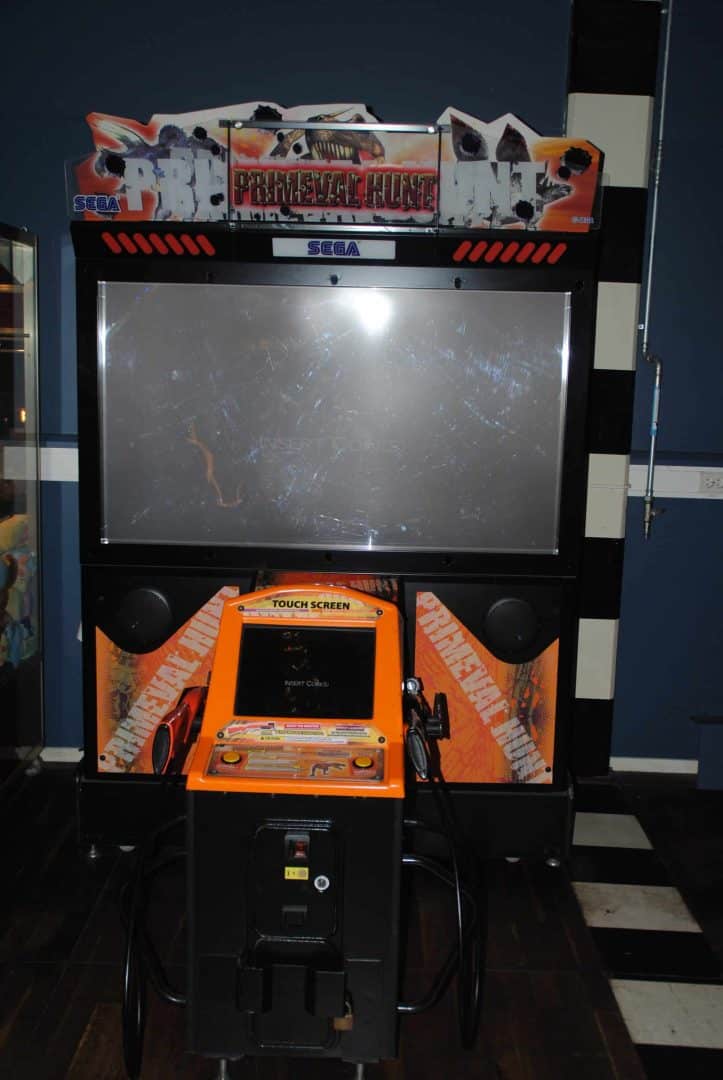 Primeval Hunt, a scary game and i had to walk fast past it so my son didn't get to see too much of it. Great looking cab.
Hunting games were quite popular by the looks of things and there was everything from HD units to standard looking ones, at least one of this game in all 3 floors.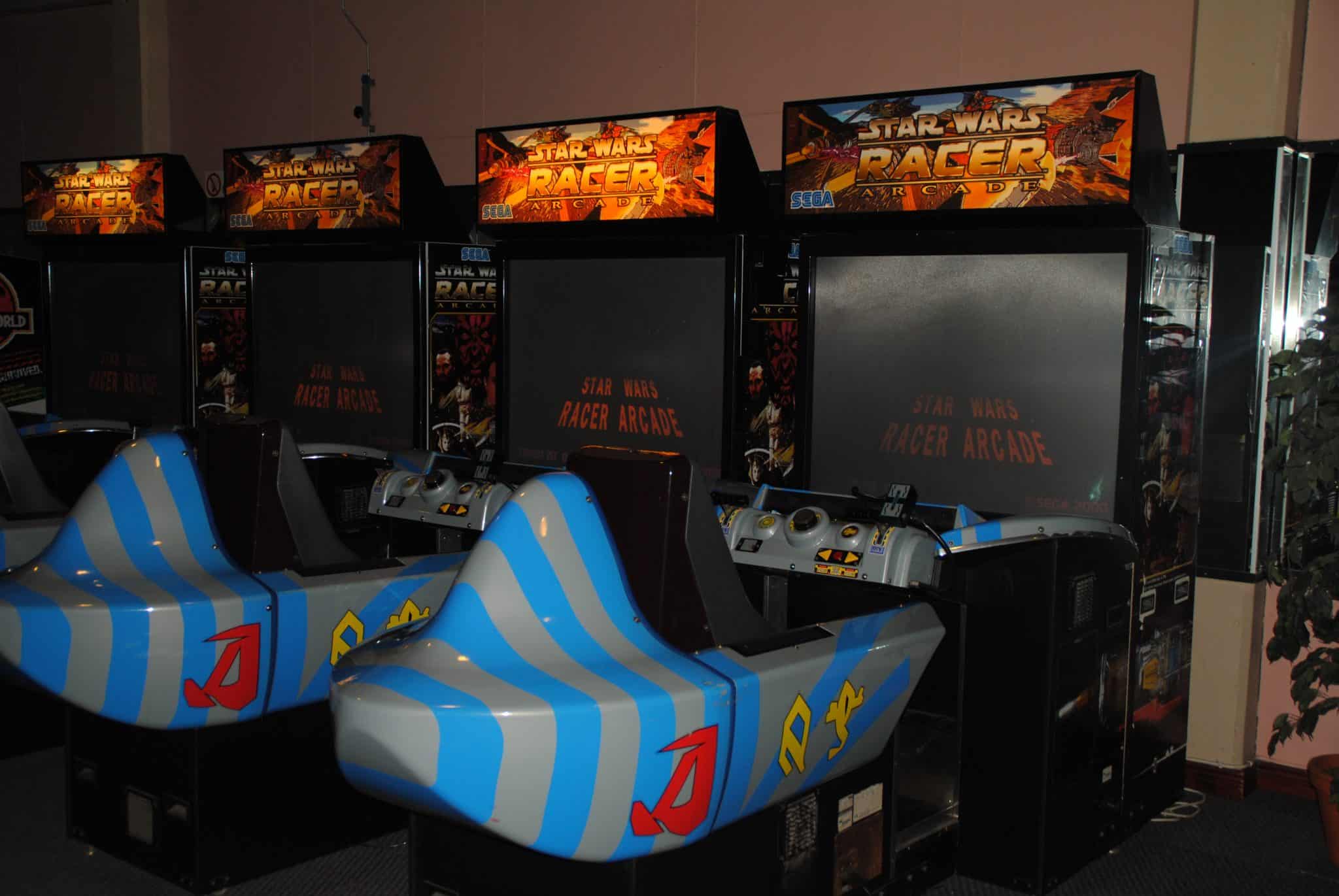 I have never been a fan of this SW Racer game, i have it on the Dreamcast (?) and i must admit that it is my least played game. It is fast, looks good and all but it is just plain boring. Great looking cab with 4 player link and full units/pods.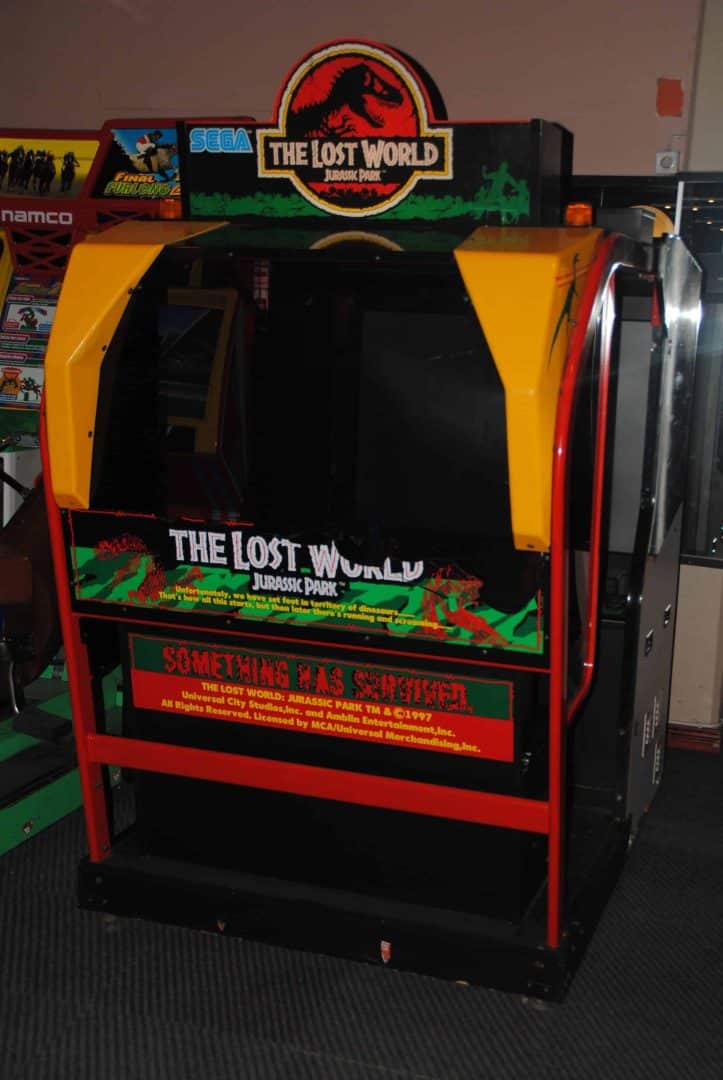 Jurassic Park The Lost World, the second JP game in the arcade. Played this game a lot in the past and i like it!. Good looking cabinet. Why was there never a console port of this game?.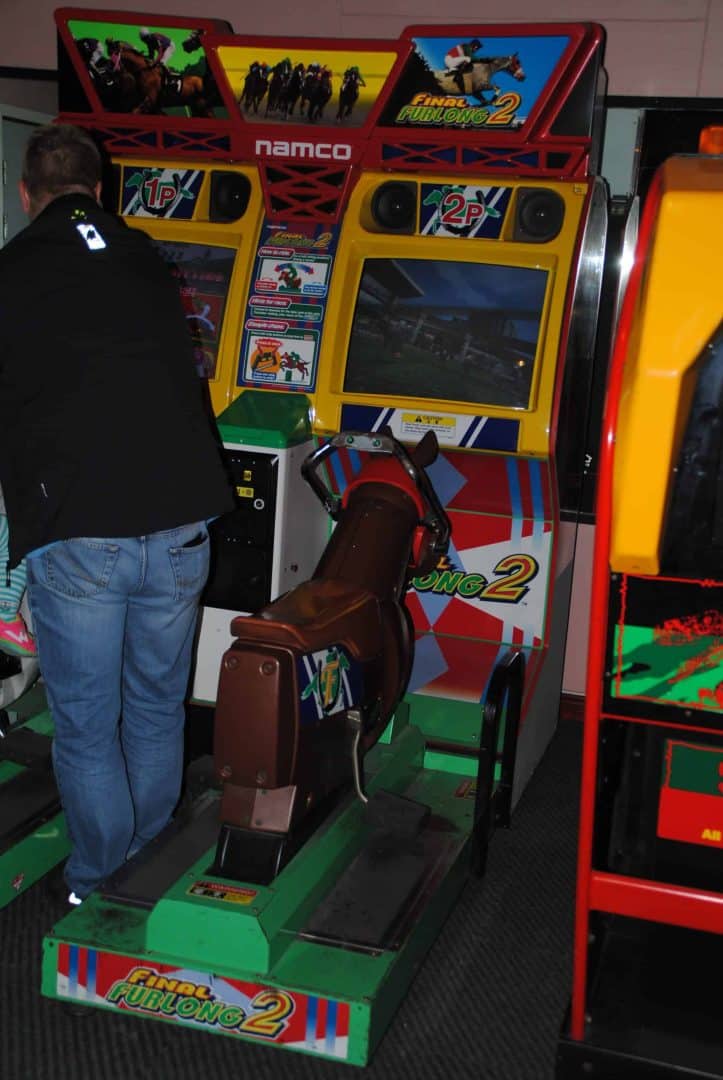 This one is a classic, Final Furlong 2 is one of those games that most people look at and says, what a strange game that looks to be. This unit was always occupied while i was at there, many of them young kids who just played on the horse and not the actual game.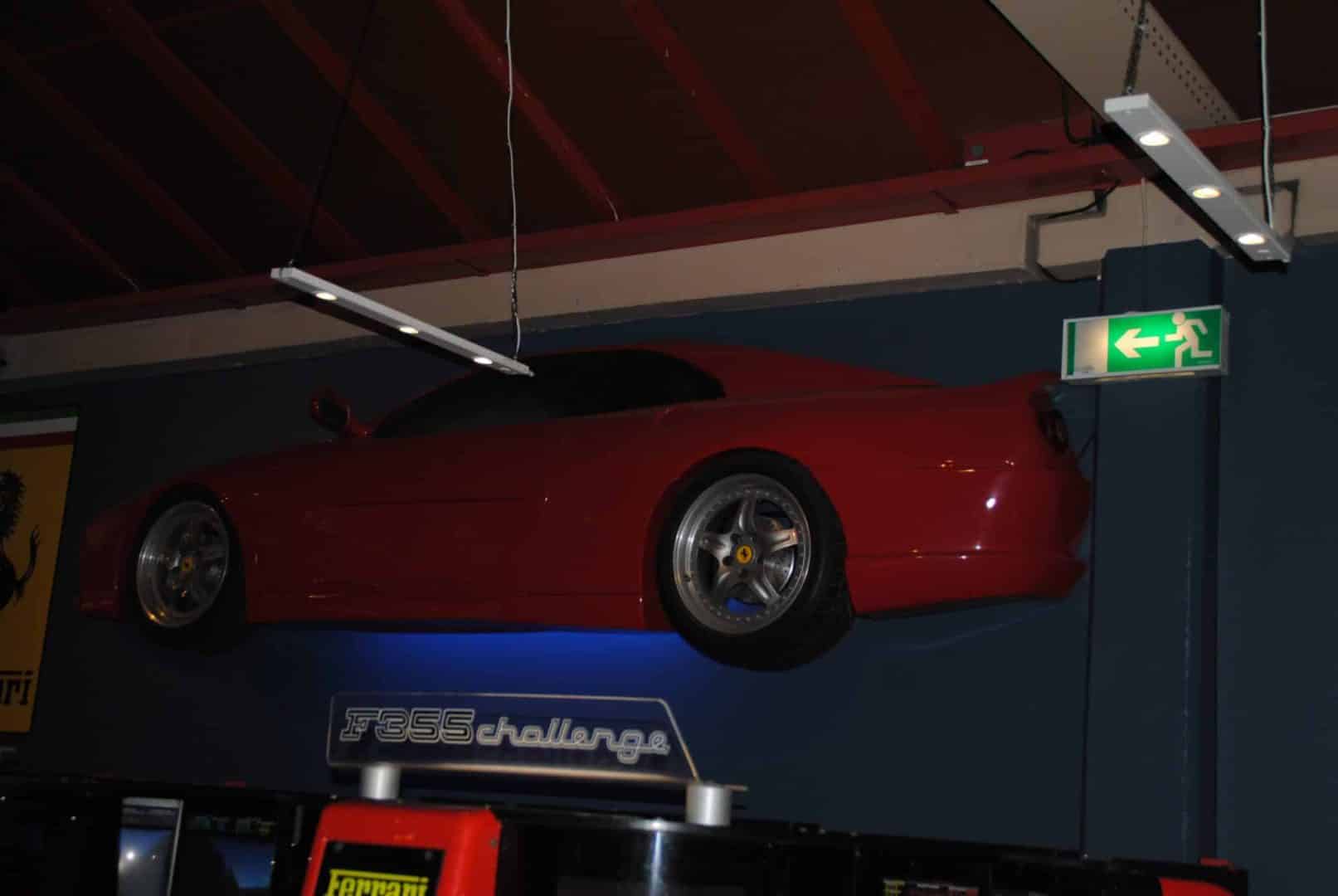 Hey, what's this then?, is that an F355 full sized car i see there on the wall?. Yup, half of an F355 anyway. SEGA has done it again, well 15 years ago anyway.
Here is another picture of the wall mount and here you can spot a couple of the linked cabinets, 8 full sized cabs, 3 screens on each, huge Ferrari signs and so on. One heck of a cabinet, but the game is way too difficult for most people.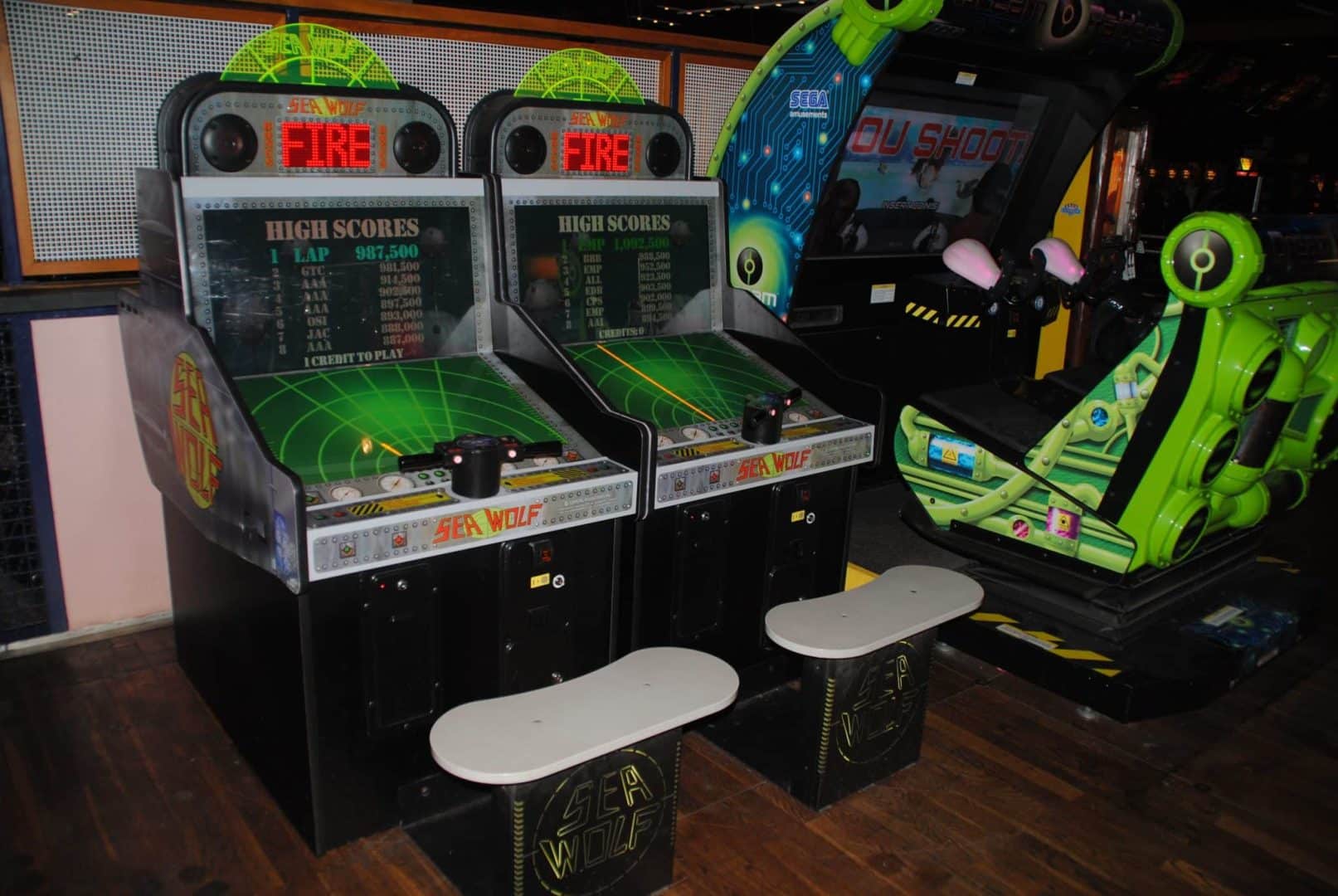 SEA Wolf, did not try this one and i am not sure if i should have tried it either, the running demo showed little of the game so i moved quickly towards the next cabinet.
Dream Raiders, awesome looking cab and the game looked cool too. Did not try the game as i spotted a game a few cabinets away from this one, more or less rushed over there.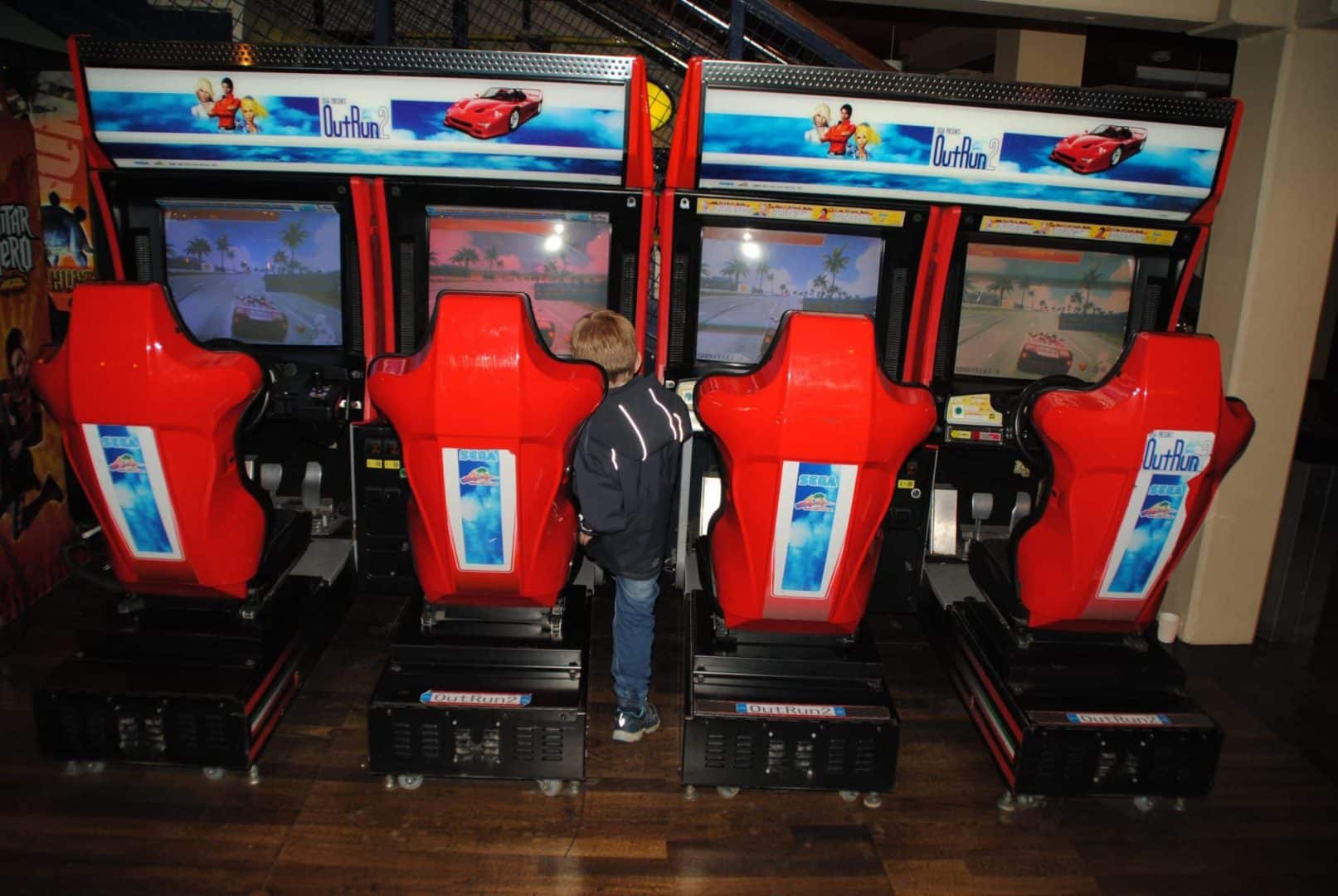 Yup, OutRun 2, the first OutRun 2 game, a game i did not expect to find there because SP was already there, i relived my 10-year-old fantasy of playing this game again and i must say it lived up to it too. 1 screen was broken here, no idea why one on SP and one on this one was broken but nonetheless the 3 other cabs worked fine.
TFATF is yet another game i have not heard of before, looked like an ok enough game and nothing like that horrible console game that came a few years back. The first thing that hit me was, it does look a lot like a game in the Crusin series and that can't be a bad thing if you ask me.
The sequel " TFATF Drift " was also there, sadly i can't seem to find the pictures here now, will try and add them eventually.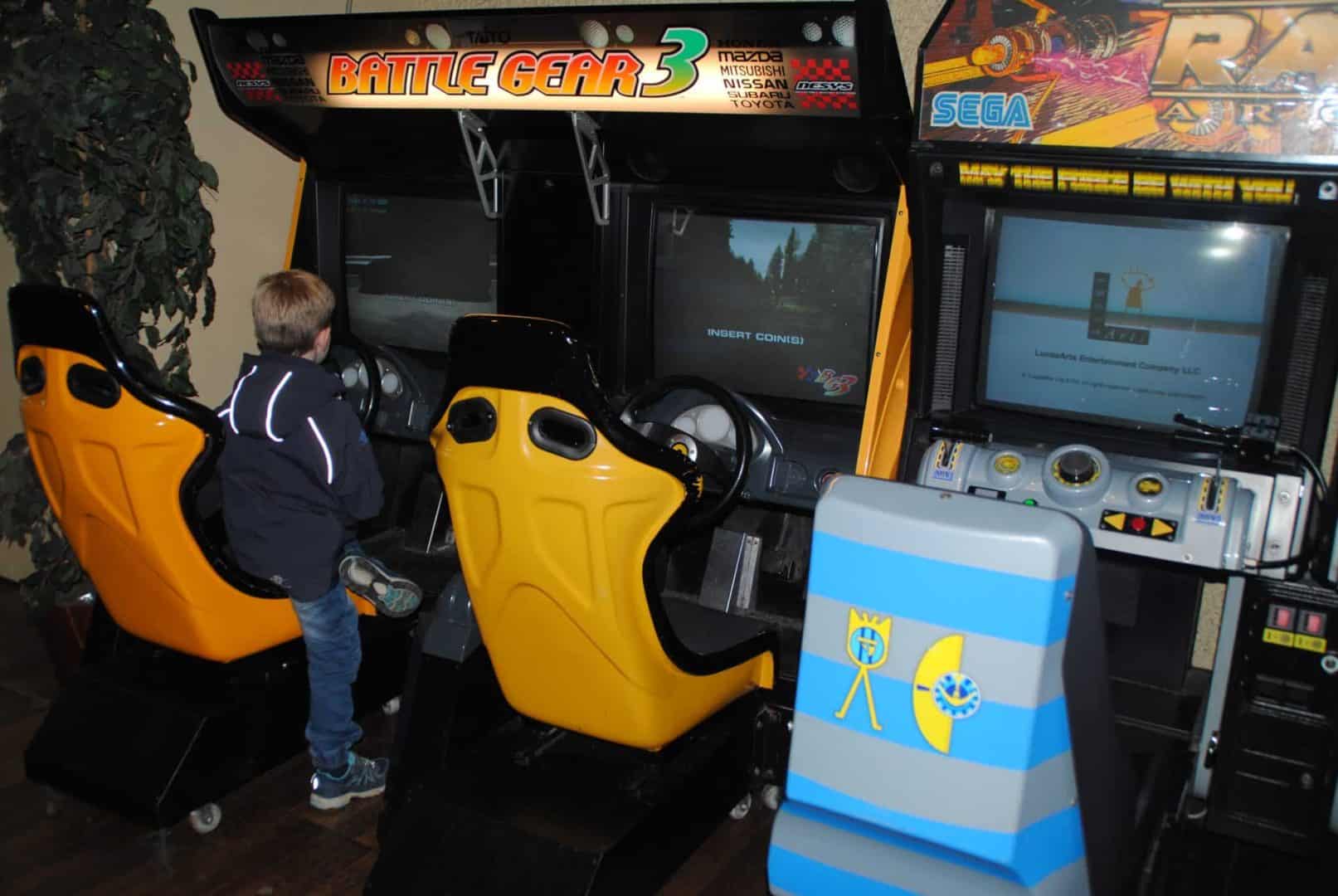 Really cool to see Battle Gear 3 there, i have lots of good memories from the series as well as SidebySide. My son checked it out and he thought it looked quite boring but that changed as soon as he got to try it, one thing is for certain, and that is that my son loves games and while he may not have played these games all day long if he had daily access to them, but once in a while and especially at places like this changes everything.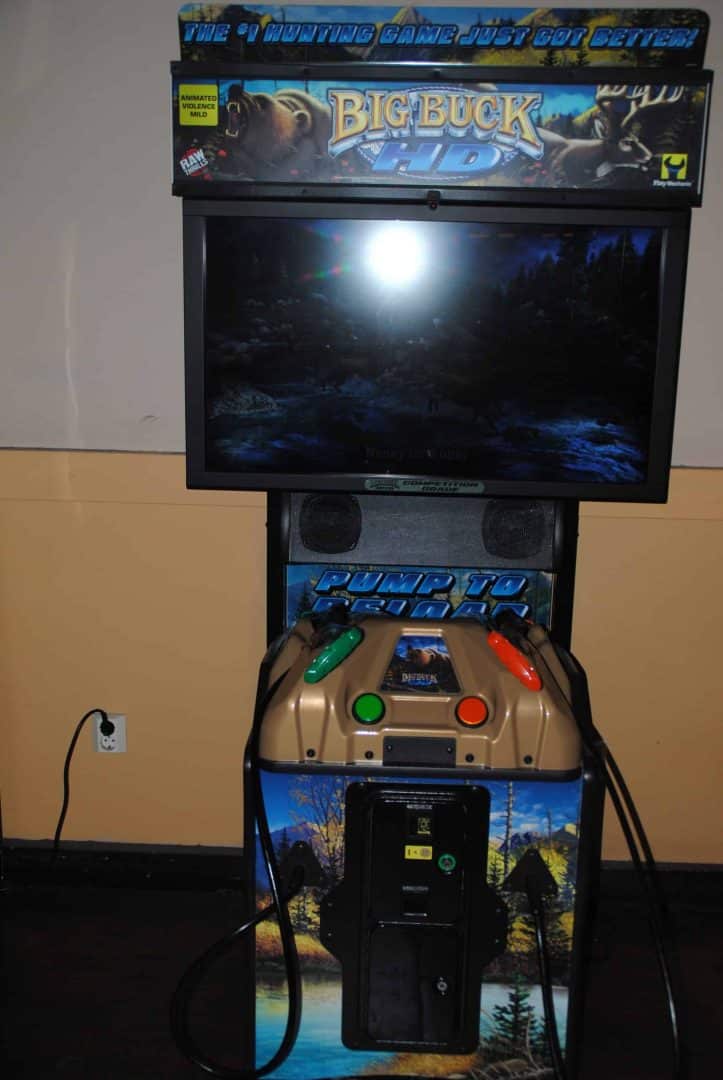 Another hunting game and this one was in HD and quite "new", the unit looked like most other gun games. This was one of those games that no one was playing while i was there, hunting games and gun games in general used to be very popular before but i guess there were too many of them (i spotted at least 3 of this one there) in this arcade.
Not much to say about PUMP PRO other than that it looked like a cheap knock-off from other dancing games, no one was playing it while i was at the arcade and that may have been because of the location of the machine, but i personally thought the game looked awfully boring.
Dancing Stage Fusion, i have no idea how many hours i have had at this game on both the PS2 and in the local bowling alley where i live, awesome game and it does just about everything right when it comes to dancing and music games.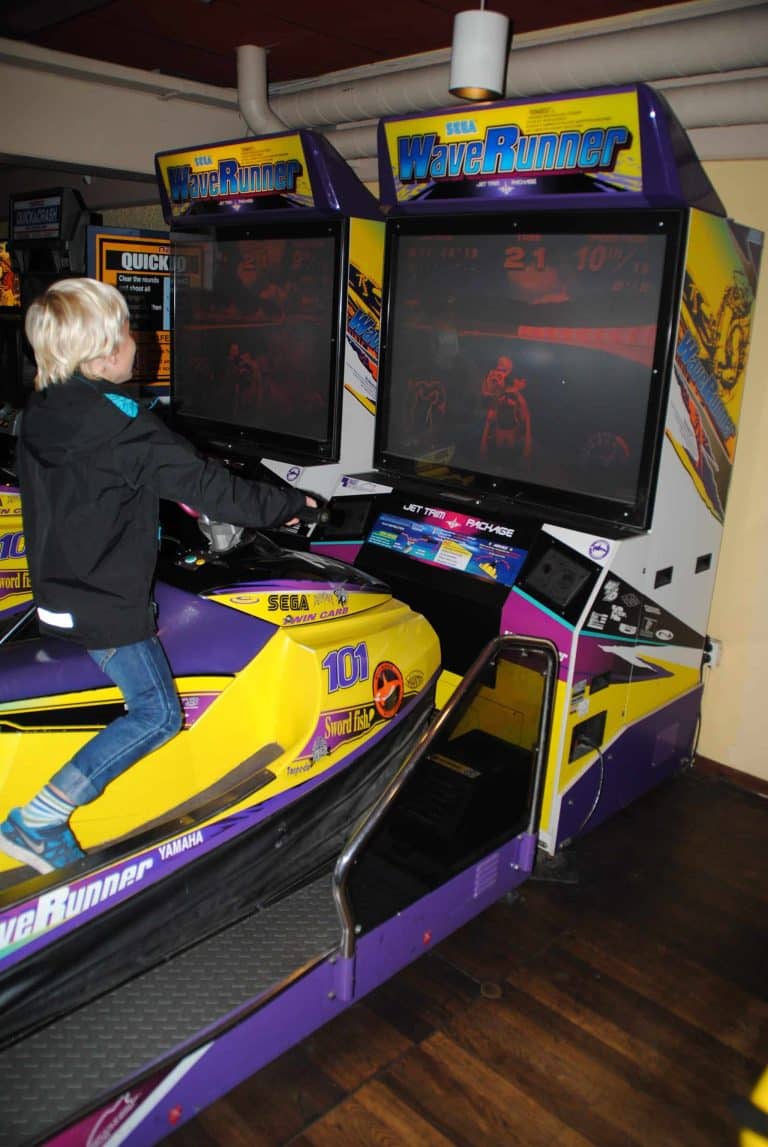 Wave Runner, clearly a game sponsored by Yamaha and the cabinet and water scooter/Sea-Doo looked almost like the real thing, at least props wise. My son wanted to try the game but sort of forgot all about it when he realized that the PAC MAN game was next to it.
This one looked really cool, and it yet another game i had not heard or seen of before now.
I thought it was a SEGA cabinet at first, but i was wrong.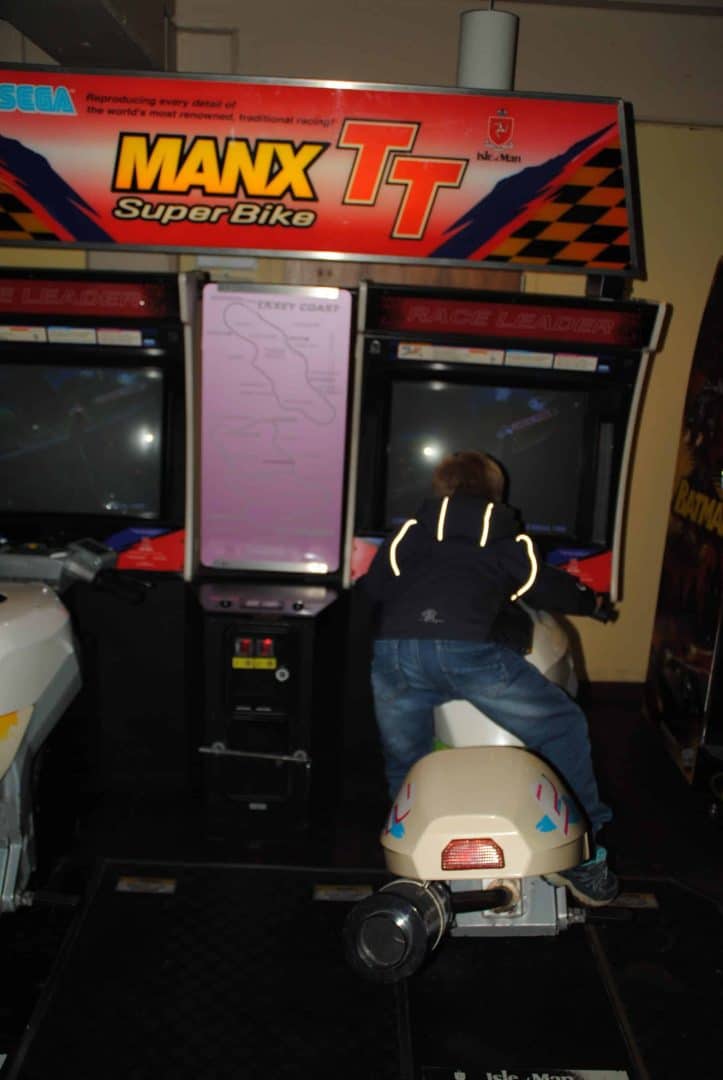 This one is a classic and a game one can spot in most arcades that i have been to for the last few years, not much to say other than the it was the full cabinet with everything intact.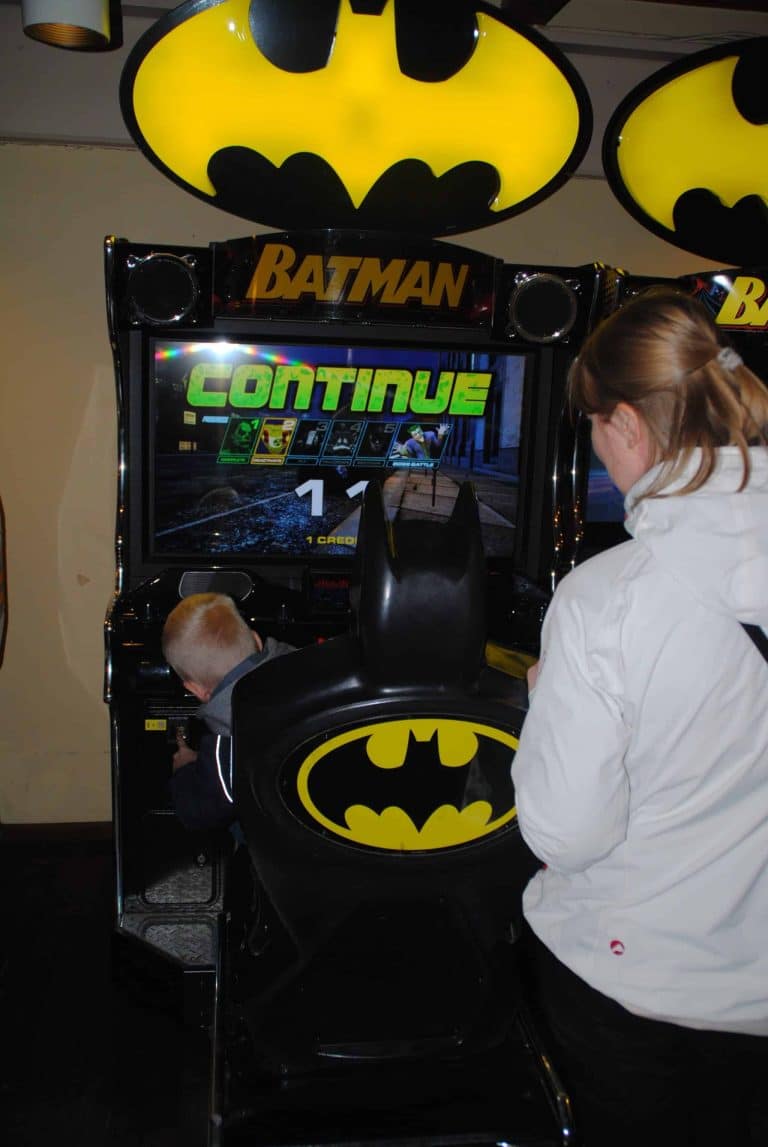 BATMAN, what? a Batman i had not see before?. I just had to try this one, but i never got to as it was a busy one and when it was finally possible i had to leave. This cabinet was yet again the full model, looked ace and just to have said it, one of the largest surprises in the arcade for me.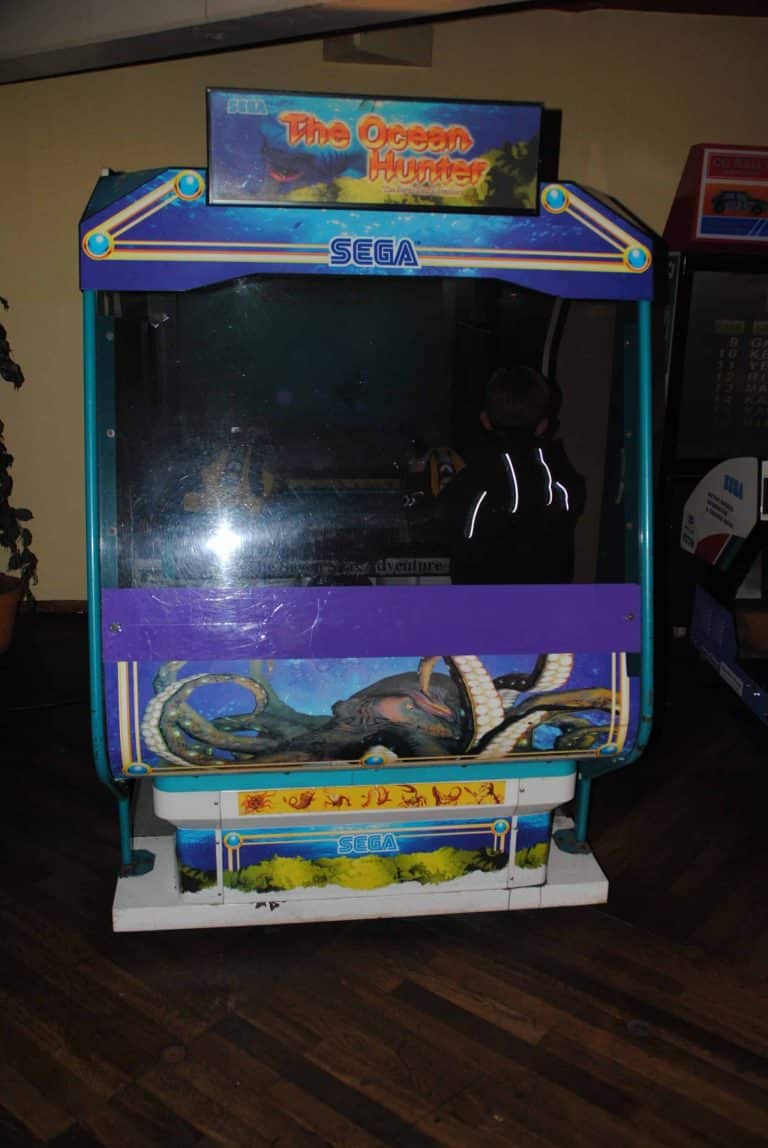 This was the very last arcade machine that i had pictures of in the arcade, another full model cabinet from SEGA, really neat one and one that i have seen many times in the past, popular game too.
The Liseberg arcade has to be one of the best arcades i have been to since forever, and the amount of full-scale machines is, to say the least mindblowing. This arcade is also very popular and when i checked out the arcade games forums this one popped up quite frequently.
There is one bad thing about this arcade and that is that there was not a single game older than 1995/6 (except for a few pinball games that are), no Virtual Racing, no Metal Slug, no Ninja Warriors, After Burner, Space Harrier and OutRun. I guess the reason for there not being any of those are down to the repair and maintenance costs due to age etc. Another reason might also be that normal cabinets like stand up arcade machines ain't all that attractive to most people today, but there is one thing though and that is the retro we live in now might prove these old machines to be quite popular.
I have no idea how many machines and how many of them were full versions are present in this arcade (i did more pictures too but i have no idea where they went..), but there are so many that there is a 100% guarantee that you will find at least one game in here that you want to play. There was a lot of doubles too and while some might think of that as a negative thing it was for most visitors a good thing.
Follow Us... Inspire Us To Get Better... Keep The Flame Alive
About Post Author