In Review: Loot Crate Subscription – July 2016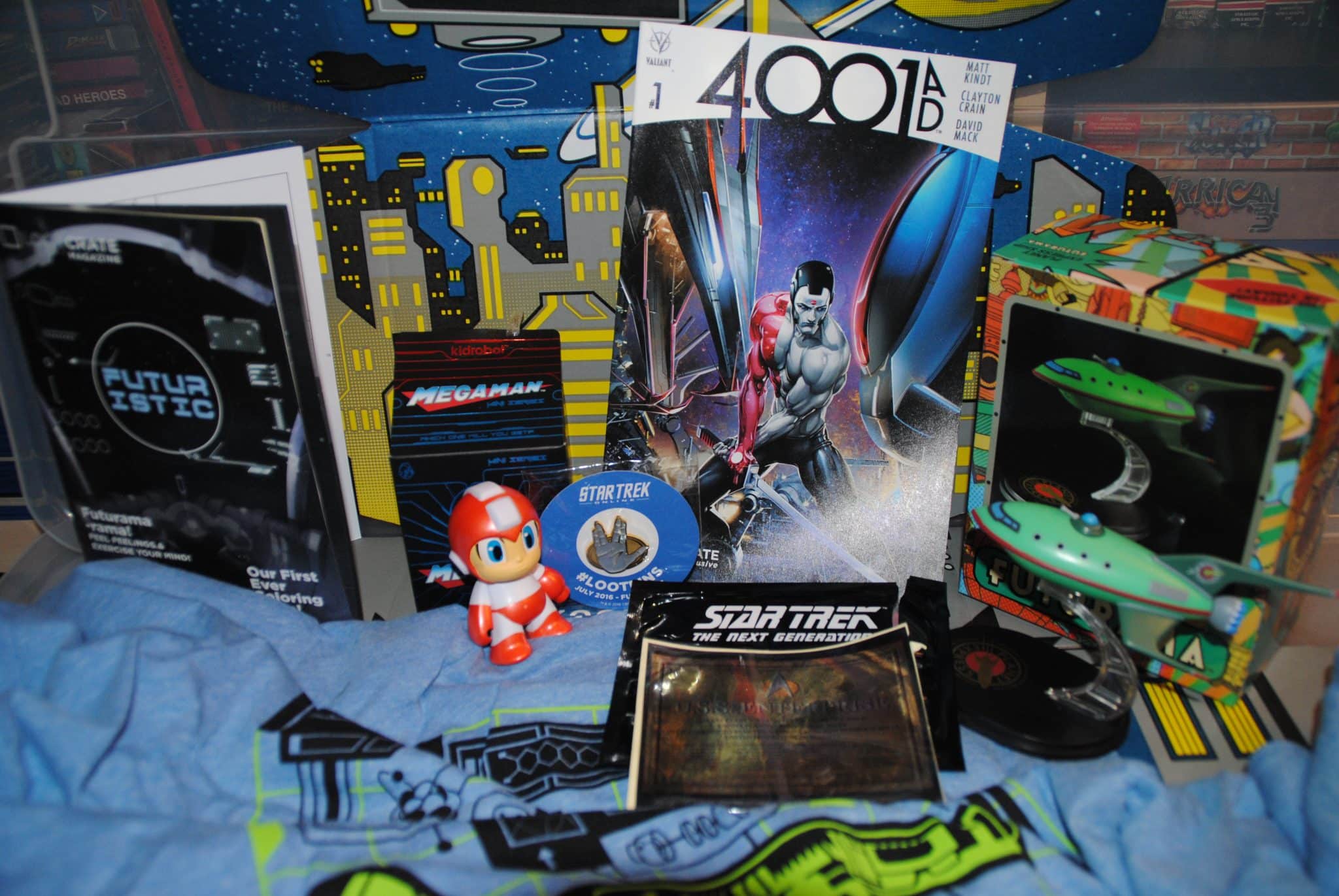 NOTE: this post is several weeks old, for some reason, my schedule function on the blog stopped working and i forgot all about posting the article. – anyways, enjoy.
Last months crate wasn't all that bad really, so lets pop this one and see if this one is any good.
This months crate is another decent sized crate and even if my Loot Crate Xmas unboxing feeling is gone it still triggers some emotions when i see the box in my postbox.
The reason why i am not going crazy is due to the variable quality & amount in the crates, so let's hope that this one is a winner then.
What have we here then? cool colors and i see some really cool merchandise there. Oops, the Xmas feeling is back!. I am all excited again now – HAIL LOOTCRATE!.
Brilliant! , a Rick & Morty t-shirt. It looks great too.
It ain't anywhere near the ROBOCOP shirt from last month but i still like it a lot.
Futurama merchandise! my first one!. Neato figurine ship display, it ain't big, full of details nor expensive looking, but for some reason, it "clicks" for me.
Used to be a huge fan of the series but i have not watched it in years, i guess i should do a marathon one day.
What the hell, 2 figurines in 1 crate?. UNHEARD OF!
Megaman loot?, I am one of those that actually preferred Megaman over Super Mario Brothers on the NES, huge fan of the franchise and this figurine will fit nicely into my (now quickly) growing collection.
It may not look fantastic or whatever but it is miles better than that Fallout crap from last month and let's not forget how cute it looks.
Me being a Trekkie means that as soon as i see the logo my hands start to form a certain sign, yup i am one of those "nerds". The latest movie is premiering here at the cinemas tomorrow.
This loot item is strange though, it is a sticker of some sort which i can put on just about anything i want and with that, it will turn into a USS ENTERPRISE ship – woohoo.
Yup it is a lie, it is just a sticker – a cool one though.
Woohoo, another comic book, issue 1 of 4001 A.D., so far every comic book from LootCrate's have been nothing less than excellent so i expect this one to be nothing else than that.
Brilliant looking, well laid out and more colors than your eyes can count, yup it looks like it is another top-notch comic book.
I will find a perfect home for it, next to my other comics where it will be untouched for decades (probably).
Will this one ever get rare?, i have absolutely no idea how the market is these days but if you go by LootCrate's sales on a certain Marvel kitchen appliance – well, i doubt it will ever go rare (that glove thingy was sold to over 300.000 people around the globe).
July 2016's Loot pin looks like this, yup it is nothing less than a trekkie pin.
Most definitely the best pin so far in my 10 months or so of the LootCrate subscription.
The monthly leaflet includes a bit more meat on the bone this time around, a good read in there as well as some "activities" for those of you who like to play with crayons and such.
The design and quality are still top-notches and i will not complain about it at all even though i will only read it once and then it will go into the bin for sure.
So this was it then, July's 2016 Loot Crate.
A very positive box again which makes it a hat-trick. It is the first time in my subscription that i have been happy with the crates for 3 months in a row.
If there is one thing i did not like it here then it has to be the Star Trek sticker thingy, but even that one is "ok" in terms of why it is in the crate and the quality is top notch too.
The rest of the items are way better than expected and best of all for me was that it basically gave me everything i had hoped for (Comicbook, figurines and a t-shirt).


The colors and presentation of the whole crate have to be mentioned this month, everything has been carefully selected and this might be one of the finest yet.
NOTE: this post is several weeks old, for some reason, my schedule function on the blog stopped working and i forgot all about posting the article. – anyways, enjoy.
Follow Us... Inspire Us To Get Better... Keep The Flame Alive
About Post Author