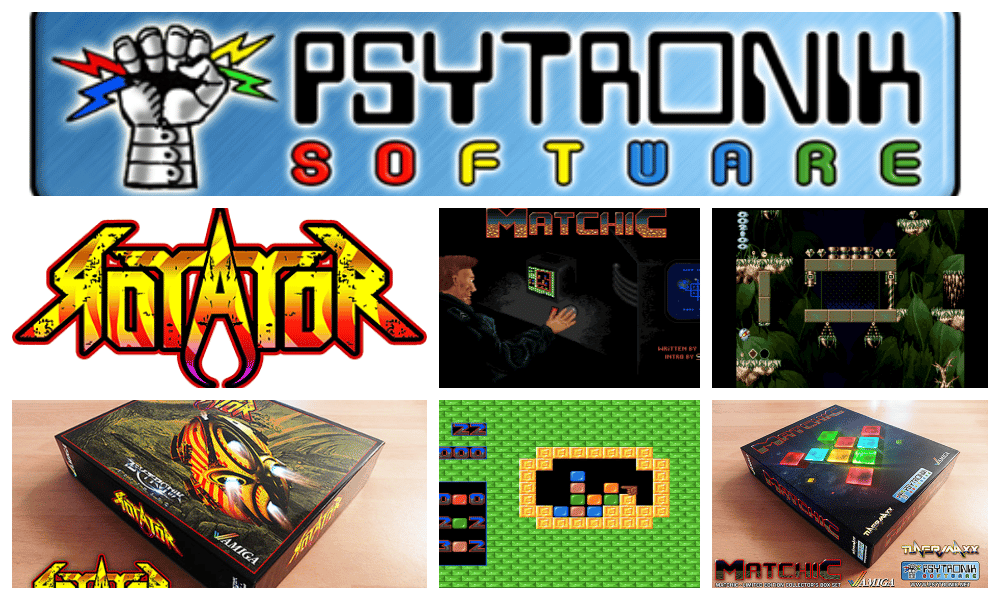 The Amiga community keep on pumping out new games and I have to admit that right now it is indeed a bit hard to keep track of everything due to the number of new titles being announced all the time and yes to follow them till launch.
Psytronik hasn't done all that much yet when it comes to releasing games on the Amiga but you might remember the first title that was released as a goal in a Kickstarter campaign some years ago, yup it is Starquake that I am on about here and I even reviewed both game and box a while back so make sure to check it out if you haven't done so already.
Well, Psytronik is indeed back in the game now with two new games that will launch next month if everything goes by the plan, well one of them is actually available right now in the form of digital download so make sure to scroll all the way down for the rest of the information.
Rotator is one of the two games and by far the one with the most hype, I have already played the game for a while now and can recommend the game with ease thanks to its wonderful graphics and style. The gameplay and mechanics can be a bit of a handful at first but if you stick to it then I bet you will have problems with putting it down
Rotator comes in several forms but the most interesting one to me as a collector is, of course, the Collector's Edition which costs £35.99 GBP, the release date is set to March 2020, pre-order it now from their website.
The Collector's Edition box comes in a proper glossy box, vinyl disk labels, art cards, stickers and so on which sounds more or less like in the vein of the rather excellent Starquake box.
To top that off they even went out and made a version called the PREMIUM PLUS EDITION, more about that below but we might have to get every version as it looks right now.
There is also an ordinary box version available which comes in an old-school type plastic case with a glossy manual and properly printed disk labels, the price is £13.49 GBP and can be pre-ordered right now (Release date is in March 2020) from their website here.
The downloadable version is available right now at the rather nice price of $6.79 USD, go get it right now.
There's also another version available as well as a DEMO version which you can download right now from their website.
I will review the game and box as well as the other versions available as soon as the box arrives.
Video Teaser below.
So, what about that second game then…

Well, the name of the game is Matchic and is actually a re-release of a really obscure game from 1991 that was only available for an extremely short period of time due to the publisher going bust (a total of 3 copies sold), the publisher was none other than Digital Marketing which was most known for their super mega-hit Twintris.
Just like their other games, this one will also come in a sweet collector's edition box and they promise glossy box, manual, poster and a keyring, badge and stickers and so on.
But yes, Rotator looks like a good game (and plays like one too actually) while (sadly) Matchic doesn't, I mean, graphics ain't everything for sure and I hope that the game plays better than the impression I got from the video and screenshots on the website.
This is the loading screen and right there the alarm went for me, but hey it ain't all bad as there was actually some pretty cool music in the intro(s) and there is more to it than meets the eye.
The actual gameplay looks like a puzzler in the vein of the old Taito hit puzzler Puzznic. You match colours instead of symbols and is all about pairing up two or more in the same colour for them to go away.
Just like Rotator this game also comes in several types of packaging and yet again the most interesting one for me is the Collector's Edition but to those that don't want to pay £35 GBP for it can grab the Premium Plus Edition for £12.59 which comes in a plastic case.
If that is still expensive then you got other options that will be listed in a more in-depth review article that is due next month (or as soon as I get the game).
I have not found any information about a demo nor a digital download version yet but I expect more information about that as we get nearer the release date (March 2020).
I have included the teaser trailer below, enjoy.
Follow Us... Inspire Us To Get Better... Keep The Flame Alive
About Post Author