Retrospective: Turbo Trax
Amiga retrospective again, this time it is about Arcane's smash hit Turbo Trax, an Amiga 500 "Top-down Driving/Racing" game from 1995.
First things first, my CD32 broke down while recording/grabbing the gfx and video so the whole complementary video review idea went to shizzits. The CD32 sound chip (Paula) or something is broken as the sound comes only out of the left-hand speaker and there is noise in the picture too at times (why grab quality is bad in the pictures).
Ok, over to the article then.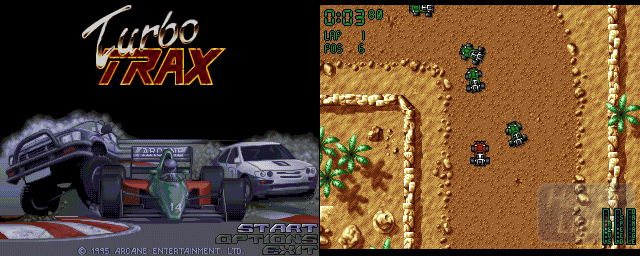 Turbo Trax is yet another top-down racer in the same style as WarmUp, Nitro, Overdrive and Roadkill, a genre i loved back then and i still do today.
There was not all that many games coming out for the Amiga 500 in 1995 as most developers left on Amiga had turned to A1200/CD32/A4k (AGA) by then, so when this game was announced the excitement level was quite high.
Arcane hit the soft spot for many with superb graphics, 50fps and a whole lot of tracks and various game modes.
I never got around to do screenshots of all 5 track styles due to the breakdown of the CD32 but the ones that come with the game are: Desert, Swamp/Forest, Snow, Track and City. All 5 comes with different vehicles and handling.
I have completed the game many times in the past and it can be a very difficult game at times so getting to see all tracks can be a nightmare unless you go for other game modes like practice etc.
One of the very cool things about this game is that it comes with a Linkup option, bringing this game to demo parties or whatever was a blast as you got to race them via a serial link. This is one of the top 3 serial link games, in my opinion, Stunt Car Racer and Lotus 2 being the other 2.
Turbo Trax comes with a nice upgrade system and unlike many other games out there, that very same system is also used in both multiplayer and practice/Time Trials too. I did a screenshot of this one but for some reason, it turned out all crappy, will do a new one when i have the time.
Turbo Trax looks great for an Amiga 500 game and while it only utilizes 32 colours it still looks like if it could be an AGA game and this is due to the design of the graphics and its simplicity for sure.
There ain't many negative things about this game really, but, there is one though and that is the sound. The Music and sound effects are great and they give the game a lot of atmospheres and all but the thing is, it ain't possible to listen to both at the same time!. You will have to choose if you want music or SFX, not both. sad!.
So, now you probably wonder why i blame my CD32 for various things here right?, well this is because i planned on using that one for my future grabs and videos and i have most games i like on it via homemade compilations and i also got an SX-1 with extra memory in it. Hopefully, i will find a solution to the problem soon.
Turbo Trax was announced for the CD32 but was cancelled right before the planned launch due to the market dwindling up. The CD32 version had 2 new features and that was CDDA and Nvram options.
A great game. Thanks for your time.
Follow Us... Inspire Us To Get Better... Keep The Flame Alive
About Post Author