From Japan To Russia – Nippon Saves Inc & The Big Red Adventure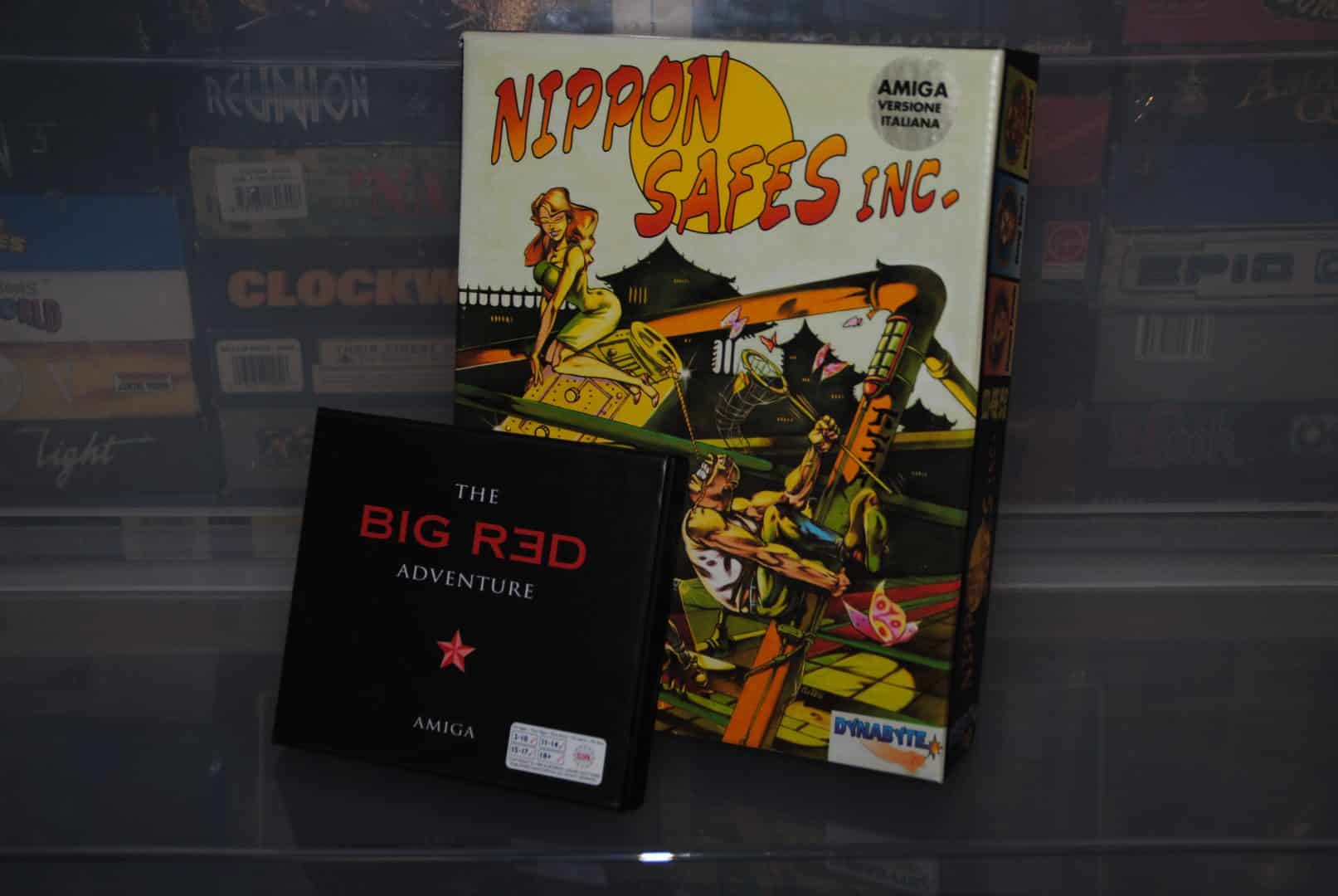 I am not sure why this was new to me back in 2002, i used to follow the Amiga 100% and especially the games yet i somehow managed to forget that The Big Red Adventure was actually the sequel to Nippon Saves Inc.
These game series have quite the backstory and when i started digging i found lots of cool stuff about it.
I was always a huge fan of Nippon Saves Inc, i completed it and i wanted more due to the Asian/Jap styled graphics and so on, very few games on the Amiga had such a story/theme.
Nippon Saves Inc. was and still is quite funny, well designed and with enough locations and style to keep most gamers interested in it, that is if they're Adventure game lovers.
The Amiga box is quite an extraordinary really, it is a thick hard carbon box with a flip case design, and unlike many games on the Amiga, it is stacked with "collectibles".
There weren't many games that i know of that had all these kind of things in it back in the 80s and early 90s.
Luckily i managed to take care of the box and all of its stuff for 20+ years now and by the looks of things, the box and its stuff in mint condition is quite rare.
It was not long after the release of NSI that they(Dynabyte) announced they had a new game in development and that it was to be a CD32 game and this is where i lost track of it, more or less anyways.
And now over to its sequel, The Big Red Adventure.
A year or so later pictures of a new adventure game for the CD32 appeared and while i do remember them i still never connected the two.
The Big Red Adventure from Core Design was eventually canceled for the Amiga CD32 and nothing was ever heard of it, all they said was that it was never released was due to the dwindling Amiga market. (and i guess due to CORE Design left the Amiga market?).
A few years after that, a company called Ludomedia and a known Amiga hardware company called PowerComputing announced that they were to resurrect this game and that it was set to be released for Amiga CD (yep, not CD32…).
I bought it on release, but i never got around to play it, The Playstation kept me too busy so i forgot about most games on the Amiga except for the AAA ones.
The game came in a boring black box and nothing told me that it was a game i would like and by then i had totally forgotten about it being from Dynabyte after all the box said Ludomedia…
5 years or so later was when i found out that it was the sequel to Nippon, for some reason (most likely someone on IRC said i should) and it was about time too since i was into adventure games and i was in the need to move away from the PlayStation scene too.
It only took me a few minutes to notice how similar this game felt to something i had played before, the graphics and design was one of them yet i had never had the pleasure to play anything Russian before, well except for Tetris…
I started looking around but it wasn't until the references to Nippon came in the game, well there had been a few earlier in the game too but for some reason, those somewhat managed to pass by me.
It's odd how things end up in Amiga land, this was supposed to have been a heavy hitter on the CD32, an Exclusive CD32 game and it was dropped and then went under the radar and it didn't help that Dynabyte had changed the name to Ludomedia by then (1997?) either.
I never tried this game back when it was new, i never hyped it up and i regret that as PowerComputing deserved more thumbs up for their games and hardware releases.
Haven't tried any of these two games? do it now! they're funny, they involve criminals and lots of "bank/money etc" safes and they do look good even today.
Follow Us... Inspire Us To Get Better... Keep The Flame Alive
About Post Author