Golden Wing Deluxe Collector's Edition Unboxing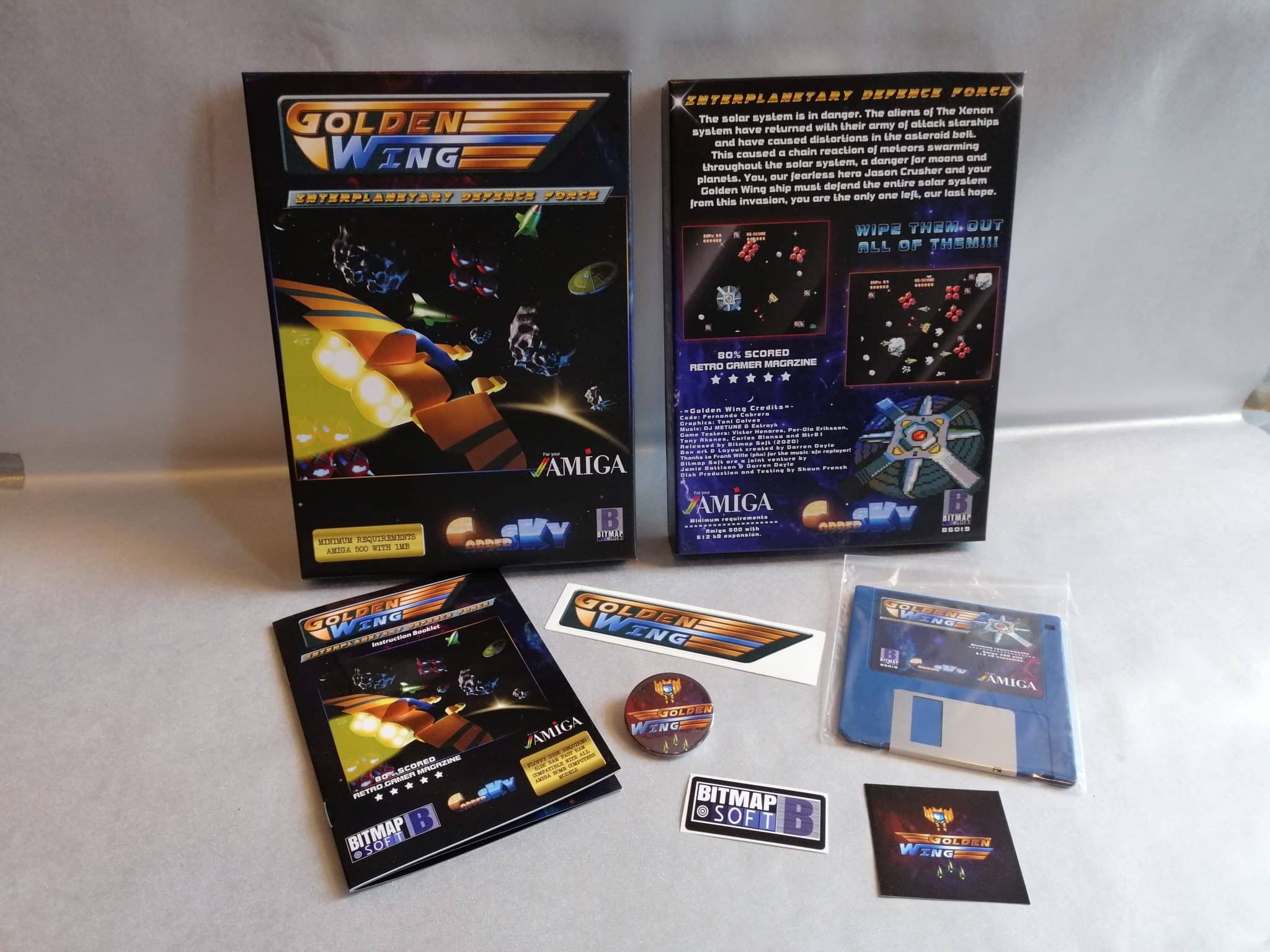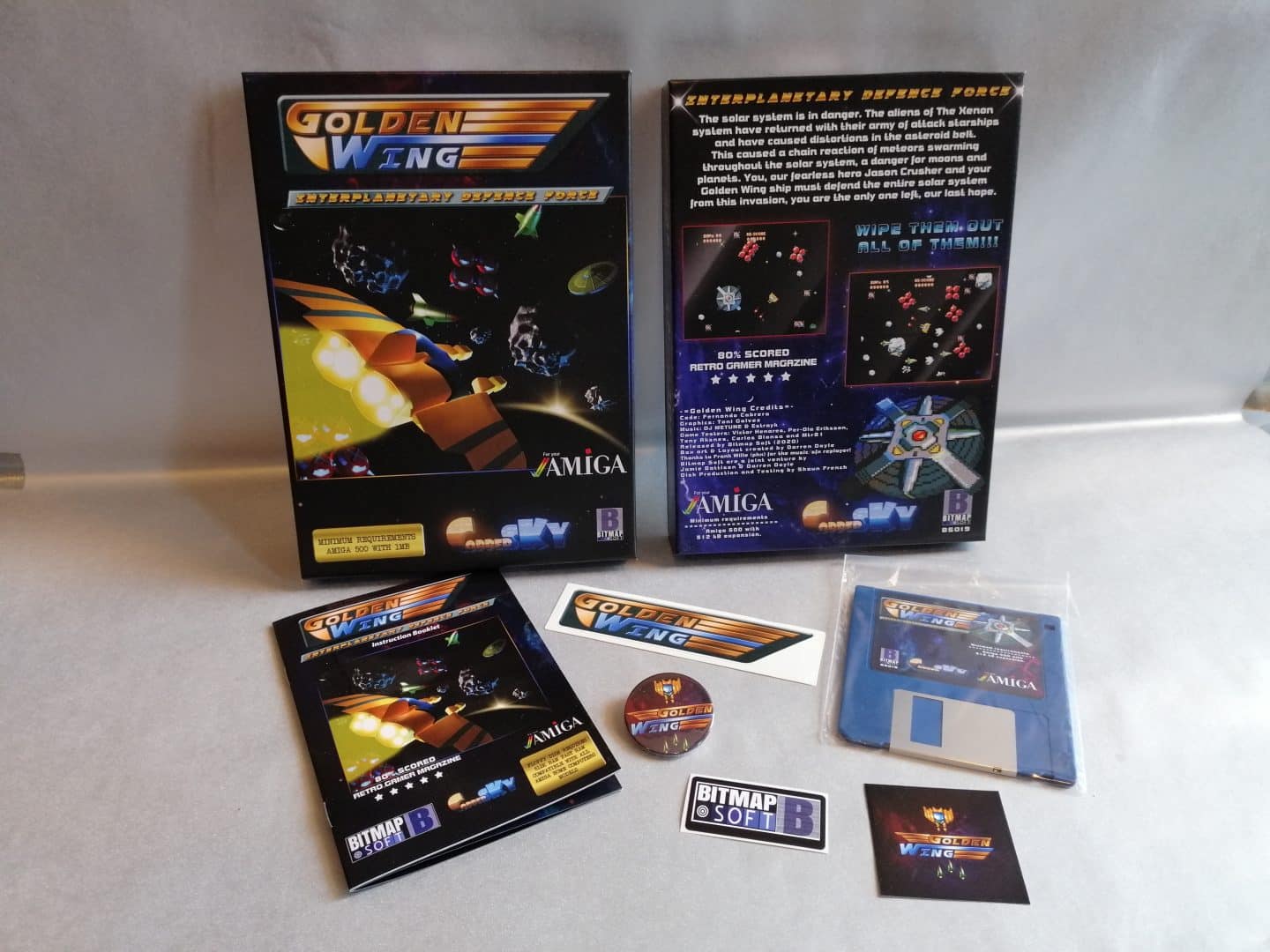 A while back we posted about the pre-order campaign of Golden Wing Deluxe Collector's Edition box release and since then the game has been released and most of the pre-orders have arrived safely in the hands of their new owners.
The game arrived last week here and normally I would have done an unboxing and review straight away to hype up the market and well yeah all our readers as well as the collectors and Amiga fans out there, sadly there hasn't been any time for that so it took a week of delays and excuses (work, baby bla bla) for this unboxing to make its way online.
The first thing I thought when I saw the box in person was – huh? Wasn't this supposed to have been a glossy box?
Golden Wing Deluxe CE comes in a pretty nice big box with a matt finish, it doesn't look or feel cheap or anything like that but deep down inside me I somewhat feel that it should have been glossy even though it never was said or advertised to be so (yes, I checked).
The measurements used on the box is yet another uncommon one these days but to those out there familiar with EPYX boxes and even Accolade games from the 80s will instantly know the size used (something between the small B5 and the big A4 boxes).
The actual front looks great and the colours used as well as design is far from bad and I have decided to put it on display in my collection for now as that is how much I like it, that said I do this with all brand new Amiga games on release to honour the developers/publishers and so on… some stay only a few days while others stay on display until they eventually get lined up with rest of my games on the shelf.
The backside of the box also looks really good, the choice of colours and font etc works really good and yes I should do new and better pictures as these just turned out a bit too dark and whatnot.
It is always odd to see my name on a box and it's something I will never really get used to even though there have been quite a few games lately, that said I must add that I am very honoured to be part of all these projects and the amount of trust and whatnot the publishers and developers have given me the last 5 years or so have been nothing but amazing.
The side art is also very nice and I hope Bitmap Soft will continue using this on other titles in the future, same style, placement and of course same box size.
Oh, look at that, a glossy manual.
Yes, there is a rather big manual inside the box and yes it is indeed glossy and yes that was advertised too.
A very nicely laid out manual, loads of colours and lovely work of art, not bad at all.
Extras galore, the game comes with several extras like stickers and a pin and yes all of them are looking really good.
The Floppy though comes with a traditional sticker and not like those really fancy ones that we have seen lately that almost feels like it is some sort of fabric, that said still good.
A really cool poster is also included in the box, A4 sized and glossy!
Oh, and before I forget, I got some exclusive pictures here to show that might tickle the Collecting bone out there 😉
Two towers of the game, looks great eh?
The publisher is hard at work doing manual labour 😀


Here is all that came in the box except for the poster as yes I just had to put the poster up on the wall right away and umm I forgot to do a picture then heh. Top stuff from the guys at Bitmap Soft and at first glance it is hard to believe that this is their first published Amiga title, but then again they've done quite a few releases on other formats (Atari, C64, Speccy etc) so that explains it.
The developers (Copper Sky) could and should be very proud of this box.
Want to grab this wonderful game and box before it gets sold out?
Head over to the Bitmap Soft webshop right away and buy one as there are only a handful copies left.
Follow Us... Inspire Us To Get Better... Keep The Flame Alive
About Post Author