Unboxing The Great Giana Sisters Special Edition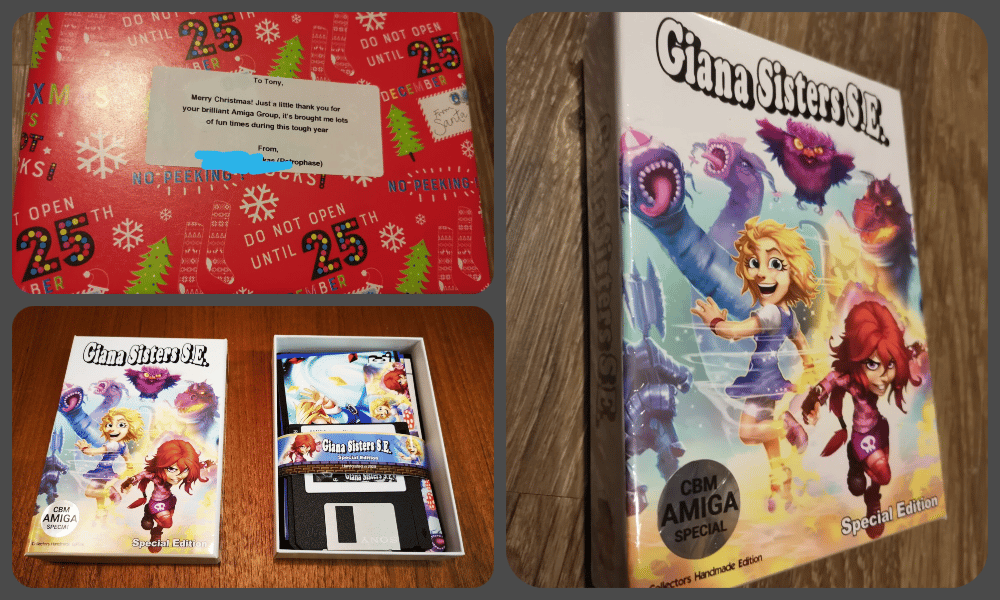 Most of our readers here at AmigaGuru's Gamer blog knows about my Giana addiction by now I guess, to some of you this game is just a Super Mario Brothers clone but to me, it is a helluva lot more than that for sure.
The guy(s) at retrophase.co.uk knew about this and decided to surprise me "big time" for Xmas 2020 by sending maybe one of the best Amiga related gifts that I have got the last few decades in the post…
The gift is surprisingly enough not for my blog but for a group called "The Amiga Collectors Group" on Facebook which I started back in 2019, BTW if you ain't on it yet then feel free to join us there if you are into collecting Amiga stuff.
This fantastic looking box is what Retrophase sent me, a one of a kind collectors box based on the Giana Sisters SE release from 2016 by reimagine games (I reviewed the game back on the launch, see here for direct link).
The game came sealed but I just had to open it of course…heh, what kind of surprise is in the box for me etc and yes after the sublime Tiny Bobble box that I got a few months back meant that I just had to check what was inside this one.
Here you can see both the front and backside of the box, it looks amazing in my (biased) opinion, the white sort of brings the box to life and yes it does, of course, look even better in real life as always.
A small boxout on the lower right is actually taken from my review of the game which is a cool addition to honour the blog as well as me, I really appreciate the effort done here and thanks again for doing this box for me.
Just like with Tiny Bobble the inside of the box is well made and lined up nicely with lots of attention to detail and everything is held in place with the small band thingy.
Here's everything that is inside the box, everything is of course in great print quality on proper paper too, everything got that glossy look that we (collectors) love so much.
Why the floppy disks got a b/w label is beyond me as it somewhat ruined a bit of the overall box wow factor, that said, no biggie to be honest.
I love the box and the effort and maybe most of all that retrophase thought of me and made this box and thanked me for the community stuff that I have been doing the last few years, I have already thanked them but yup, I just have to thank them again with a wholeheartedly "THANK YOU! ".
In regards to what I think of remakes of boxes and such, I still stand where I have always been, I hate bootlegs and such and will always loathe them but these boxes from retrophase are different, they are not replicas and in many cases much better than the real thing too and therefore I find it easy to recommend them to all of you out there that wants a special box of a special game etc, it ain't an item that you will want to replace with the real deal but one that can live in harmony next to your original game boxes.
The front, back, side art and all the stuff inside looks great and I feel that it could have been how the real box would have looked like if there had been one, Retrophase has yet again managed to make a proper collectable for me and my Amiga collection.
Follow Us... Inspire Us To Get Better... Keep The Flame Alive
About Post Author