Being at the right place at the right time ain't something i can brag often about really, but last week was one of the few times (so far) that i have accidentally bumped into getting a pre-release version of a game to test it out and even do a review of it before everyone else.
I have done a few exclusives on my blog here but this is the first PlayStation Vita title, hopefully, this will be a door into more Vita pre-releases etc.
Laughing Jackal asked around for testers and people to tease their new games to others, no idea if that worked or not but i have done my share of it so far i think as the game has been on 24/7 for a week now.
So over to the actual game then, Your task is to put out a fire and you have 3 "weapons" for it:
An Axe which you can take down doors with.
A Fire Extinguisher which you put out electrical fires with (?).
And finally, A Firehose.
The Firehose is the one you will use the most for sure and while it does seem bad at first it ain't, it's all about how you use it.
You have to run around quite a bit in the game and backtrack too, this is because of the design of where you can refill your equipment and the best place is at the starting point of the level. There's lots of water tanks/drinking stations and so on where you can fill up your hose tank but they take a lot of precious time and sometimes quite fiddly to use. I prefer to run back to the start of the level for this but i always try to time it together with other tasks like saving people.
The only way to get extra time is to save people, these people are spread all over the levels and in most cases, they're in rooms covered with flames. Saving persons can be a dangerous task for both you and them so you need to act fast and systematically, If you managed to get him out of the inferno then you have to escort him back to the starting point of the level in order to get your award which is extra time (1 minute).
There is not only persons that you can save as there's also a "secret" cat in all levels, find him and you get an extra life.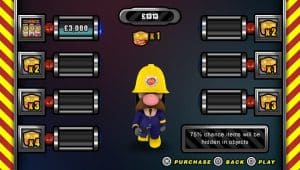 Ok, this one here was a tough nut to crack, you can't upgrade anything before you get tokens and this is very badly documented in the game as it looks like if you can buy tokens with in-game money which you can't.
In order to get tokens, you will have to do special tasks in the game, rescue a person and find his briefcase etc, return it and you get a token. These tokens are hard to find, i have over 3 hours in the game so far and i have "just" found 3 tokens by now.
Once you spent your token then you have to use your money to upgrade the "power-up" that you chose, the money doesn't carry over so you will have to play a lot of games before you reach the amount you need. In the picture above i need 3000, highest so far that i got was 2400 and those 2400 was lost as i had nothing to spend it on…
The graphics and sound in the game are above the level you normally see in this kind of games and as always with Laughing Jackals games, it's fitted perfectly together with the gameplay and sound.
Controls are balanced and work great with the Vita analog sticks etc, precise movement is required in the game and there haven't been once that i have blamed the controls for my death or bad choices in the game.
I have a few concerns with the game, when it works it's great fun, but due to the upgrades being so far between and that the difficulty level is way harder than it needs to be. There is little information about progression and i find the mission info you get from persons in the game to be confusing as when i play i am stressing and sometimes i didn't even realize there was an ongoing mission.
Specific sounds when persons are found, cats, power stations and so on would also fit in the game as in most cases i just bump into them and then they're dead hehe.
PS: For me, this is the first game since that fireman game on the Sega Saturn, a very welcome genre!.
Follow Us... Inspire Us To Get Better... Keep The Flame Alive
About Post Author