The Return Of Crash Bandicoot?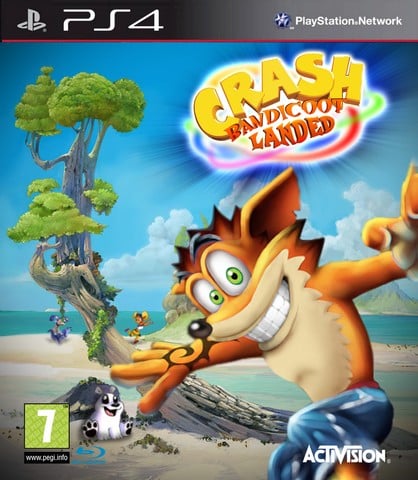 Crash Bandicoot, maybe one of the most popular franchises ever on PlayStation is now rumoured to return to its roots with a new game in development, and most interesting of all is that the rumour has it that it is exclusive to PS4 and being developed by none other than Naughty Dog, you know, the developer that created the franchise back in 1996.
I am aware of the rumours that have been circling since late 2013 and 2014 and i must admit that i did believe in them at one point, today i don't believe that it was real as the rumoured developer closed down a few weeks before the "leak" came out.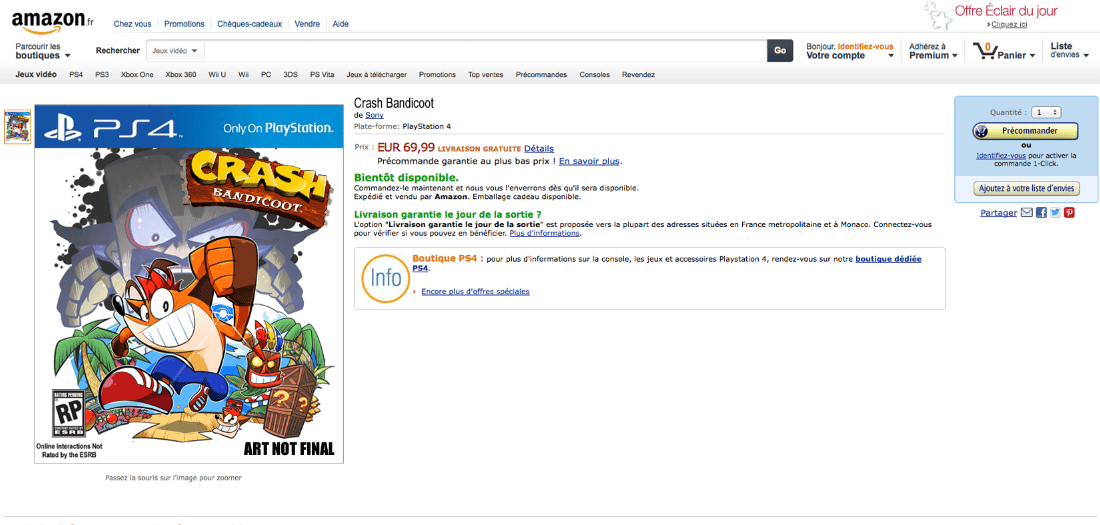 Amazon had a pre-order open for the "reboot" at one point, which version this was is unknown and if it even was real at all is another thing that remains unknown.
Where did Amazon get the listing from?, who leaked it?, i guess we will never know and what if this was real and that "strange" looking Crash would appear in a game, scary to say the least (I think it sucks).
There was also another leak from Playstation Middle East, you know, the guys that leaks just about everything possible including putting games out early. It might have been a marketing stunt as the first 4 games sold millions in the region. The rumour/leak was quickly put to rest.
There was no information or explanation to the rumour/leak.
2 months ago this fan-based creation popped out, the video shows how the game would look like if it was made with the Unreal 4 Engine, what will happen to the project is uncertain but it does look good albeit too sterile and stale.
The movie of this thing along with the forum exploded and over 200.000 views in no time, what it stands at today i don't know but looking at Facebook shows that even this one has gathered a lot of Crash hype.
Sony, Vicarious Visions or Activision will of course not let this game be released, but let's hope they follow the hysteria and realize that the fans are crying for another game soon.
I thought it all had gone quiet regarding an official game, but then this image popped up together with some really interesting leaks/-rumors. Is it real? , did SONY really license a new game? the render looks rather bad and homemade but there was such a noise at the forums that made me want to look closer.
Rumours had it that SONY had the license for a new game and that the developer was already working on a new game, a brand new game and not an HD scaled PS1 or PS2 game for PS4.
Could this be true?, forums had it that a graphic artist from Santa Monica Studios was working on some level art and that the all-new Crash Bandicoot look had been set.
A few weeks later the thread was yet again glowing, hundreds of comments within an hour or 2, all this because of the picture above.
Naughty Dog being the developer and the new title of the game is Crash Bandicoot Returns. A very believable picture with a proper looking Crash as well as the rest of the crew.
Was this the reason why Randy Falk showed up in an Crash Bandicoot T-Shirt at the Toy Fair 2016 and at the same time said " Sony is bringing back Crash Bandicoot and we would like to do merchandise for it", this was not many weeks ago and then he, of course, did an update on the matter saying that he saw a fan-made image that he thought was the real deal just before entering the stage… Was this something he had to say to not spoil an announcement soon to come? , or is this yet another rumour that went viral?.
Facebook is still glowing, new stuff keeps popping up and it shows that the fanbase for the franchise is enormous, but the question is, IS THIS GAME REAL?.
Is the new art just some fan art? , if so is it based upon something tangible?, why is both Activision and SONY so quiet about the IP now that they know how the net and facebook is screaming for info?.
To add fuel to the rumour mill SONY decided to include Crash in their teasers and 20th-anniversary videos and I and many others think that they are trying to hype us so much up that we will believe the game is real at some point.
The images above is fan art for sure and old too, there are many of these things floating around but i decided to have these two only for now.
So, do i want a new Crash game?, Yes i do and even if it ain't done by SONY/Naughty Dog i still want it. One thing though is that i hope it will not end up as a Skylander type of franchise…. (which is very likely sadly…)
This article is not meant to create new rumours, i just want to tell my side of the story and how i felt the reactions of people around the world. How can a thread of 17.139 posts in 2 years be a bad thing? , even if it is just bullshit/*Rumors.
Thanks for your time.
Follow Us... Inspire Us To Get Better... Keep The Flame Alive
About Post Author