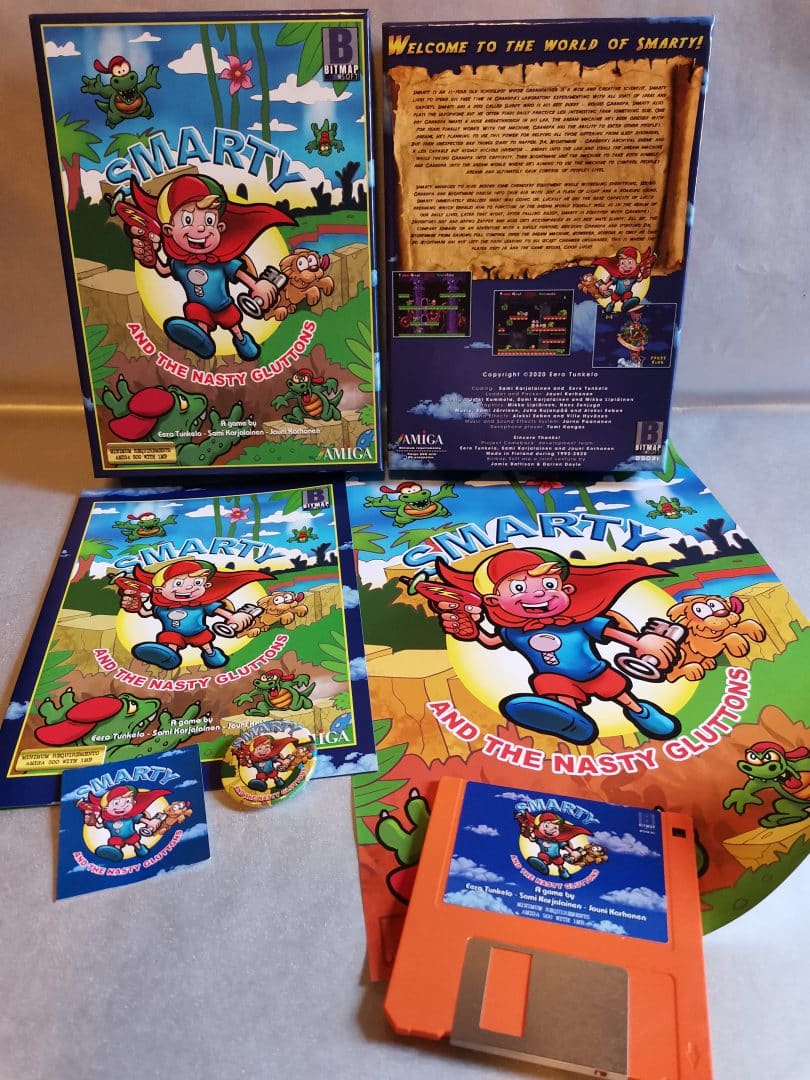 The AmigaGuru's gamer blog has certainly had a rough year so far when it comes to the actual content. Writing articles takes time and those that know me well knows that I refuse to post an article just for the sake of posting one, and yes, this is not a news site either which means a quick post would save the site. I am simply just too busy working on actual games so the site here has been simply put on hold.
The text above was written 6 months ago and the pictures below were taken on the release of the game which means, this post has been in writing hell :-p
Smarty and the nasty gluttons came out as a Digital only game last year and it didn't take long before there were talks about a physical box coming soon, Bitmap Soft was handling the boxed release and it took them half a year or so before it got released.
The result is the box that I am writing about today, a really beautiful front which also is the first of many to come with a glossy front.
The colours are really nice too.
The backside looks awesome too, beautifully laid out and the presentation is really good on the eye.
This box came before their physical box sizes changed and this means that there are actually 2 different Smarty boxes released as the second run ones are the same size as Turbo Tomato, Slayers Of High Toro and Cybersphere now.
The manual uses the same art as the front of the box and while that is a bit boring the style here is a real looker and I won't deduct too many points because of it.
The inside of the manual is really nice, not all that many pages but really cool nonetheless.
Lots of art on the pages and well laid out means that it is readable for most out there.
The box comes with a sticker, one single floppy and a button.
All of them look really good.
There's also a poster included, it has now found its final resting place in my Gameroom.
This is all you get for 25 quid, you can order it from several places but if you live in the Uk then I recommend buying it straight from Bitmap Soft.
Has to be mentioned that this game was finalized by a joint co-operation with members of the demoscene groups Scoopex and Flashtro.
A free download of the game can be found here: https://smartygame.fi/
Really nice box and one of the first boxes from Bitmap soft that you really should have in your collection, the progression of the box design and content shows that Bitmap Soft is taking the Amiga collectors seriously. The game and box are easily an 8/10 but since this is just a box review means that I have deducted a point.
Follow Us... Inspire Us To Get Better... Keep The Flame Alive
About Post Author