The Curse Of Rabenstein Review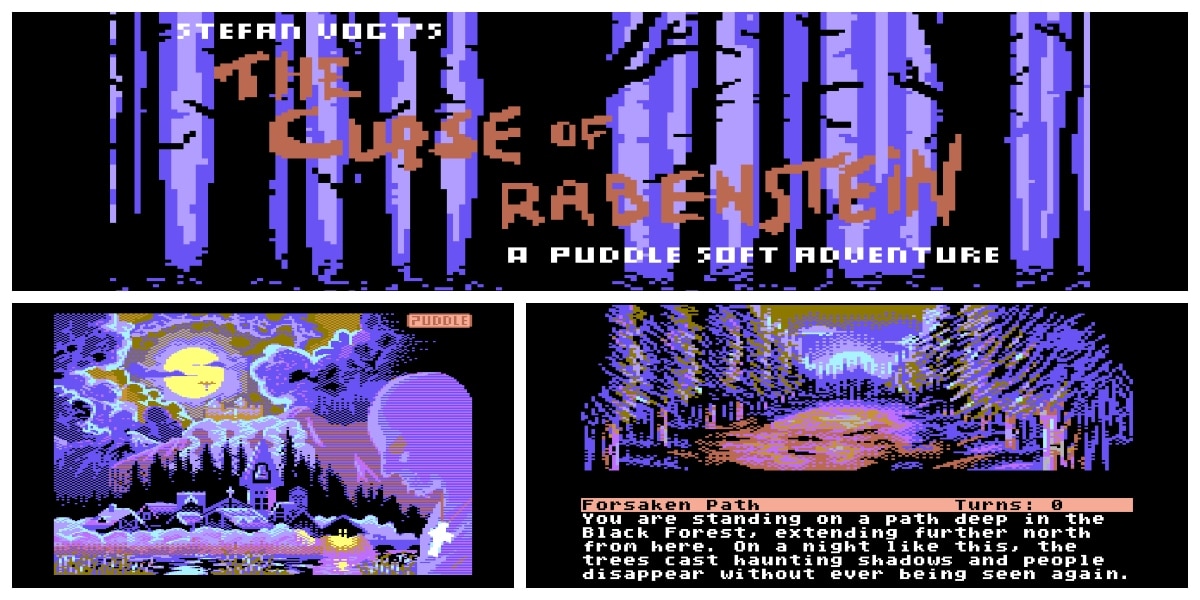 In a world that is often depersonalized and where we tend to follow major brands instead of real people, it is a real pleasure to finally find someone really inspiring. As far as I am concerned, this one is Stefan Vogt, adventures writer and coder who we already introduced on these pages with Hibernated 1 (both the unboxing and the game review) first, and with The Curse Of Rabenstein (unboxing) later on. As Tony said, it's no easy to review a text adventure, but this time the task is somewhat easier since we are here dealing with a semi-graphic adventure instead.
The adventure, available virtually for any 8 and 16-bit platform, deals with a nameless stranger (whose identity will be revealed at the end of the game) getting lost in the Black Forest. As night falls, your only chance to safely get to the following day is to seek shelter in the village of Rabenstein, a place known for being haunted … or so says the old wives' tales you heard before. So your only choice is to head to the village and ask for help. Soon you will discover that something weird is going on here, since a visit to the local graveyard will reveal an unexpected citizens' longevity.
The Curse Of Rabenstein is not a very long adventure to play, but I have to admit that I had to refer to some online solutions to make it through. It is my opinion that the level of difficulty is balanced just right and that we are dealing with a good game, as all Stefan's games seem to be, one that will keep you entertained for a little while. The screenshots posted here were taken thanks to an emulator, but I played most of it on my C128 in C64 mode: it is always so special to run your software on its original hardware. I completed the game a few hours ago, but I won't post any other image to avoid potential spoilers. While I am impatiently waiting for Hibernated2, I suggest you to take a look at Stefan's official page for further info. Have fun!


Follow Us... Inspire Us To Get Better... Keep The Flame Alive
About Post Author