The Pirates Have Risen , Again! – RISEN 2: Dark Waters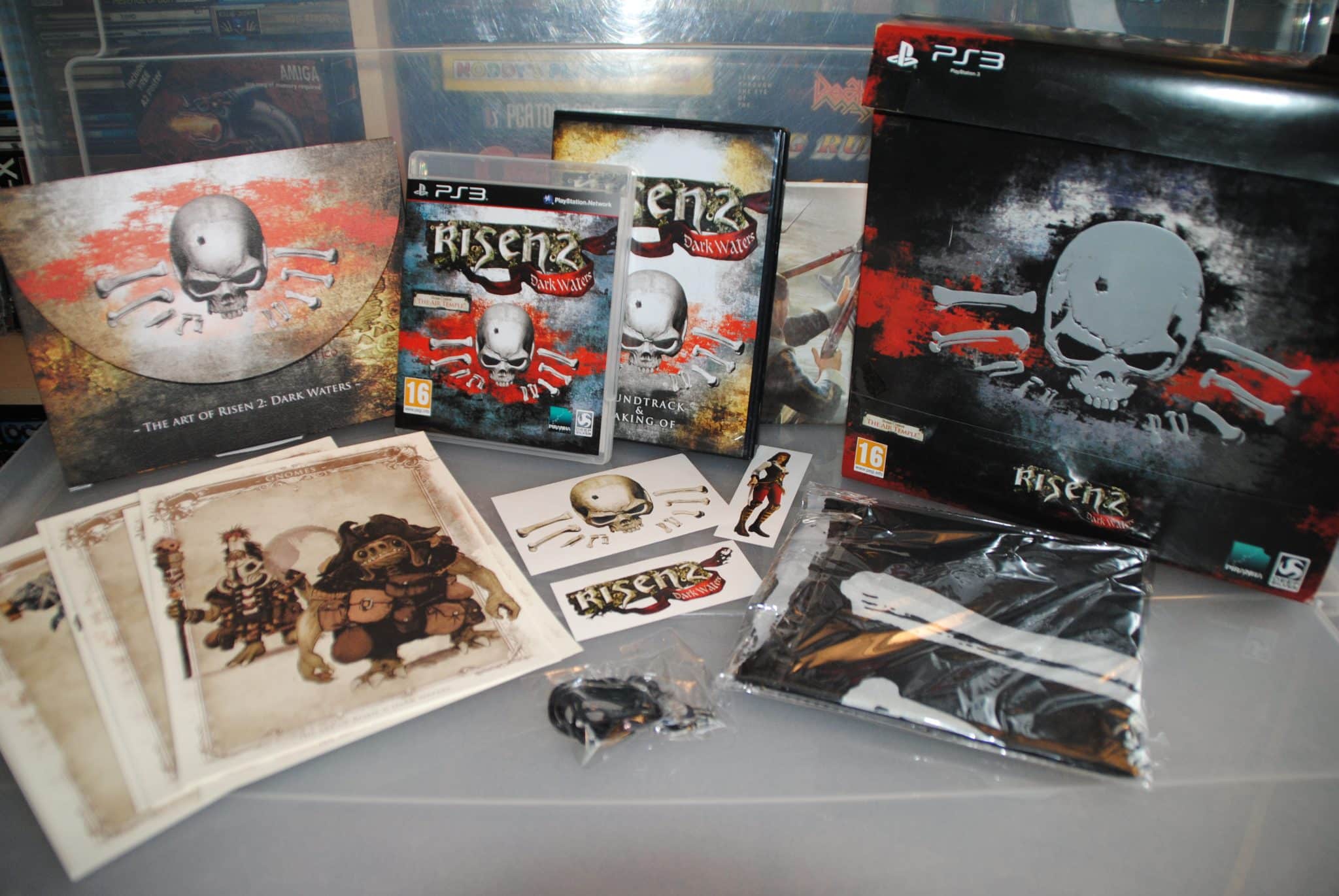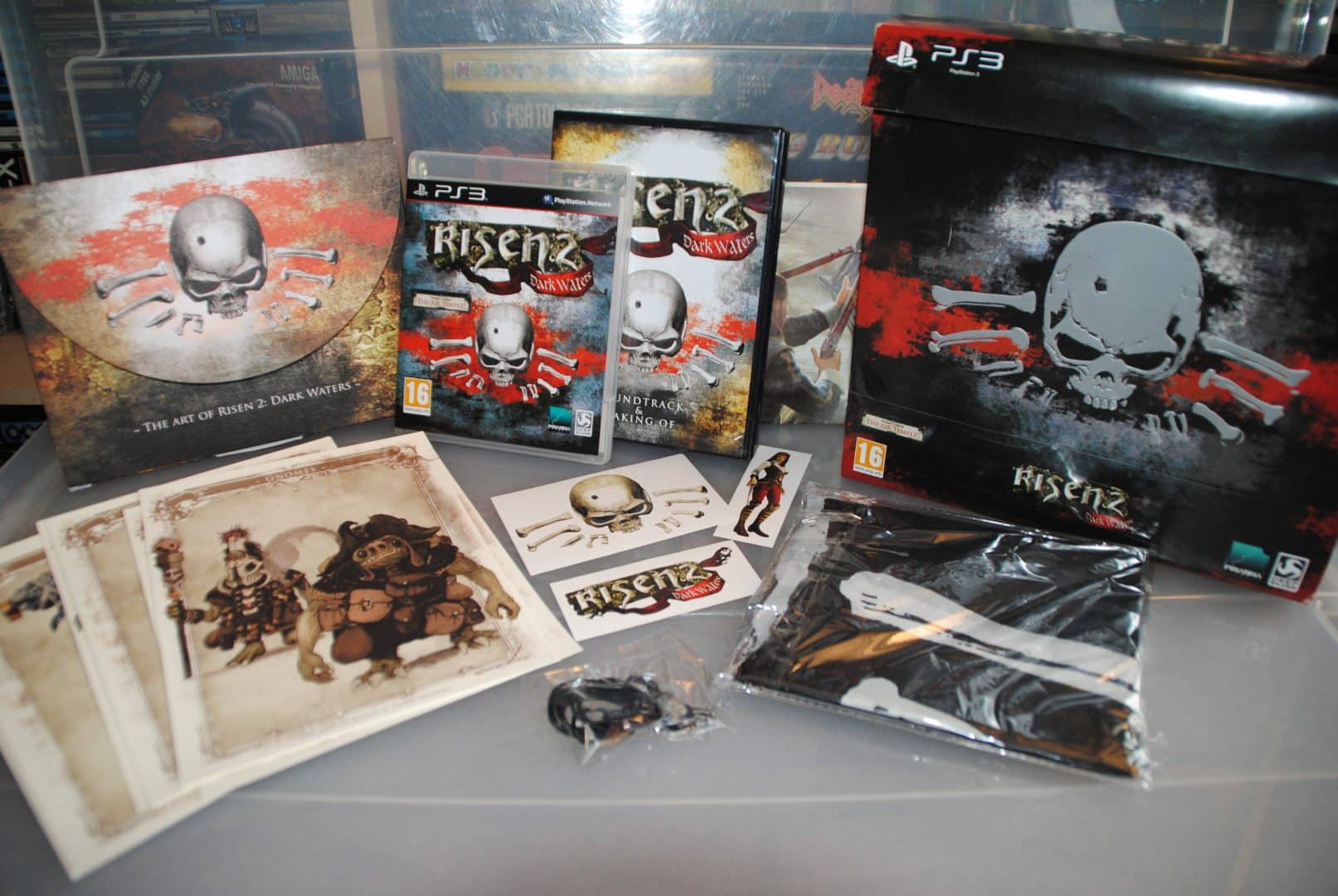 Risen 2:Dark Waters has been in my collection for several months already but i haven't had the time to actually play it as the length of open games tend to be so long that i put them on the back burner until summer break and such things as i hate playing a game for a couple evenings and then have to take a "long" break from it due to other games or whatever and then in the end i never return to the "long game" as i forgot the story and buttons and whatnot..
The first Risen game was a quite good game but flawed and had some severe bugs and sluggish framerates, but all on all most gamers have been anticipating this sequel as the whole Pirate theme and the gameplay has big potential to make an awesome game.
There are 2 special edition/collectors editions of the game and the only one i could find was the one pictured here, it comes without the "barrel of rum" but everything else is in my package + the nice "big box" which doesn't come with the barrel one.
Risen 2 must be one of the best Collector edition games in a while, simply amazing amount of goodies and a box design that screams "BUY ME!!!!".
This is the back of the big box, shows all the stuff that is included and the picture is not lying one big on whats inside. The front (pictured above) and the back (above) is a paper cover wrapped around the cardboard box and i am 100% sure that this "paper" will be rare over the years as its bound to look ugly due to tear and wear and i have already seen brand new ones in the shop where this was a problem.
This is the actual cardboard box, they must have spent a fortune on making these things, the quality and actual design look very expensive, i wish every collector's edition or whatever was like this!.. that said, scroll down to see even more impressive stuff.
See this thing? this is the folder/envelope where the art cards are stored, nothing special you say? , well this thing is of cardboard! and its embossed (no idea what the real word is…), impressive stuff!.
Yup, there's even more of them below.
I have realized that i should redo these pictures and scan them or whatever instead (goes for the whole box) and i might do that if there are requests for it, anyway these art cards are inside the envelope above, they're also embossed and great looking.
EDIT: The new pictures look much better and while nothing beats them in real life i still think the pictures will be ok for most readers now. (if not let me know :))
It ain't a collectors edition without a poster… or maybe not. The poster is A1 format and quality of the paper and design is yet again gobsmacking, to say the least.
The common trend this is.. map is on the backside of the "poster" above, really annoying and the only bad thing about this collectors edition, why not create 2 different "posters".. AAAAAAAARF!.
Stickers, soundtrack and a making-of Risen 2 DVD (WHY NOT A BLU-RAY????) inside as well as a bandana and a necklace, great quality yet again!.
The actual game box, standard stuff sadly and yet again one of those lazy "normal editions inside a collectors edition package"…
The really cool necklace that comes in the package.
I hope to play this game one day, i got it but got no time yet but i guess it's one of those games that gets better over time as it gets a shit load of updates and bugfixes over the year/months.
Pirate themed games are not common these days and that's sad as it's one of those things we need more of.. hell bring us a First Person Shooter Pirate themed game if so, it doesn't matter as we need more and we need it NOW!.
PIRATES RULES!
Follow Us... Inspire Us To Get Better... Keep The Flame Alive
About Post Author